Hop to it! The Easter Bunny will be hopping down that bunny trail soon, which means it's time to bake some tasty bunny sugar cookies. Of course, the Easter Bunny prefers carrots, but your little bunnies love sugar cookies and cookies in the shape of cute bunnies just taste better, especially when they're decorated with icing and candy. So, let's get hopping. Bunny sugar cookies are easy to bake. All you need is a recipe and a bunny-shaped cookie cutter.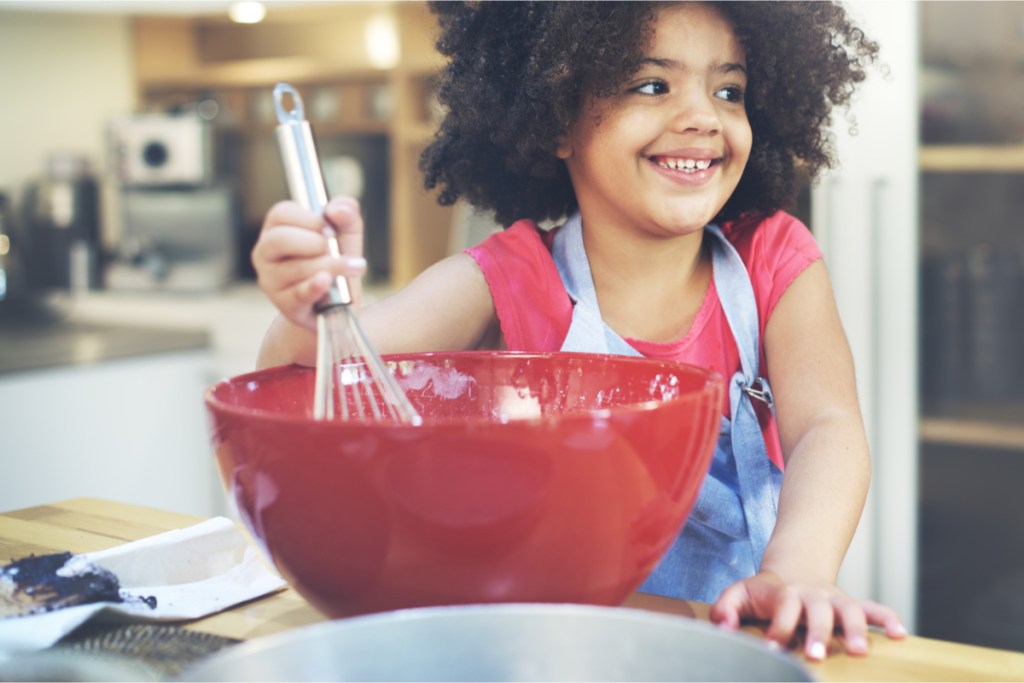 How do bunny sugar cookies keep their shape?
Before you can bake bunny-shaped sugar cookies, you need a cookie cutter. Plastic cookie cutters will get the job done, but metal ones tend to go the distance. Metal bunny cookie cutters won't melt and you can use them to make bunny-shaped pancakes too. Bunny-shaped cookie cutters are available online and in local craft stores. Usually, bunny cookie cutters are either shaped like bunny heads or like a bunny's full body. Either make adorable cookies.
If you've had trouble with your sugar cookies not keeping their shape in the past, you're not alone. Sugar cookie dough can be sticky and poof out once it's in the oven. So what's the secret to bunny shapes that don't try to hop away? Refrigeration, parchment paper, and the correct temperature in the oven.
Before you start rolling those cookies, allow the dough to set in the refrigerator for an hour. Take it out and let it warm up enough to work with. Cover the cookie sheet with parchment paper. Then, cut out the bunny-shaped cookies and arrange them on the parchment paper. Once the sheet is filled with bunnies, return it to the fridge for another hour prior to baking. Before you place the cookies in the oven, make sure the temperature is the one you need for baking the sugar cookies. Some ovens run hotter or cooler than the temperature you set it for. Use an oven thermometer to check the temperature of the oven before putting the cookie sheet in to make sure it's the temp it's supposed to be.
Easy bunny sugar cookie recipes
Baking is a science, which is why certain sugar cookie recipes don't seem to come out right. Here are two simple sugar cookie recipes that are low-stress and tasty.
If you don't have time to make your own dough, don't worry. You can still make bunny sugar cookies. Use a ready-made sugar cookie mix instead and follow the package directions. Just keep in mind the refrigeration trick.
How to make bunny-shaped sugar cookies in Easter colors
One way to get those bunny-shaped sugar cookies in the Easter spirit is by adding food coloring to the dough. Liquid food coloring will give softer colors. For more intense hues, use gel. When mixing colors to get a particular shade, combine in a small bowl before putting it into the dough. If you want to make different colored bunnies, divide the dough before adding the colors. Another way to get bunny cookies in spring colors is to use colored sugar.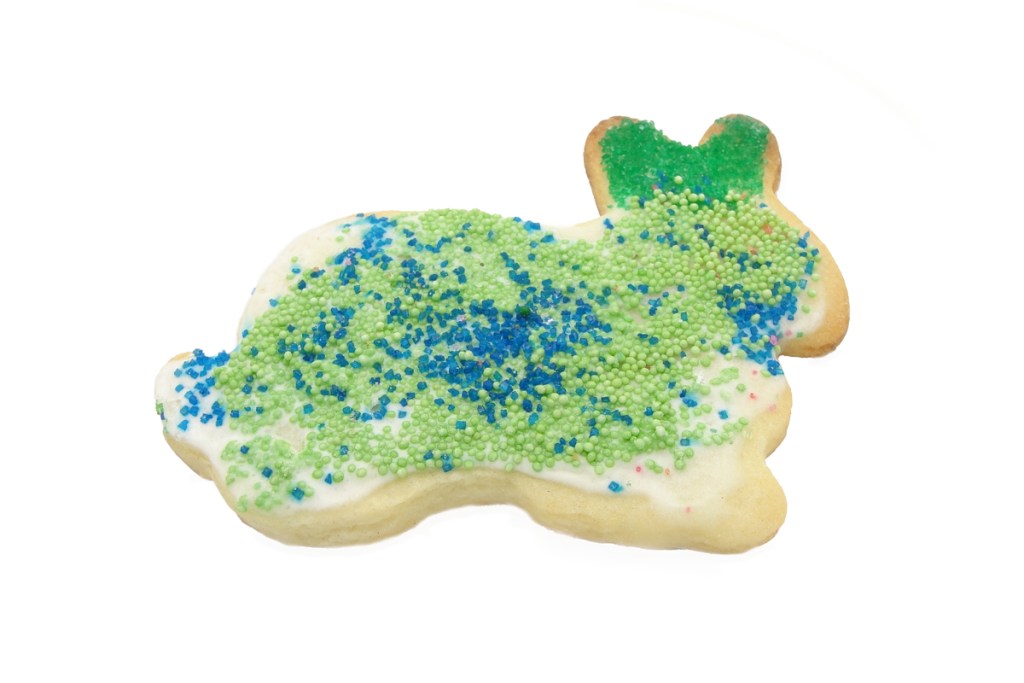 How do you get sugar crystals to stick to cookies?
Colored sugar can be a fun way to jazz up any batch of sugar cookies. Brightly colored sugar is available online and in the baking aisle of your favorite grocery store, but you can also make your own colored sugar using food coloring and — you guessed it — sugar. A Taste of Home has a simple recipe for do-it-yourself colored sugar.
Colored sugar can be added to the cookies after you've cut the dough into cute little bunnies. Lightly sprinkle a coating on the cookies before you let them set in the refrigerator. Colored sugar added before baking may fade a bit during the cooking process. Another way to dress those sugar cookie bunnies in their Easter finest is to add the colored sugar after baking. Once the cookies have cooled, apply a light coating of icing or edible glue. Then, sprinkle on the colored sugar or place the sugar on a plate and dip the icing side of the cookie in it. Allow it to set before serving or eating.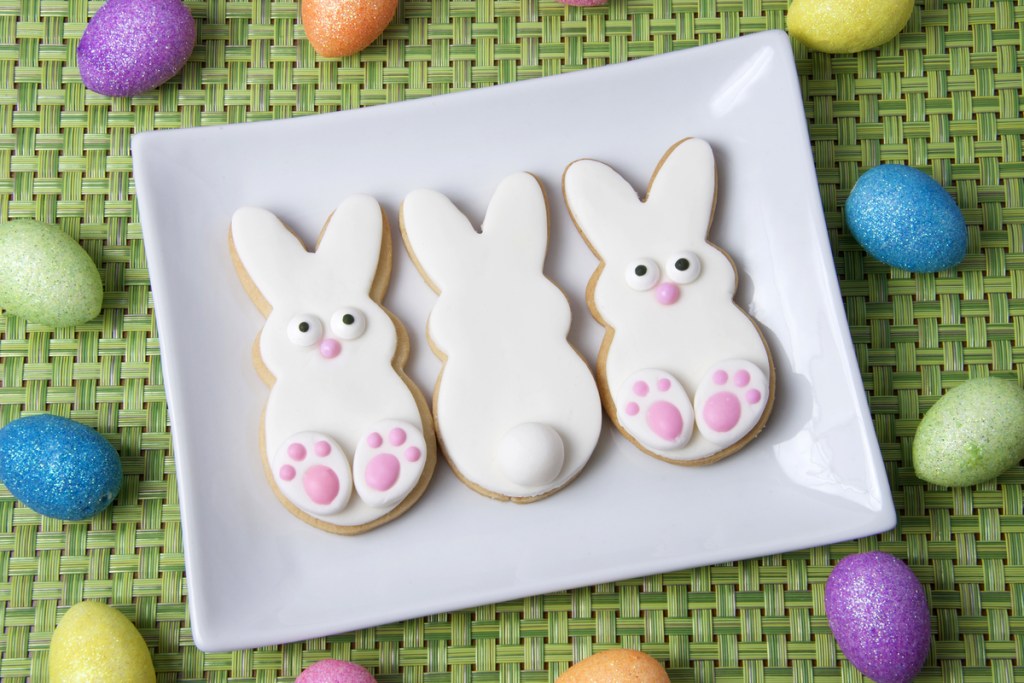 Time to decorate
Sugar cookies of course taste delicious as is or with a sprinkle of sugar, but the Easter holiday calls for more dressing. If you want to get creative, a cookie decorating kit with different colored icing makes delightfully cute bunny cookies. For inspiration, watch LilaLoa's short YouTube video on how to decorate really cute bunny faces. If you're decorating with kids, apply a thin layer of icing to each bunny and let the kiddos have fun with sprinkles, pearls, and candy. Store-brought icing is available in more than just vanilla and chocolate. Another way for kids to put those bunnies in the Easter spirit is with edible markers. Kids use the markers to draw faces on the bunny sugar cookies.
If you want to bake delicious homemade Easter bunny sugar cookies this holiday season, this easy guide can lead you through the process. For bunny sugar cookies that keep their shape, remember refrigerator, parchment paper, and oven temperature are key for hoppin' cookies.
Editors' Recommendations