It usually doesn't take long for the boredom to set in during the long summer break, especially for teens. Crafts are a great way for teens to occupy themselves when their friends are away on vacation or when they have some downtime. While it is tough to compete with the lure of smartphones and video games, crafts are a perfect pick to encourage teens to disconnect.
Working on craft projects during the summer months also has health bonuses, as well. The school year for teens is often filled with many academic, social, and emotional challenges. Getting creative with craft projects is an excellent way for teens to unwind and relieve stress. In addition to alleviating stress and anxiety, crafts help with concentration and focus.
Here are five fun craft ideas for teens to enjoy on vacation or at home. Maybe one will turn into a lifelong hobby.
Coloring
Adult coloring books have really taken off in recent years because coloring reduces stress and anxiety. Have a few adult coloring books on hand this summer with plenty of colored pencils. Coloring is a relaxing activity teens can do anytime and is ideal for road trips, getaways, and staycations. If your teen has an artistic flair or has always wanted to learn to draw, include a sketchbook in that pile of coloring books. YouTube offers a wide range of learn-to-draw videos.
Friendship bracelets
Parents who went to camp as kids will definitely know the significance of friendship bracelets. Kids of all ages and especially teens enjoy making friendship bracelets from embroidery, thread, or lanyard because they're cool. Friendship bracelets have never gone out of style, and making them is an ideal and easy summer craft for teens. Complete kits are available to create friendship bracelets. Another way is for teens to pick out the colors of embroidery thread and lanyard they like and learn how to make a friendship bracelet from watching a YouTube video.
The advantage of using the friendship bracelet kit is that it includes all the necessary essentials and directions. Teens can make bracelets for their friends, siblings, and, of course, themselves.
Rug hooking
A crafting blast from the past is rug hooking. This engaging do-it-yourself craft is sometimes called latch hooking. Kits come complete with precut-colored yarn, a printed design on a canvas, and a latch hook tool. Craft stores usually have an array of rug-hooking kits. Kits can also be found online. Rug hooking is a fun craft teens can do while streaming their favorite shows or listening to music. They can make a pillow for their bed or a noteworthy gift for a friend or relative.
Knitting
Another craft that has gained momentum in recent years is knitting. Teen years are very stressful with academics, SATs, and college applications looming in the very near future. Learning how to knit can be a useful stress and anxiety reliever for teens, and it is something that can develop into a lifelong hobby. Summer is the perfect time to learn how to knit. If a parent already knows how to knit, it may be time to pass the skill down to the next generation.
Thanks to numerous websites and online how-to videos, it isn't too difficult for a beginner to learn how to knit. A local library sometimes has knitting clubs that welcome beginners, and area craft stores may even offer a beginner class. The possibilities are abundant once teens get a handle on knitting (and we're not just talking scarves).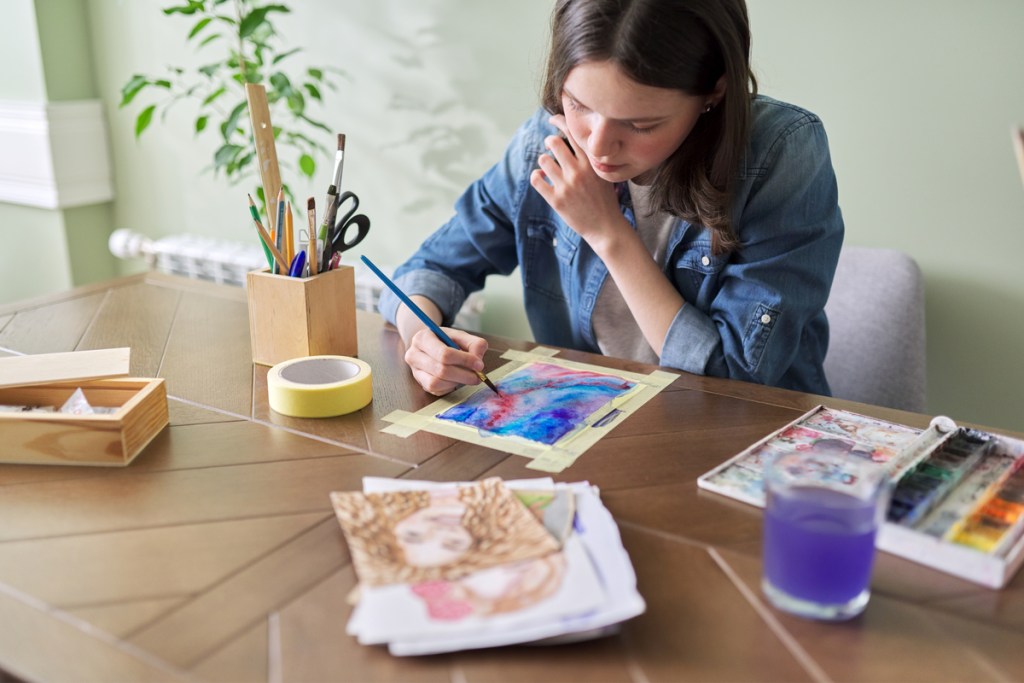 Painting
A fun summertime craft for teens is painting. An easy way to start painting is by using a paint-by-number kit. Another is to sign your teen up for a painting class. These days, there are a lot more options for painting classes. Many local art studios offer weekly classes specifically for teens. Virtual painting classes, events, and camps have also really taken off.
Once a teen is signed up for a virtual painting class, a link is emailed and can be used at a convenient time. (Make sure the link doesn't expire.) If it does, be sure to note the date it does. Materials can typically be ordered from the studio hosting the virtual paint, or ask for a list and head to the craft shop. Taking a painting class in-person or virtually is something fun teens and parents can even do together.
Other cool options for teens who love crafting are dressing up their wardrobe by painting sneakers with acrylic paint, experimenting with tie-dyeing, or making jewelry. Yes, there are kits and YouTube videos for those, too.
After a crazy academic year of school, sports, activities, and friends, teens need a bit of summer downtime. Crafting is a fun and easy way for teens to get creative during the summer months. In addition to learning how to make bracelets, pillows, and decorative accents for their room, crafting offers health benefits, too. Working on a crafting project reduces stress and anxiety.
Editors' Recommendations