Nothing says "holiday party" better than an ugly Christmas sweater, so why not include your baby in all the fun? These adorable and sometimes a bit tacky baby Christmas sweaters will ensure your babe makes a spirited impression on all the other partygoers. With a variety of colors, styles, and popular characters to choose from, one of these festive sweaters will be just right for your little bundle of holiday joy.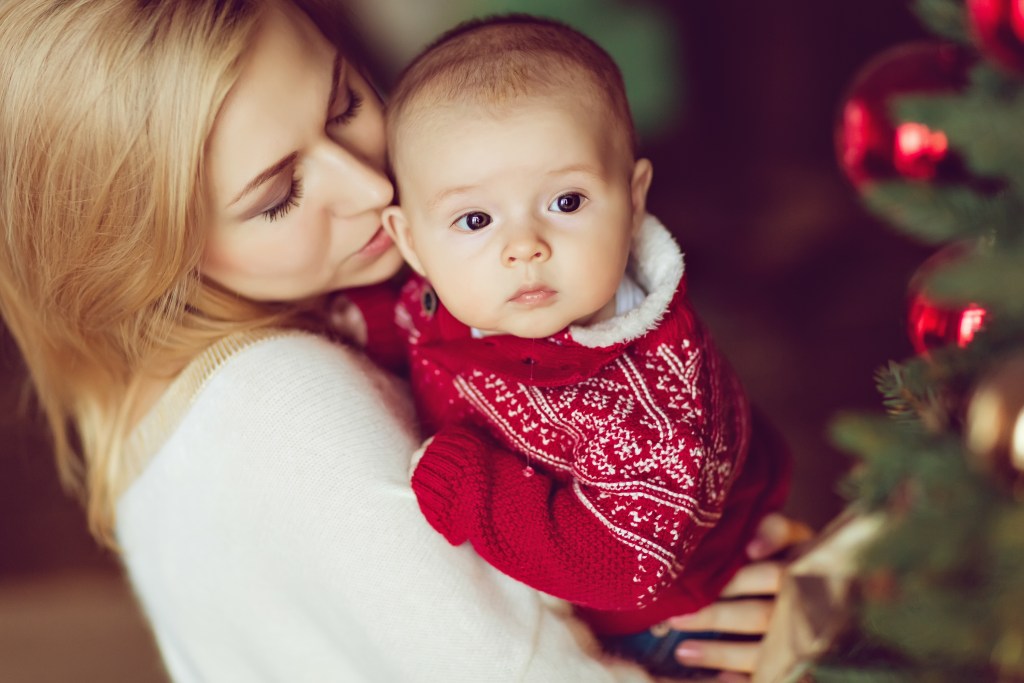 Adorably ugly baby Christmas sweaters
These sweet baby Christmas sweaters will keep your baby warm and cozy while earning them a coveted spot beneath the mistletoe. Keep reading to find the perfect Christmas sweater for your bundle of joy.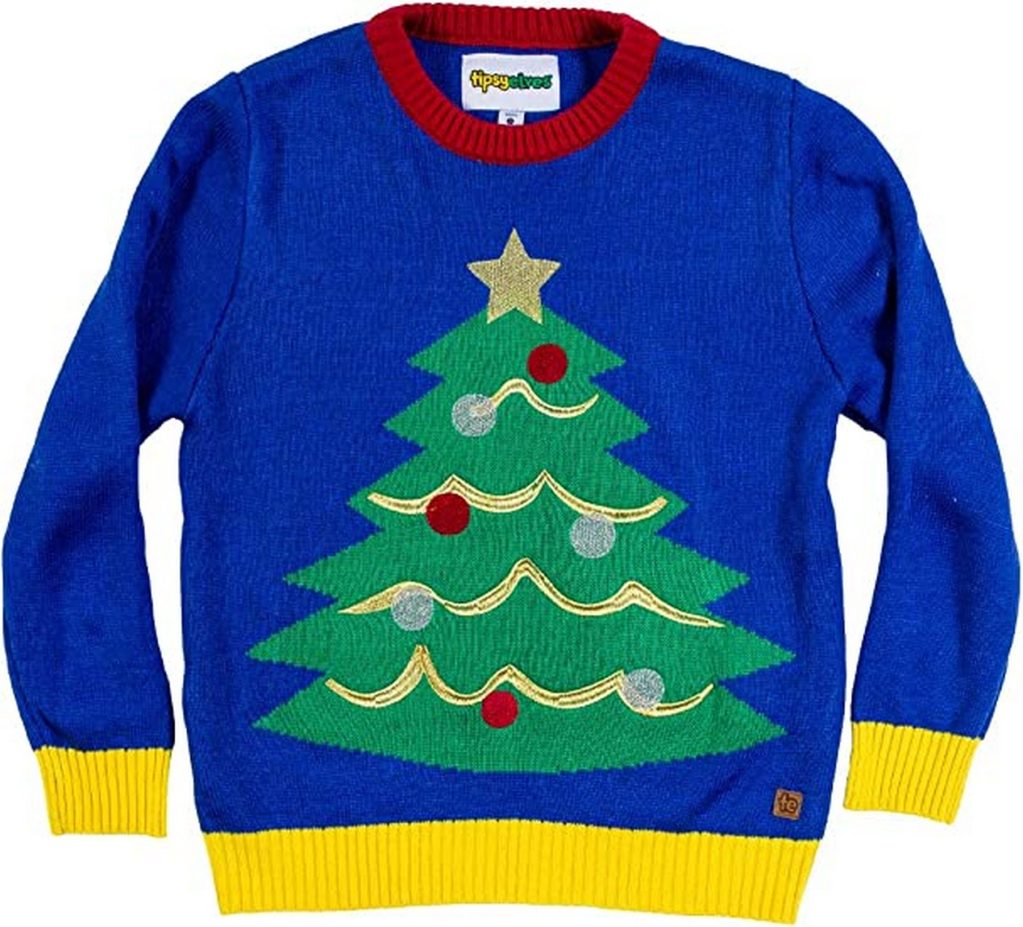 Bright, primary colors will light up the eyes with this classic design. This sweater features a green Christmas tree decked in red and metallic gold and silver bulbs, gold ribbons, and a gold star on top, all against a blue background. Red trim on the collar, and yellow on the cuffs and hem, add a lively accent. Reminiscent of the basic shapes and colors featured in baby's first books, this sweater's simple design will attract the eyes of little ones and adults alike.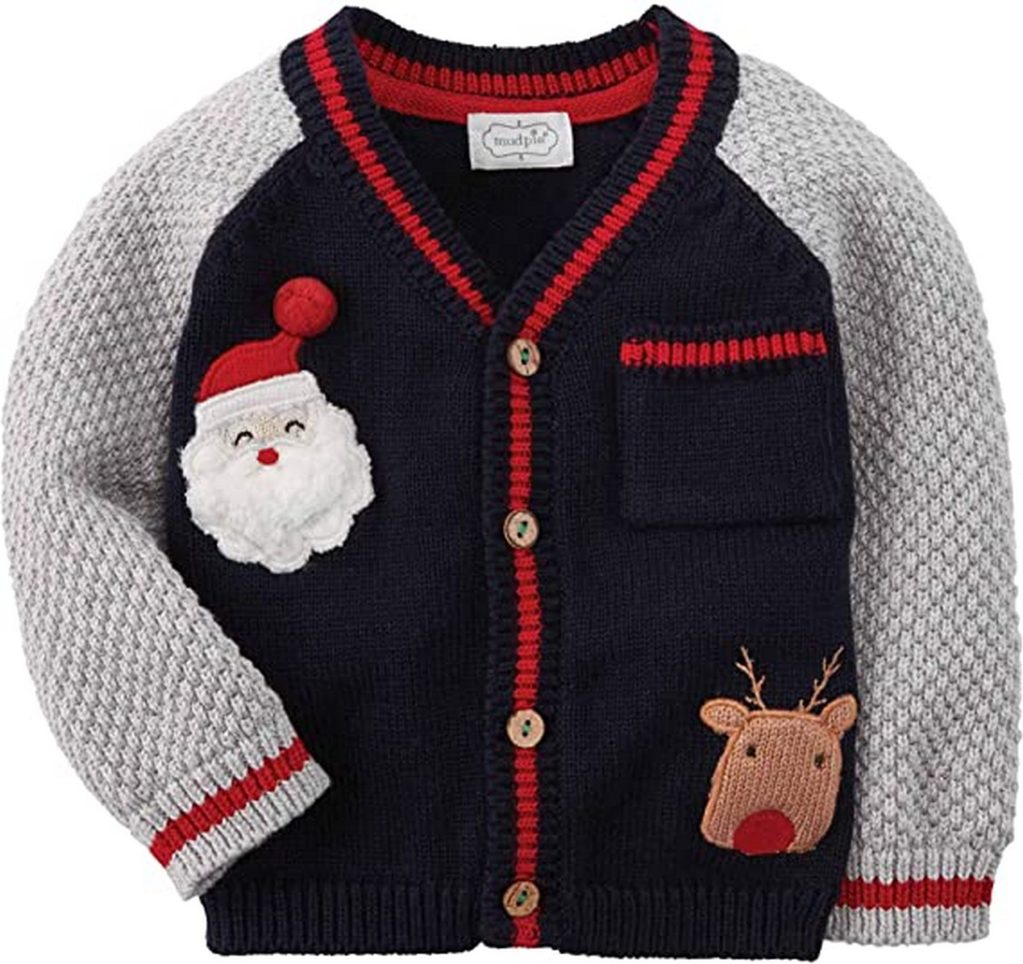 Button up your little grandpa in this timeless cardigan. This soft 100% cotton knit sweater will keep your baby snug and warm. Featuring popcorn knit contrast sleeves, rib binding, appliques of Rudolph, and a fluffy-bearded Santa, as well as coconut wood buttons, there are enough textures here to entertain tiny fingers all evening. And don't worry about any mishaps at the snack table — this sweater is machine washable.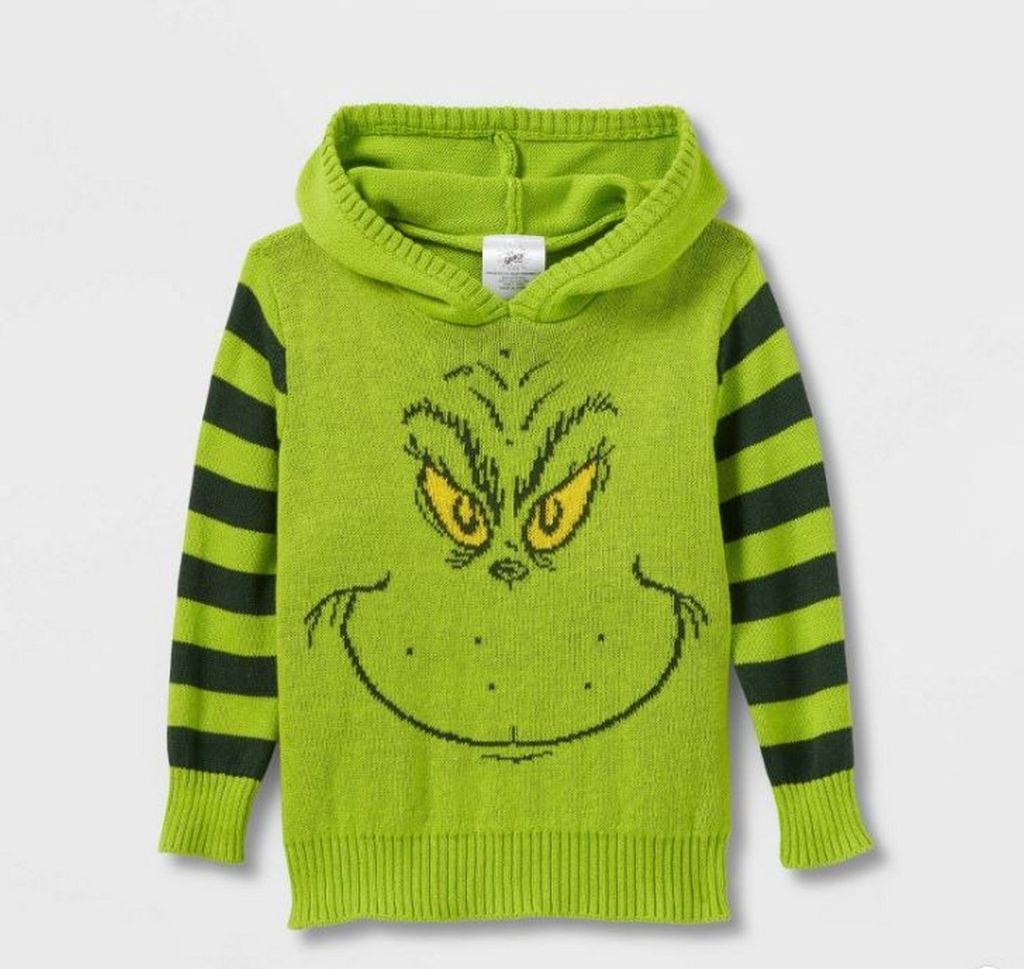 All the Whos down in Whoville will want to sing their hearts out when they see your little sweetie bundled up in this lime green hooded knit sweater. The cotton and polyester blend features the Grinch's famous face in front. A pointed hood, shaped to resemble the green grump's signature hairstyle, ends in a small yellow bobble. Green and black striped sleeves and ribbed accents complete a look that says, "Bah, humbug!"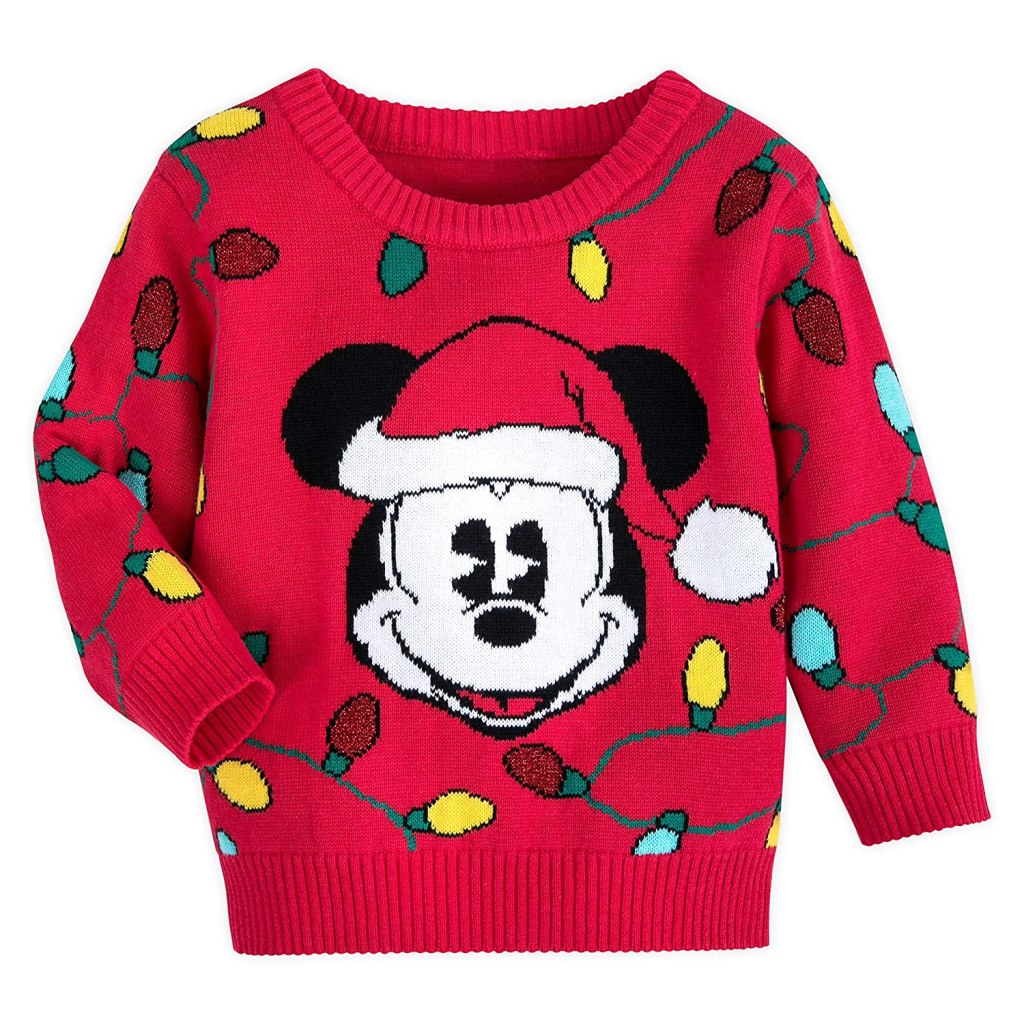 Strings of holiday lights and the shimmering smile of the world's most famous mouse decorate this bright and cheery sweater. Blue, yellow, green, and metallic red light bulbs surround Mickey's grinning face on the sweater's font and continue around the sleeves. Mickey shows his holiday spirit by donning a Santa hat. ribbed collar, cuffs, and hem make for a snug fit that will keep your little character cozy and warm while they light up the party.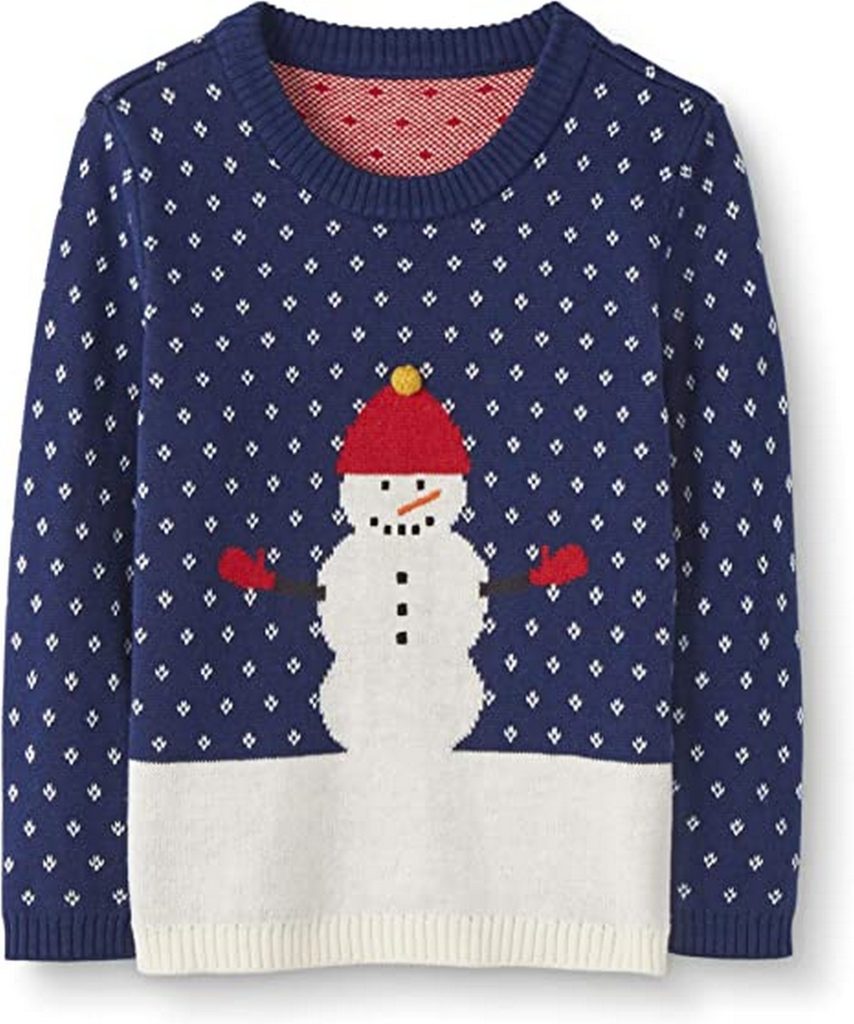 Known for high-quality fabrics that can withstand being handed down multiple times, Hanna Andersson does it again with this unisex, 100% organic cotton holiday sweater. You can rest assured that this garment is a safe choice for your baby, as it's been certified free of over 100 chemicals. This sweet, snow-flecked pullover features a white lower layer upon which stands a smiling snowman decked in red mittens and a hat topped with a yellow bobble. The background is blue with evenly spaced white stitches, bringing to mind a gentle snowfall. The snowflake pattern is echoed on a red interior, and the collar, cuff, and hem are ribbed in solid blue. This pleasantly symmetrical design is sure to always be in style.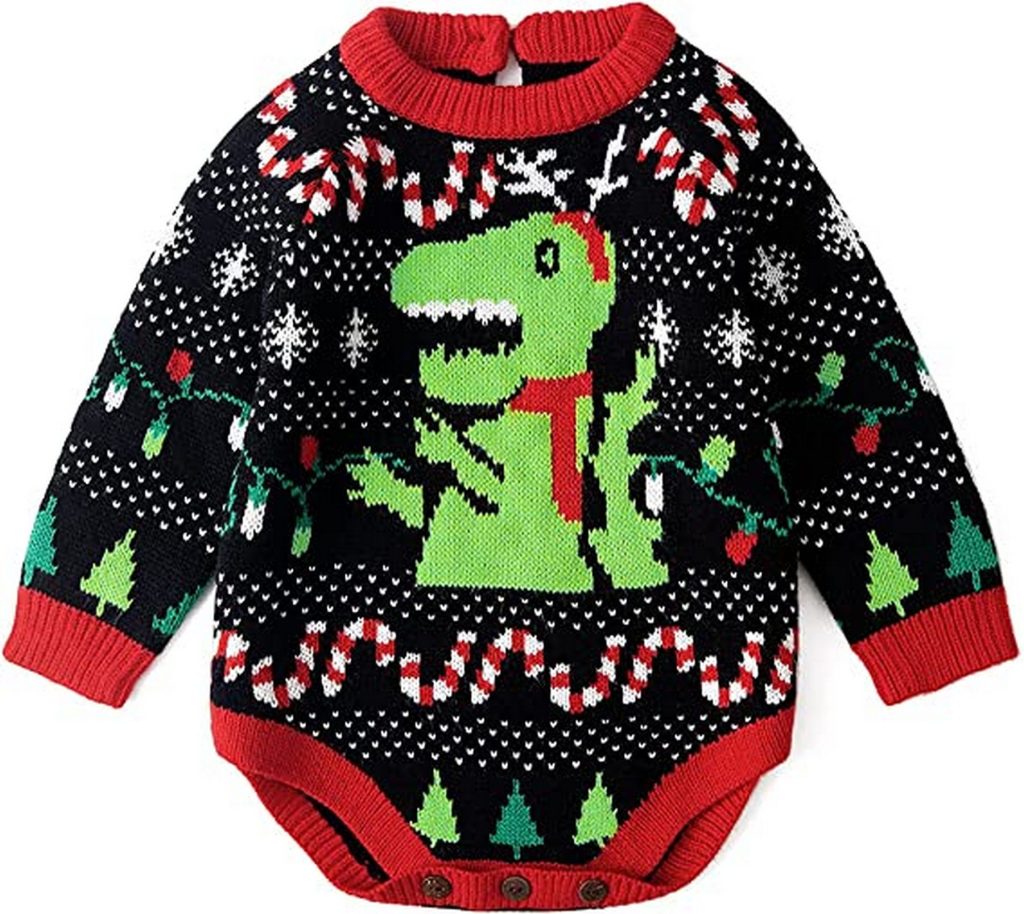 If you have a little wiggle worm whose tops are always rolling up, try this buttoned onesie style to keep all the wacky cuteness in view. One-button closure on the back of the neck makes for easy on and off, while three buttons at the crotch make diaper changes a breeze. There's nothing missing from the lively pattern on this sweater, with a scarf-wearing, antlered, green dinosaur taking center stage in front of rows of holiday lights, candy canes, Christmas trees, and snowflakes.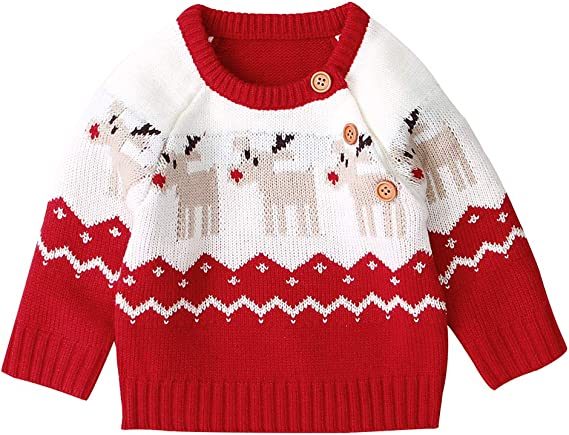 Nothing communicates Christmas cheer like a row of red-nosed reindeer. This red and white sweater features three wooden neck buttons for easy changes, and the ribbed collar, cuffs, and hem make for a snug fit. Neat rows of white zigzags and snowflakes complete this classic look, sure to help make baby's first Christmas one to remember.
Your holiday angel is sure to be the talk of the town at a holiday party in one of these fun, festive sweaters, each just ugly enough for your little one's cuteness to shine through.
Editors' Recommendations