Nothing says it's Christmas quite like the whole family putting on matching Christmas outfits for the annual holiday card. Ideally, you want a portrait where most of you are smiling and no one is crying or blinking. Families take the picture delightfully dressed up or completely comfy in pajamas. While either is adorable, give some thought to where your photo shoot will take place, what your kids can handle at their ages, and what else you're trying to achieve with this photo.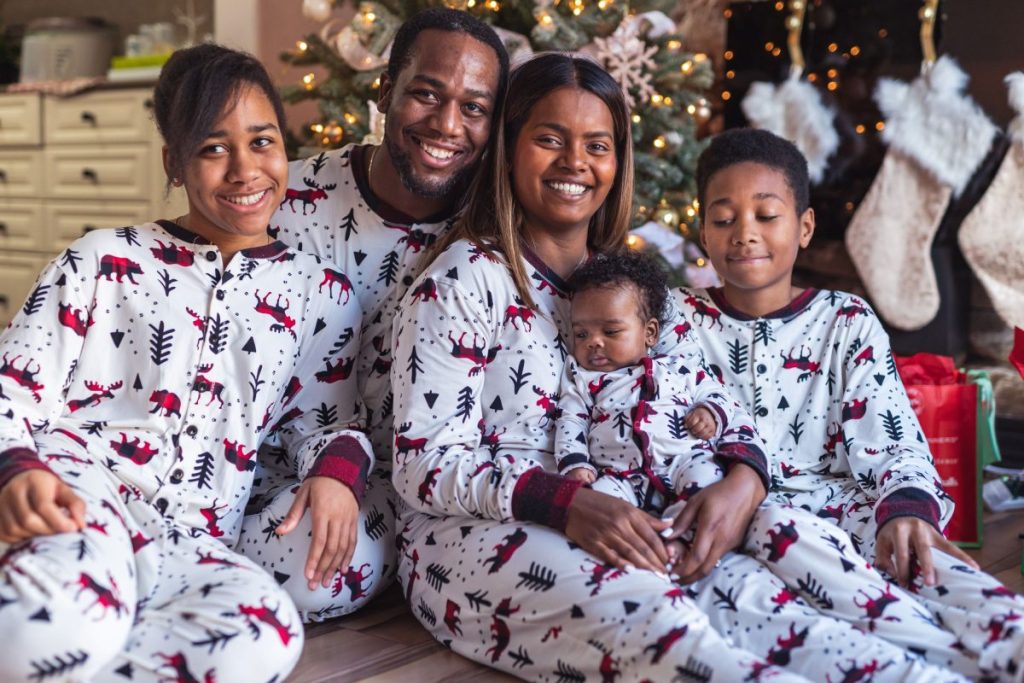 Once you decide on the tone of your photo, it's time to pick from the best family Christmas outfit ideas. We've rounded up six options that are a mix of formal and casual, ones that would work in many venues, and ideas for different family ages and configurations. You'll even be able to include your pets if you want to. Shopping is half the fun, so enjoy deciding between these picture-perfect pairings.
Christmas pajama ideas
Elf pajamas
Pajamas are the classic Christmas family matching outfit go-to, and we love the whimsy of everyone dressing as elves. Cotton pajamas are easy to buy in everyone's size and always look great in front of the tree at home. Choose between stripes, green versus red, or a whole array of different elf pajama designs. The best part is that then the family can wear them all winter long, so you'll get your money's worth.
Reindeer pajamas
Reindeer-themed pajamas have hoods with antlers which make for an adorable, cozy, informal family photo at home by the fire. For any pets, just put some antlers on them without full-on PJs. But if you find a set that does offer a matching pet option, you should get them.
Flapjack pajamas
Yes, one more pajama option because they are the most popular matching family outfit with good reason! These are just for fun. The old-timey PJs with that opening on the bottom make for adorable family Christmas photos with a wholesome feel. Browse through all the funny sayings on the flaps and the different colors and patterns before making your choice.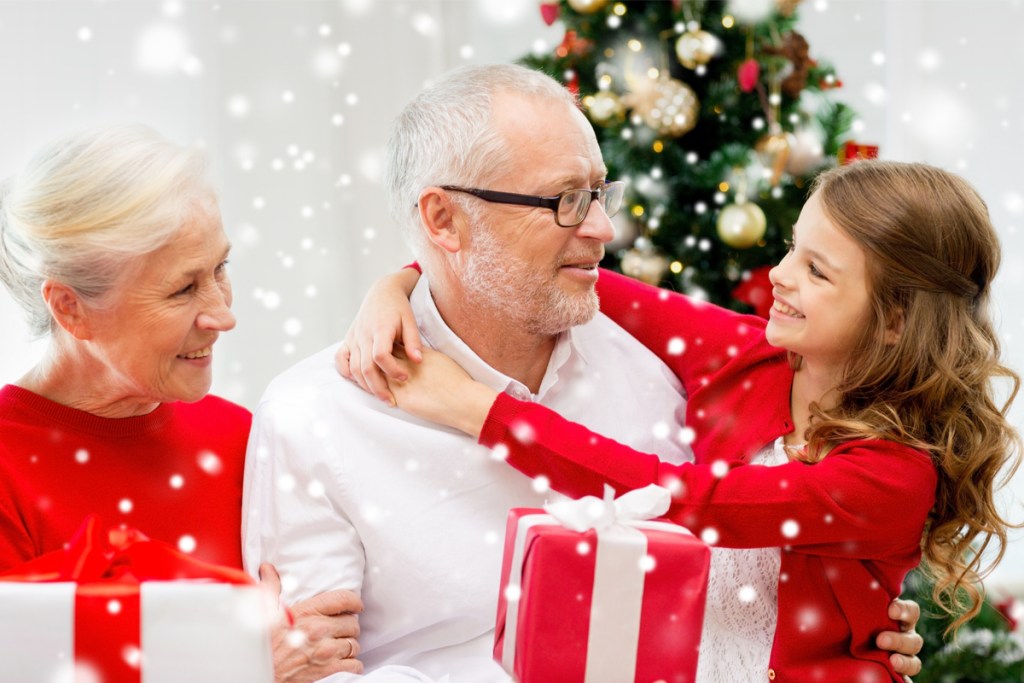 The classic Christmas matching options
Mix-and-match green and red
You don't all have to be in exactly the same outfit to be matching. If you wear cotton tops with khakis or everyone is in a print like plaid, that will tie in the common theme enough so it's still a cohesive look. Half of you could wear green while the other half wears red.
Red plaid
Red plaid is a versatile option for everyone. From a tree farm setting to a cocoa with Santa setup or even a home fireplace shoot, red plaid suits boys, girls, and pets. Even if you don't buy the outfits in a set, red plaid pieces bought separately for each family member could easily be worn long after the family photos are taken. Get your plaid in a cozy flannel or other material, but no matter what, this style choice will infuse the feeling of the season into your family pictures.
"Ugly" Christmas sweaters
They might have a reputation as ugly now, but we prefer the term classic. Make them more casual in jeans or dress them up with slacks and skirts. Have everyone wear the same sweater or find similar sweaters that are variations on a theme.
Everyone could choose a sweater they like best (like a dinosaur with a Santa hat) or all the girls wear one style while all the boys wear another. Or our favorite idea, pick your favorite Christmas movie and get sweaters that have that theme. They even make baby onesies that are Christmas sweaters, and of course, sweaters for dogs as well.
Whether it's sweaters or PJs, your family's smiles are what matter most. Remember to have fun with it because even if the photo is more dressed up, you still want genuine cheer coming through. You want to be able to look back at the photo with a positive memory from a nice photoshoot, so be ready to make it as quick as possible for everyone before the toddler starts melting down.
Use props or take it outside, but whatever you do, keep it light. Let the kids play around and make sure to have some jokes ready to tell to keep the little ones engaged. No matter which matching Christmas outfit choice you pick, the holiday photo is going to look beautiful!
Editors' Recommendations