Planning a family vacation is super exciting and extremely intimidating all at the same time. Whether the family is heading to Disney, an island resort, a road trip, or to another country, a great deal of planning is involved. Organization is key to making travel and accommodation arrangements as well as mapping out an itinerary. If you're planning excursions, you may want to book those ahead of time.
There are quite a few details involved in a family vacation even if the destination doesn't involve an airplane. When planning your family's next getaway, a travel app can help make the whole process much more manageable. Family vacation apps are a wonderful way to keep all those important details organized and in one place. Some travel apps can even help you get the best price on airfare. Here are the top family vacation apps you will want to pack.
This travel app won't plan all the aspects of your family's vacation, but it will hit on the important ones. Hopper helps users find the cheapest airfare, hotel deals, and car rentals. Type in your destination and Hopper will tell you when is the cheapest and priciest time to fly. The app also advises travelers on whether or not to book their flights right away or wait until the rates drop. Hopper is free to download.
Another free travel app that assists families in getting the best price for the most expensive part of their vacation is Skyscanner. The app offers assistance in getting the top deals on airfare, hotels, and car rentals.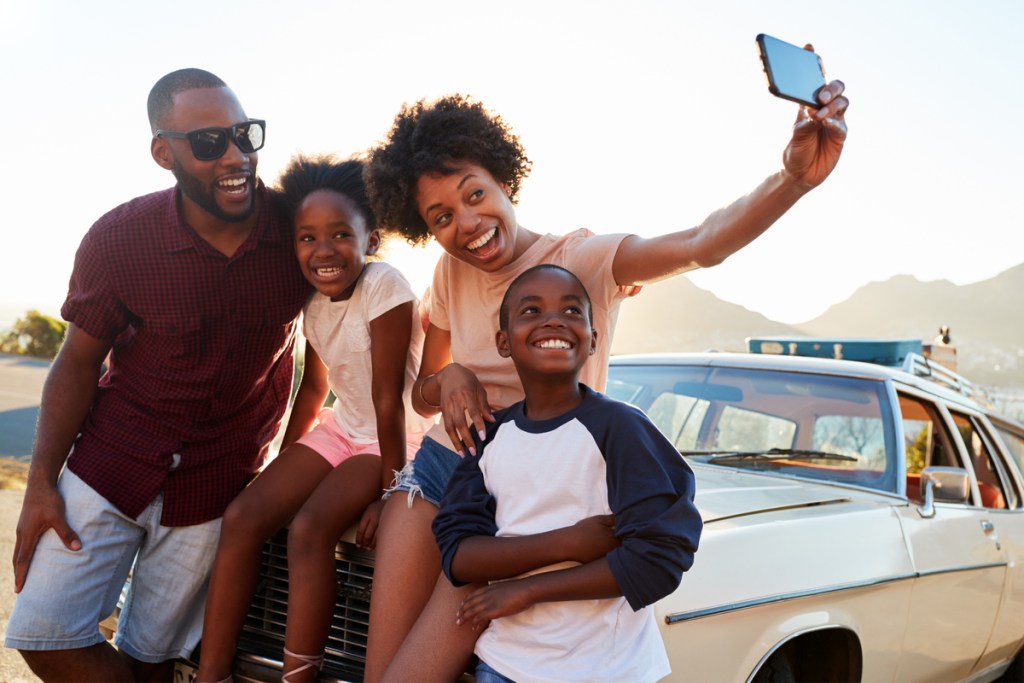 Want to relive those fabulous car trips from your childhood with your kids? Every family has to experience at least one road trip together. Hit the road for a weekend getaway, a cross-country destination, or a Sunday drive with the Roadtrippers app. This app is amazing at finding those hidden gems when you're out exploring new places. Roadtrippers is free to download, but if you and the family plan frequent road trips, you may want to consider Roadtrippers Plus, which does have an annual fee.
If you're looking for a one-stop travel planning app, Tripit is it. This app makes organizing your family's vacation a snap. Once you've booked all the travel essentials, you forward your confirmation emails to plans@tripit.com and your itinerary gets mapped out for you. You can even access your itinerary without WiFi, which is a huge plus. Tripit is free to download, but the app does offer a Tripit Pro option which carries an annual fee.
Are you an over-packer? Don't worry. It's a common problem. The Packing Pro app helps take the confusion out of the process. You can organize your packing with a customizable list or use one of Packing Pro's sample lists as a guide. Packing Pro does have a fee to download and includes in-app purchases.
Love to take in all the sites and tours your destination of choice has to offer? Then, check out Sygic. This app is like having a tour guide in your back pocket. It features information on more than 50 million places around the globe including museums, parks, historic sites, restaurants, and more. Maps help you to plan out your day and will even tell you if the sites are close enough for the kids to walk. Sygic is free to download but does offer a premium version offering additional perks.
Originally known as a travel transportation app, Kayak now offers vacation planners assistance in finding the best prices on hotels, flights, car rentals, and more. Not sure where to go? Kayak can assist with that too as well as helping to find things to do once you arrive at your destination. Like Tripit, Kayak keeps all of your travel information in one convenient place. Once you've mapped out your itinerary, it's easy to share through the app. Not sure whether or not to book yet? Set a price alert and the app will let you know when airfare or hotel rates have dipped. Kayak is free to download.
This popular travel planning app is great to use for day trips, weekend getaways, or family vacations. It's useful to use when trying to decide on a place to go or when you want to look up reviews from other travelers. TripAdvisor helps users find hotels, restaurants, and tours. The app is free to download but does offer a premium version with a yearly fee.
If the family loves road trips, be sure to pack the GasBuddy app to help you find the best gas prices when hitting those open highways.
Other helpful family vacation apps
Planning a family vacation or a weekend getaway is so much fun, but the process can be daunting too. Finding a location is the exciting part, but then comes all those details. Using travel apps like Hopper and Skyscanner helps find the best prices on the pricey parts of your vacation: transportation and accommodations. Family vacation apps help with booking flights, hotels, car rentals, tours, and even finding things to do and places to eat. Whether your family loves packing the car and hitting the road or are seasoned flyers, there is a travel app for that. While there isn't a one-size-fits-all travel app, you can certainly find a travel app on our list to help make planning and organizing vacations the exciting experience it should be.
Editors' Recommendations