What does your child need for their first day of kindergarten? Obviously, all the right school supplies, which you've likely had purchased for weeks. A confidence-boosting pep talk from mom or dad (and, don't worry — you can get one from each other to help quell those first-day-of-school tears after you've safely seen your child to the classroom). And then, of course, an amazing outfit and hairstyle to help your child make the best impression possible. A cute hairstyle or braid will also make those first-day-of-school photos look extra stylish and like you totally should win a parent of the year award (even if we all know just how frazzled and stressful the first day of school always is behind the scenes).
To help make that first day of kindergarten a little easier and a little less stressful, here are 3 cute kids' hairstyles perfect for making the right impression.
The princess up-do
Send your little princess off to her first day of school looking like, well, a princess. Even if she can't wear that favorite princess dress to kindergarten, this easy up-do will have her feeling like royalty regardless.
It's easy and simple, so long as you have a sock bun. Just pull your child's hair up into a high ponytail, slide on the sock bun, and then cover the sock bun with hair (you may need to use some bobby pins to keep everything in place). Add in a Cinderella-esque headband, and you're good to go.
Don't have a sock bun? This tutorial shows you how to create the same up-do without one.
The fake braid
Search for kids' hairstyles, and braids is one of the first options that comes up — for good reason. Braids keep your child's hair secure and out of their face all day long, and they look super cute. But if you've never really caught the hang of braiding, you may find these children's braids tutorials more frustrating than helpful. So, try out the fake braid.
This faux braid tutorial shows you how you can create an elegant braided look on short hair, but it would easily work well for long hair, too. If you can tie a ponytail, you can create this impressive 'do. While the tutorial includes pulling the faux braid up into an up-do, there's no need to do so — you can leave it hanging for a faux French braid.
The busy parent's shortcut "hair-do"
Still not sure if these other two easy hairdos will be successful the first hectic morning of school? Don't worry.
If you find yourself at a loss at 6 a.m. and there's not enough coffee in the world to coax your fingers into creating a decent braid, just go with a plain ponytail or bun and add a cute accessory. A sparkly headband, bow, barrette, or clip is just the thing to add a little extra sparkle and pizzazz to your child's normal 'do, making them feel special without a lot of extra effort on your end.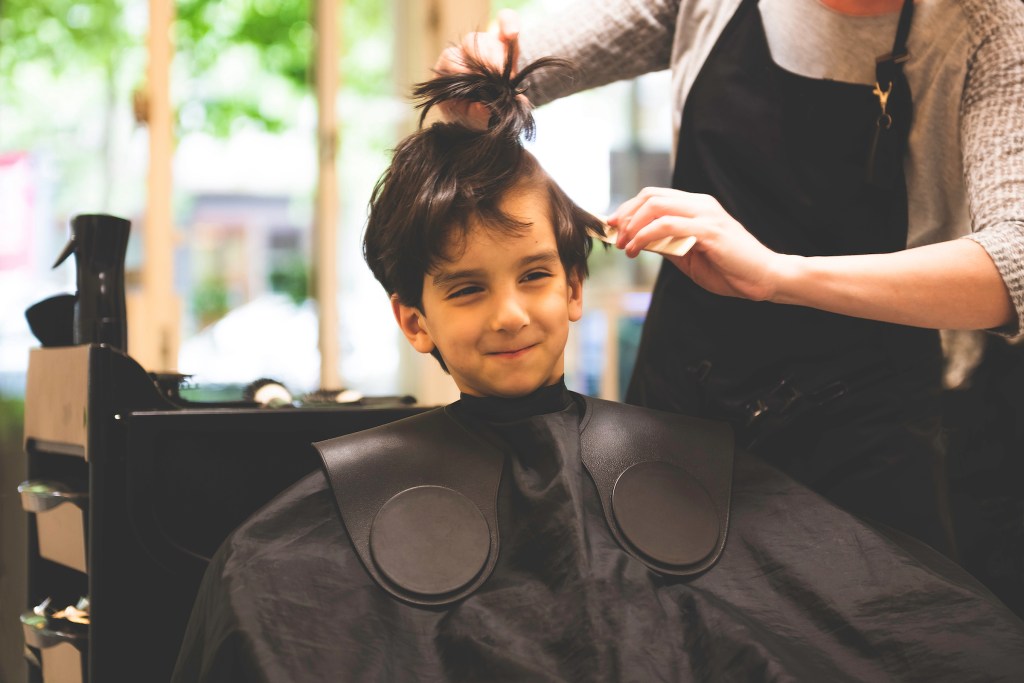 What about the boys?
But don't forget about the guys in the family! Kids hairstyle tips often leave out the boys, but that's no reason not to make sure your little guy isn't feeling his most handsome on the first day of kindergarten, too.
Before you send him off, take a trip to the barber as a special outing and spiff him up a little with a new haircut and style. From a faux-hawk to a man bun, whatever he ends up with, the experience is sure to make him feel special.
Send your child off to their first day of school in high style
The first day of kindergarten is one to remember, a special occasion. Make sure that your child is looking their best for the big event with one of these hairstyles, whether you spend an hour braiding before they catch the bus, or you just add a bow to a bun and send them on their way. The important thing is that you made them feel important and were able to snap a few pics for posterity on their way out the door.
Looking for more hairstyles, particularly those that'll keep your gal's hair off her neck during the heat? Check out these favorite girls' hairstyles for summer.
Editors' Recommendations