Designing a rainbow nursery is a beautiful way to give a nod to your rainbow baby's special spot in your heart, and rainbow nursery decor is also just a fun way to add a splash of vibrant color to your baby's bedroom. After all, why settle for one or two hues for your nursery's color palette when you can combine a mixture of all the seven major shades? 
But don't think a rainbow nursery requires big puffy clouds or jarringly bright shades. You can upgrade this nursery theme to fit any style or taste, whether you go with muted pastels or sophisticated color-inspired accents where they're least expected. 
Here are four adorable ideas for a rainbow-themed nursery. 
Add a rainbow accent wall
Everyone loves a good accent wall. Make your nursery accent wall pop with a bright dash of rainbow colors. There's no need to add a literal rainbow, though.
Try a series of watercolor-esque rainbow polka dots. No worries — There's no need to paint these on yourself, as these wall decals easily stick onto your nursery walls with minimal work. 
If you do, though, want to go a little more literal, you can try an accent wall filled with rainbow decals (in muted pinks, yellows, purples, and orange), hearts, and raindrops. 
But why go with a bunch of small rainbows, when you can have one humongous rainbow on your nursery accent wall? This decal is just the thing. 
Give your furnishings and fixtures some extra color
If you're not keen on adding decals to your walls, removable or not, you can add some rainbow-inspired decor to your nursery by opting for more colorful pieces of furniture. Why go for a plain white or black crib or nursing chair when you can go big, bold, and filled with color? 
Try some pastel rainbow-inspired storage, a miniature rainbow-leg stool for your child to use when they're just a little bit older, or this more sophisticated rainbow-striped kids armchair. 
And remember — if you can't find a rainbow-inspired piece of furniture that you love available for purchase, you can always DIY one yourself with a little bit of elbow grease and some paint. A thrift store dresser or a hand-me-down crib from a sibling can go from boring to bold in one weekend.
DIY some unique accent pieces
Along those lines, if you consider yourself to be quite crafty, then break out your favorite crafting tools and set to work DIYing some easy rainbow accents. 
This large wall rainbow that fits into any corner of your nursery comes together in a snap and is highly customizable. All you'll need is some foam pool noodles, yarn, and a hot glue gun. That's it. It's a craft project that you can most likely do even if you're not even slightly crafty. 
You can also find fun, easy DIYs that are rainbow-themed, but not quite a literal rainbow, too, such as this no-weave rainbow wall hanging that's so cute, you might want to steal it for your own space. Again, the supplies needed are minimal and include yarn, rope, cotton piping, and a wooden dowel rod. 
When in doubt, add wall art
If you just don't consider yourself that talented when it comes to putting together various pieces of nursery decor for one cohesive look, you can always go simple and minimalistic with the furnishings and big pieces of decor, while adding some more vibrant and creative wall art.
You can find tons of beautiful rainbow-inspired nursery wall art on Etsy, whether you want something that's more muted and watercolor-esque, something that's personalized for your child, or something that's vibrant and eye-catching.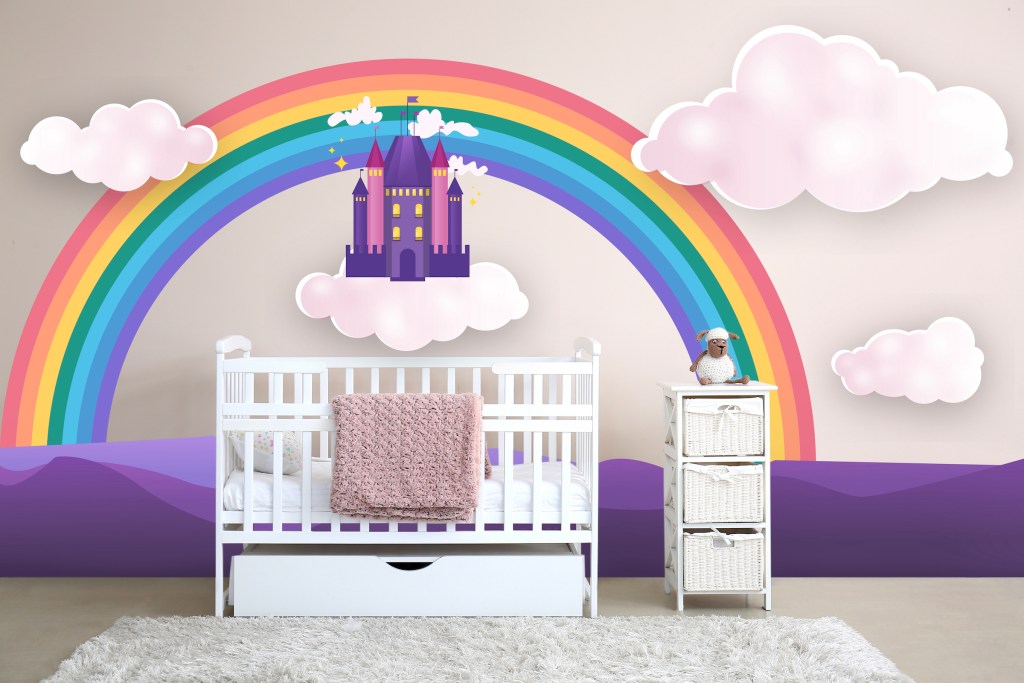 Create a nursery as beautiful as your baby
For parents in search of a nursery theme that's colorful and customizable and not at all hard to pull off, a rainbow nursery is definitely worth considering. You can get as detailed or as simple as you like, but, either way, the result is a lovely space that's sure to bring a smile to your face. After all, what's more cheerful and hopeful than a rainbow? 
For more ideas for cute, colorful nursery themes, check out our guide to creating a perfect princess nursery.
Editors' Recommendations