A dinnertime menu can be a tough sell for kids, especially picky ones. Since every dinner can't be chicken nuggets or mac and cheese, parents are always on the lookout for tasty recipes kids will actually eat without drama. Salmon may not yet rank on your kid's top ten list of meals. In reality, this fish is a yummy and healthy dinnertime option that is kid-friendly. Salmon is high in omega-3, which is essential in brain, nervous system, and eye development in children. The fish is also rich in B vitamins, which play an important role in memory and concentration. Selenium is also high in salmon and is great for bone health. Salmon is a perfect pick for adults at the table too because of the omega-3, which lowers the risk of heart disease and stroke. So, here's how to make salmon a dinnertime favorite and a go-to weeknight meal.
What is a good side to serve with salmon?
Pairing salmon with a kid staple like pasta is a definite do. While kids may not love the look of salmon on their plate, pasta is always a hit. Putting the two together in the same dish is a win-win. Pasta with salmon is a healthy and hearty dinner that's easy to make especially on those busy nights where homework and after-school activities are in the mix. Lemon pasta or a plain pasta with butter are both great picks for pasta and salmon night.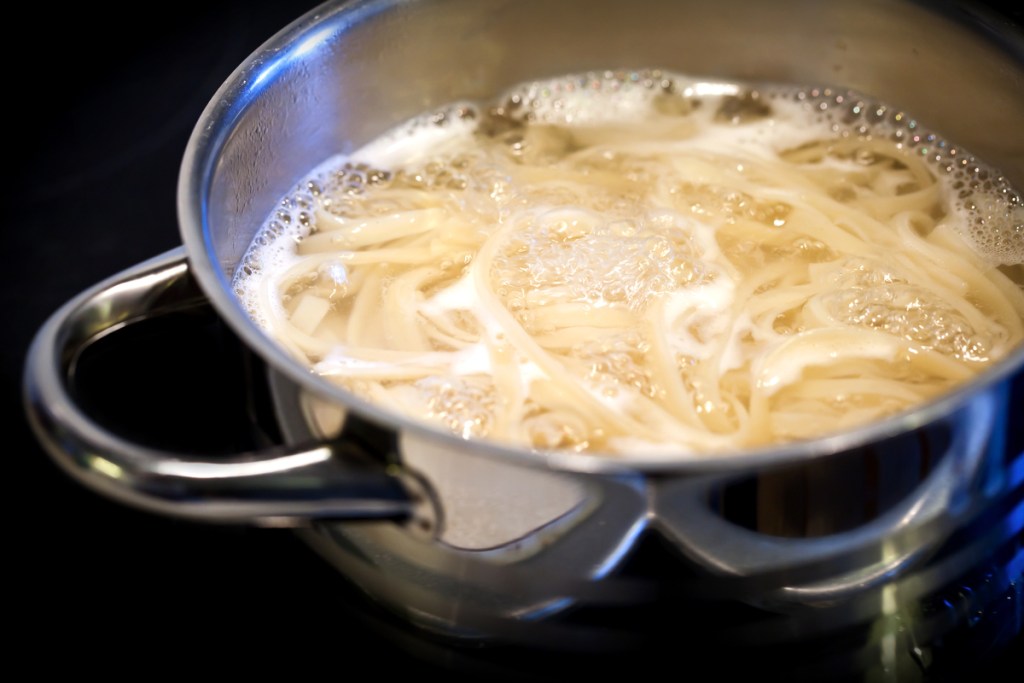 How do you cook pasta?
Cooking pasta to perfection can be harder than it seems. If you want pasta the kids will scoop up with that new salmon recipe, follow these simple steps.
Fill a large pot with plenty of water.
Add a tablespoon of salt. Salt helps to enhance the natural flavor of the pasta.
Make sure the water comes to a full rolling boil before adding the pasta.
Don't add oil to the water. Oil doesn't keep pasta from sticking and it may prevent the sauce from adhering to the pasta.
Stir frequently. It's stirring that keeps pasta from clumping together.
Follow cooking times, but the taste test is always best.
Drain in sink. Don't run under cold water.
Return to pot, adding sauce.
Can I freeze salmon?
If you're new to adding salmon to the dinner rotation, you may be unsure of whether to freeze salmon as you do with meat or plan on making it the day it's purchased. Actually, you can do either. Fresh salmon can be cooked within one to two days after buying; just make sure to refrigerate it. Otherwise, go ahead and freeze fresh salmon by putting it in a freezer bag and sealing tightly. Write the freeze date on the bag before placing it in the freezer. Salmon will keep in the freezer for up to three months.
Can you cook smoked salmon?
There isn't any need to cook smoked salmon. Smoked salmon has already been cooked and doesn't need to be heated or baked. So, go ahead and serve it as is. Unlike regular salmon, smoked salmon shouldn't be frozen. The perk of using smoked salmon with a pasta dish is that you don't have to cook it. It's good to eat as is.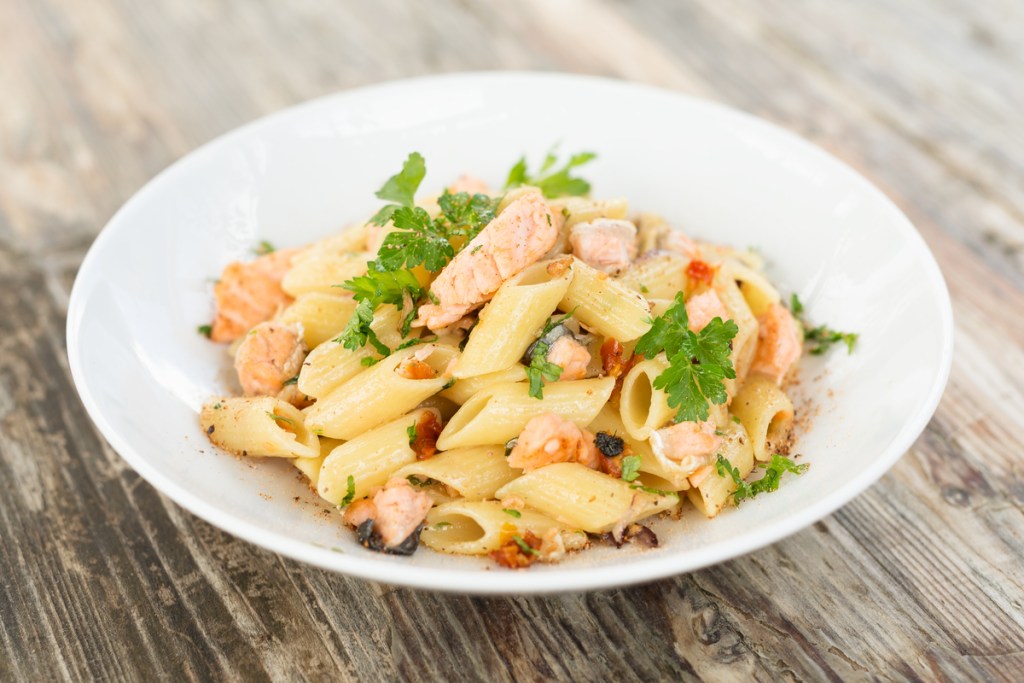 Kid-friendly pasta with salmon dishes
If you're looking to try pasta with salmon recipes the whole family will enjoy, try these tasty dishes.
Pasta with salmon
If your kids are super picky and you want to bring salmon to the table, try making salmon the side. Make your kid's favorite pasta dish whether it's pasta in a butter or red sauce. Then, grill salmon with basic seasoning. You can also do a simple salmon recipe in the air fryer. This air fryer salmon recipe from Feel Good Foodie takes only 10 minutes and is super tasty. Garlic, salt, pepper, and paprika make up the no-fuss seasoning kids won't turn down. You can even do air fryer or grilled salmon as a side to mac and cheese. Better yet, add the salmon to the mac and cheese. Everyday Dishes has a salmon mac and cheese recipe picky eaters will want to dive into.
Salmon has been tapped as a superfood because of its health perks, making it a perfect pick for dinnertime. This fish is easy to make and perfectly complements pasta which is a kid staple. Pasta with salmon is an ideal way to bring this healthy superfood to the table. Salmon is great for kids and adults too because it's high in omega-3 and other important nutrients. Try one of these delectable salmon and pasta recipes or pair salmon with your kiddo's top pasta dish. Either way, pasta with salmon is sure to become a dinnertime hit with the whole family.
Editors' Recommendations