It's not an exaggeration to say everything changes during pregnancy. Your family dynamic shifts, your work schedule is adjusted, and the most glaring change of all happens: your belly grows and grows and grows. Among other maternity wear essentials, a good pair of maternity jeans will keep you comfortable during and after birth. Read on to see why you should have at least one pair in your closet and how to choose the best fit.
When do I need to buy maternity clothes?
Around 12 to 16 weeks, your little one begins to make an appearance, and while you may still be radiating with pregnancy glow, it's time to think about whether or not you'll need maternity clothes.
Note that there are a few things that may affect when your belly starts to show:
Whether or not you're having twins
Your uterus shape and position
Age and whether or not this is your first pregnancy
Starting weight
Bloating
When your regular pair of jeans or other pants can't button all the way up anymore or when shirts sort of domes over your belly, it might be time to start looking into maternity clothes.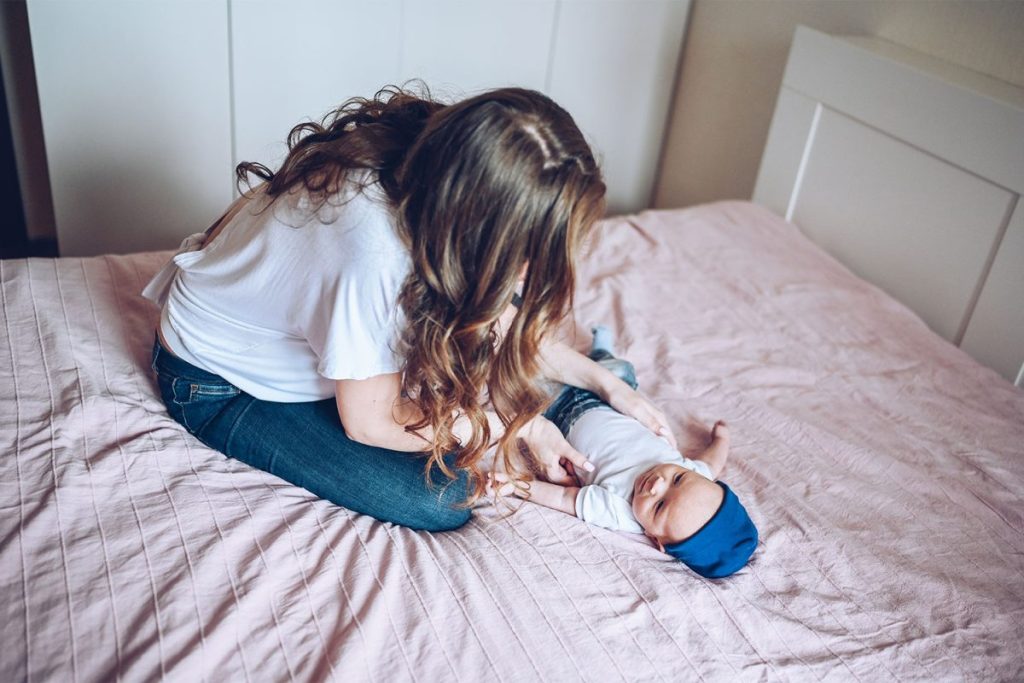 You may even start noticing that your regular bra is starting to feel tighter. Your body might be starting to produce milk, and later on in the pregnancy, your rib cage might expand as your organs are pushed up to make room for your growing baby.
But before you look into maternity intimates, you can start by looking for comfortable maxi dresses, elastic waist skirts, loose tops, and most importantly maternity jeans.
What are maternity jeans?
Maternity jeans are wonderful works of modern innovation. Sort of. They became popular around the late 1990s and have been getting better ever since.
To accommodate your growing belly, you can find jeans that have an elastic band around the waist. Say goodbye to ill-fitting button-up or zipper jeans, and say hello to comfort heaven.
There are three main types of maternity jeans you'll want to get to know:
Jeans with side elastic panels: This type of jean resembles nonmaternity jeans the most. Most pairs will still have buttons and/or zippers and other design features a regular pair might have. You might rock these during the early stages of your pregnancy and months later postpartum. They offer a midrise and sit on your hips.
Jeans with an elastic band over the belly: This jean model is popular for moms who want full cover on their bumps. The wide elastic band gives you support during the second trimester and beyond. Most moms and moms-to-be like the feel of the gentle pressure from the band. These provide a high-rise fit, so they give you more coverage during pregnancy and after.
Jeans with elastic band under the bump: This last style gives your baby bump support from below. It typically only features an elastic on the front, but some have panels that go all around the jean. These usually don't have buttons or zippers, so they're extra comfortable during any point of your pregnancy. Under the bump elastic jeans give you a high-rise fit.
So you're now familiar with the three types of maternity jeans, but why else should you get them?
Why are they good to have?
Maternity jeans are useful not just during pregnancy, but beyond. Good news: More and more moms are speaking out about the challenges of postpartum body changes. After birth, your uterus is still in the process of shrinking to its prebirth size.
This means you will still be sporting a baby bump of sorts, and what better piece of clothing to wear than maternity jeans? The elastic band can provide pressure to help with cramping, not to mention hide that postpartum baby belly until you've recovered enough.
If you had a C-section birth, you might be hesitant to wear jeans or anything that rubs against your incision, and that's OK! When you're feeling 100%, you can rock those acid wash bootcut jeans you've been eyeing since your second trimester.
Another thing many postpartum moms don't talk about is that weird weightless feeling in your guts after birth. It's understandable: Your organs shifted to make room for your little one, but now they're trying to find their original places. A pair of maternity jeans with an elastic band over the belly can provide some support.
Firm but gentle pressure can help your skin and muscles tighten to remind your organs where to go. Additionally, the forgiving waist size will help postpartum when you're still feeling bloated.
Another reason why maternity jeans are a must-have? Simple: They look good.
With so many styles available, it's hard not to reach for your maternity jeans over your regular ones. Ankle-cuff, ripped knees, stone wash — maternity jeans are just as stylish as your regular pair of denim but are so much more comfortable.
How do I choose the right pair for me?
When you're shopping for maternity jeans, ask yourself some important questions:
What type of elastic waist style am I looking for?
Would I wear this after birth?
Do I want jeans I can wear throughout my pregnancy, or am I OK with just wearing it for a trimester?
If possible, try on any pair of jeans you're thinking of buying. If not, pay attention to measurements. It might be a good idea to buy two pairs for different stages in your pregnancy, so why not treat yourself?
Maternity jeans make you comfortable when you might be experiencing other pregnancy ills like bloating and a growing bustline. When your belly starts to show, you can proudly whip out your pair of maternity jeans and not worry about your pants sliding down or fighting to get your regular pair of jeans on every morning. After birth, you can keep rocking those stylish mama jeans with any outfit, and no one will suspect a thing!
Also, if you are interested in keeping your child's wardrobe organized, you can check out our list of the best baby closet dividers.
Editors' Recommendations