Real talk: Babies require a lot of stuff. Like, a lot. It is expensive to be a parent, so discounts on all of the products you and your family can't live without are nothing short of a godsend. Every dollar saved is another dollar that can be put to another use, and thanks to all of the Prime Day baby deals headed our way, there are seemingly endless opportunities to save.
Prime Day is Amazon's biggest event of the year, and it will be happening this year on July 12 and 13 — but there are early Prime Day deals that are rolling out now. If there are things you need right now, then these deals are ones you won't want to miss. Keep reading for our top picks for the best Prime Day baby deals that are happening now.
Best Prime Day baby deals 2022
Huggies Natural Care Sensitive Baby Diaper Wipes — from $12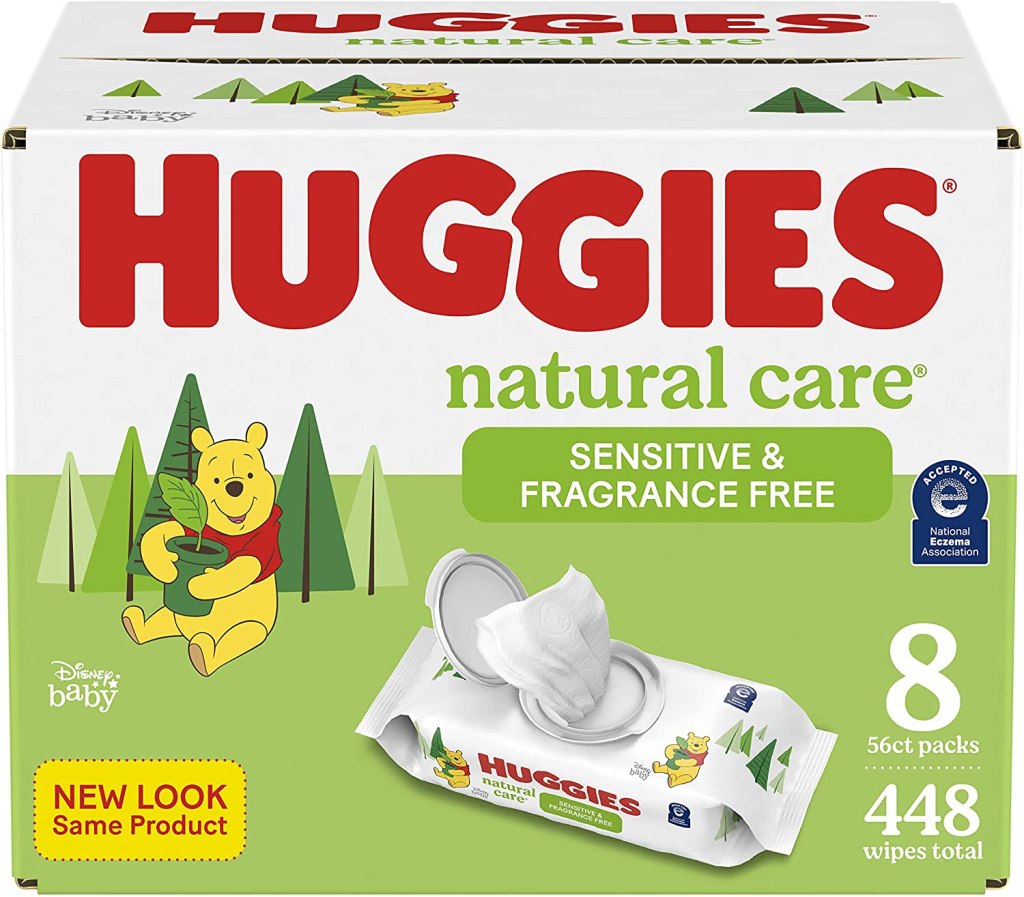 Why Buy
Eight packs of baby wipes
Accepted by the National Eczema Association
Safe for sensitive skin
Plant-based wipes
Huggies has been a trusted brand in baby care for decades and as we make more of an effort to be better to our planet and to our bodies, Huggies is on board. Huggies Natural Care Sensitive Baby Wipes are totally plant-based and made with 99% purified water for a gentle clean for sensitive skin. Plant-based is better for the Earth and better for your baby, too. They're accepted by the National Eczema Association, so you can rest assured that your little one's skin is protected.
This pack of eight packs contains 56 wipes in each pack, so this box totals 448 baby wipes in all. Thanks to Huggies' EZ pull, one-handed dispensing has never been easier. You can grab one wipe at a time without wasting any, which is better for the planet as well as your wallet. Best of all, the Winnie the Pooh designs will keep your baby smiling throughout their whole diaper change.
Tommee Tippee Closer To Nature Baby Bottles — $22, was $32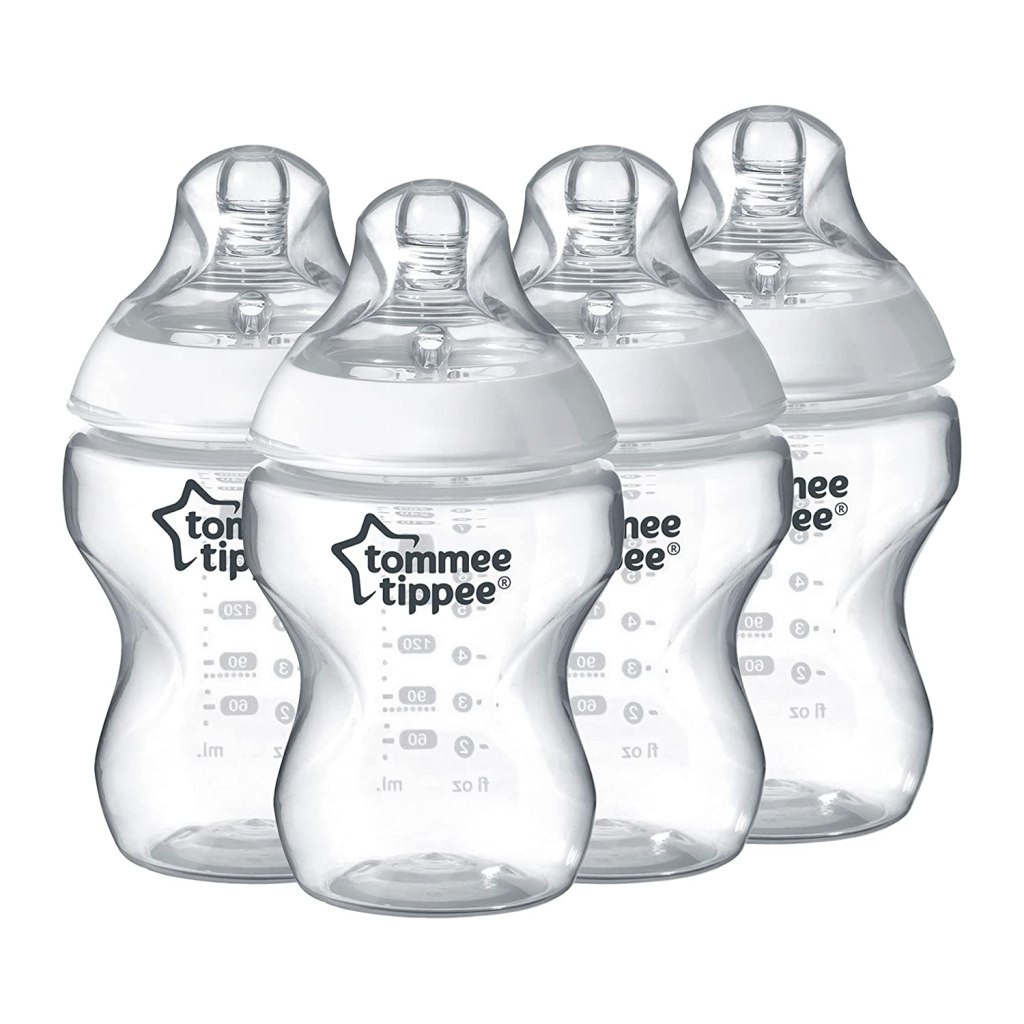 Why Buy
BPA-free
Breast-like nipple
Easy to clean
Different flow rates for growing babies
Tommee Tippee baby bottles are some of the best you can buy, namely because they are the original baby bottle that's shaped like a breast. Breast-like nipples make it easier to feed your baby, allowing them to latch on more easily and help support the transition between breast and bottle. Made of soft silicone, the nipple feels similar to skin, which makes everyone more comfortable during meal times. When the nipples get damaged, you can change them without having to replace the entire bottle.
These baby bottles are BPA-free, and their wide necks make them easy to clean. Better still, they're dishwasher-safe, microwave-safe, and safe to use in sterilizers. The design makes them easy to hold, whether you cradle it in your hand, grip it like a traditional bottle, or hold from the base. Tommee Tippee also offers different flow rates that you can change as your baby grows, until they're ready to upgrade to a sippy cup. These bottles are meant for you and your baby for the long run, and make feedings easier than ever before.
Dr. Brown's MilkSPA Breast Milk and Bottle Warmer — $50, was $60
Why Buy
Evenly warms breast milk
Auto shut-off and timer
Thaws frozen breast milk
Fast warming
Dr. Brown's MilkSPA Breast Milk and Bottle Warmer is an item that every breastfeeding mama can't live without. This gentle water bath was designed to safely and quickly warm breast milk up to body temperature. According to the CDC and the USDA, even and consistent warming best preserves the nutrients in breast milk. Best of all, the MilkSPA bottle warmer warms breast milk fast.
The MilkSPA's convenient auto shut-off and timer features help prevent overheating. Breast milk is gold, so you want to preserve as much of it as possible! The MilkSPA also helps thaw frozen breast milk, so you can easily access your supply. Twelve pre-programmed settings allow you to customize the warming cycle to start from frozen, refrigerated, or room temperature. Warm breast milk can be warmed in storage bags, any size baby bottle, baby jars, and food pouches, too. Thanks to the MilkSPA, feeding time will be easier and your milk temperatures will be more accurate than ever.
VTech VM819 Video Baby Monitor — $54, was $65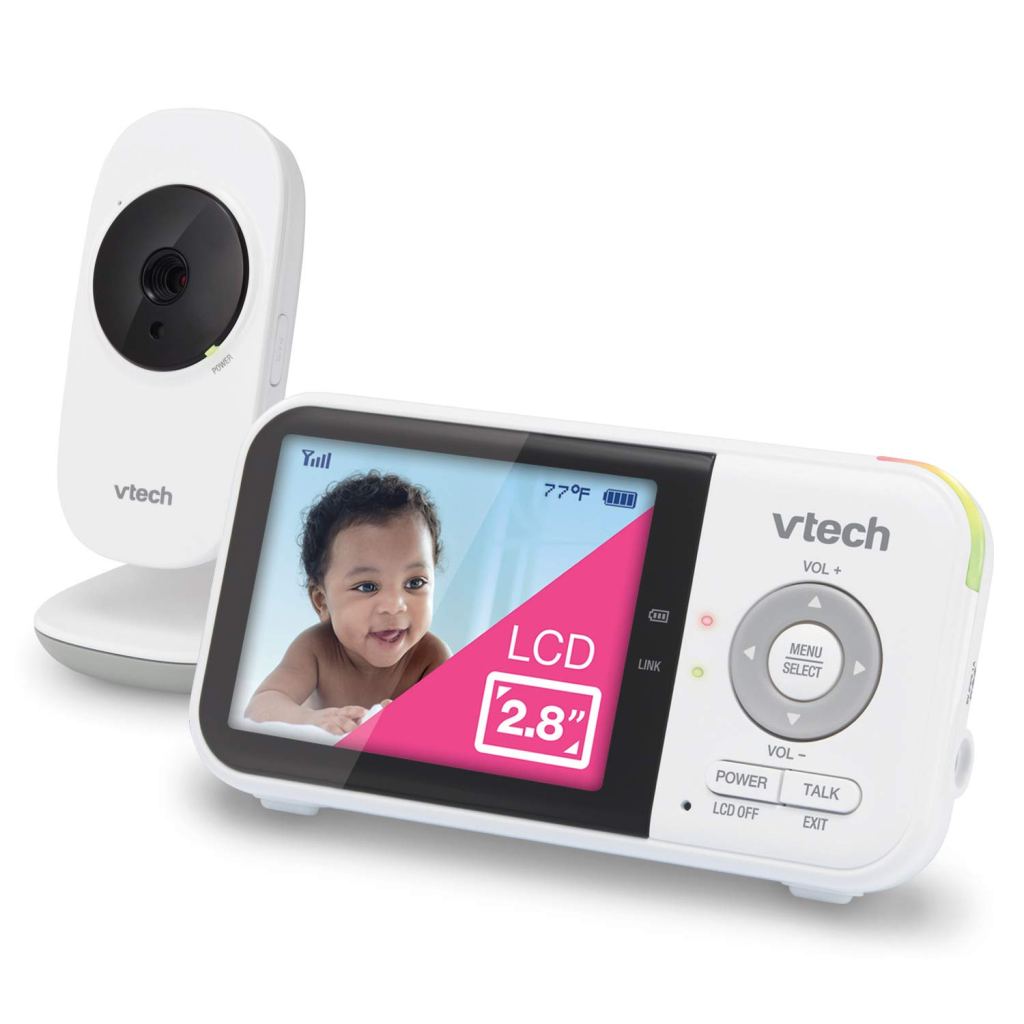 Why Buy
Easy setup plug and play
Two-way talk
2.8-inch display
19 hours of video streaming on a single charge
Keeping an eye on your baby while they're sleeping is absolutely key for moms and dads. The VTech VM819 Video Baby Monitor makes it easier than ever to watch over your little ones while they rest. The parent unit and camera come right out of the box configured for monitoring, and no pairing or connection is required. The system supports two-way talk-back, so your baby can hear the sound of your voice even when you're not in the room. A built-in temperature sensor will alert you when it's time to change the thermostat to make sure your baby is always comfortable and cool in their nursery.
The 2.8-inch display allows you to see your baby in full view, night and day, during a nap or overnight. If you want to zoom in closer, you can do that too because the VM819 has up to a 2x zoom option. The VM819 offers some of the best battery life in its class, with up to 19 hours of video streaming on just one charge. It operates from up to 1,000 feet away, so you can go about your day, tackling chores in other rooms or even yard work, all the while staying connected to your baby.
Dr. Brown's Deluxe Electric Baby Bottle and Pacifier Sterilizer — $56, was $70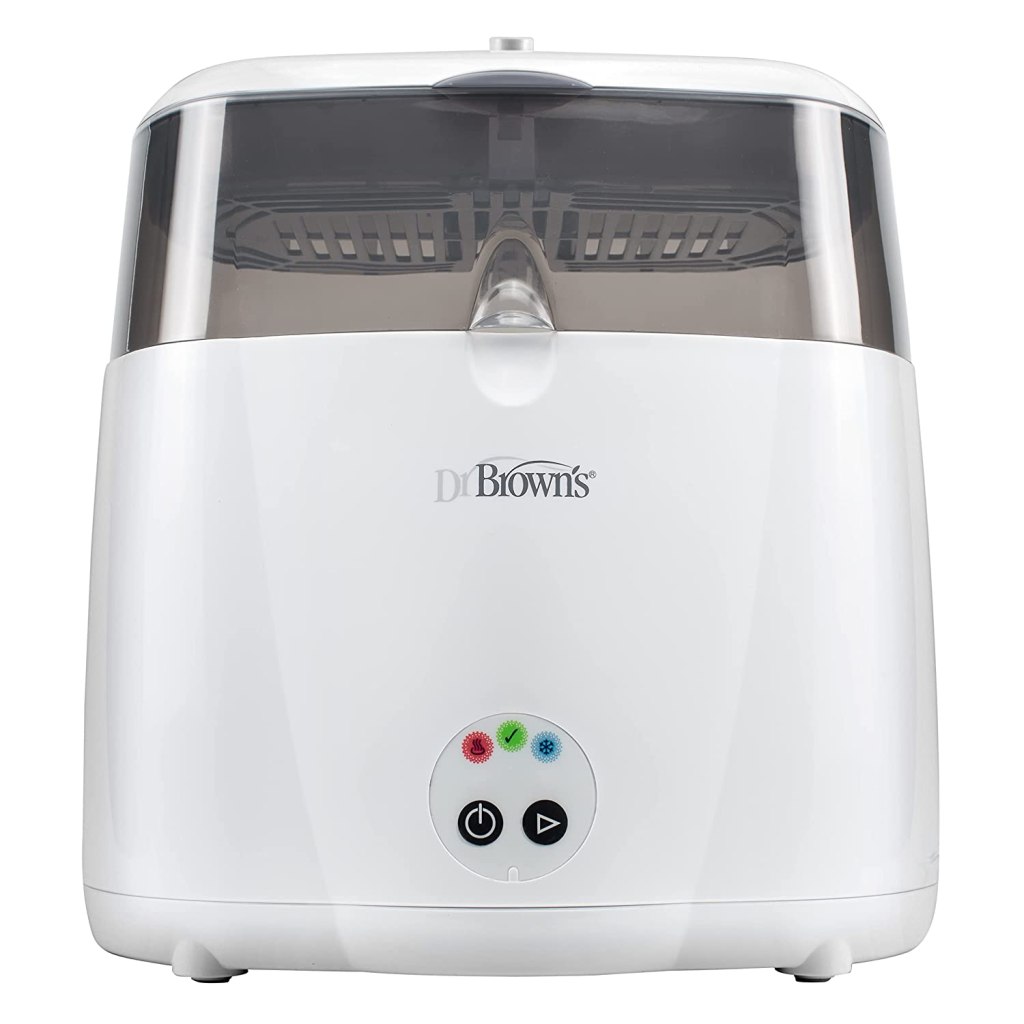 Why Buy
Sterilize up to six baby bottles at once
Built-in accessory tray
Includes measuring cup and tongs
Easy to operate
Dr. Brown's Deluxe Electric Baby Bottle and Pacifier Sterilizer is a game-changer when it comes to cleaning your baby bottles and keeping your baby safe and healthy. This sterilizer allows you to sterilize up to six baby bottles at once as well as bottle parts, pacifiers, and just about anything else that your baby may want to chew on for teething. It's incredibly easy to operate, featuring easy electronic controls with cycle indicators and an auto shut-off when the sterilization cycle is complete.
The Deluxe sterilizer comes with a convenient accessory tray, which holds bottle parts, nipples, pacifiers, and much more, enabling you to effectively sterilize all of your baby's accessories at once. It also comes with a measuring cup and tongs, which are the best way to add water to the sterilizer and keep the bottles and parts clean after sterilization. With this sterilizer, keeping your baby's bottles clean has truly never been easier or more effective.
Graco Contender 65 Convertible Car Seat — $140, was $170
Why Buy
Designed for children ranging from 5 to 65 pounds
Eight position adjustable headrest
Simply Safe Adjust Harness System
Hassle-free installation
A car seat is an absolute non-negotiable for your baby, and Graco has been a trusted brand for as long as we can remember. The Graco 65 Convertible Car Seat is the kind of car seat that will grow with your baby. It was made for newborns as small as 5 pounds all the way up to children weighing up to 65 pounds. Start your child off in the rear-facing direction, and face them forward once they're big enough.
The headrest has eight possible positions, and you can adjust it to whichever works best for your baby. Installation is easy peasy with the rear-facing position latch and an easy-to-read level indicator. Most importantly, this car seat features the Simply Safe Adjust Harness System, which adjusts the harness and headrest height together with one easy motion, meaning no threading is required. It's perfect for car rides — long and short — with your baby.
Mompush Ultimate2 Baby Stroller — $390, was $470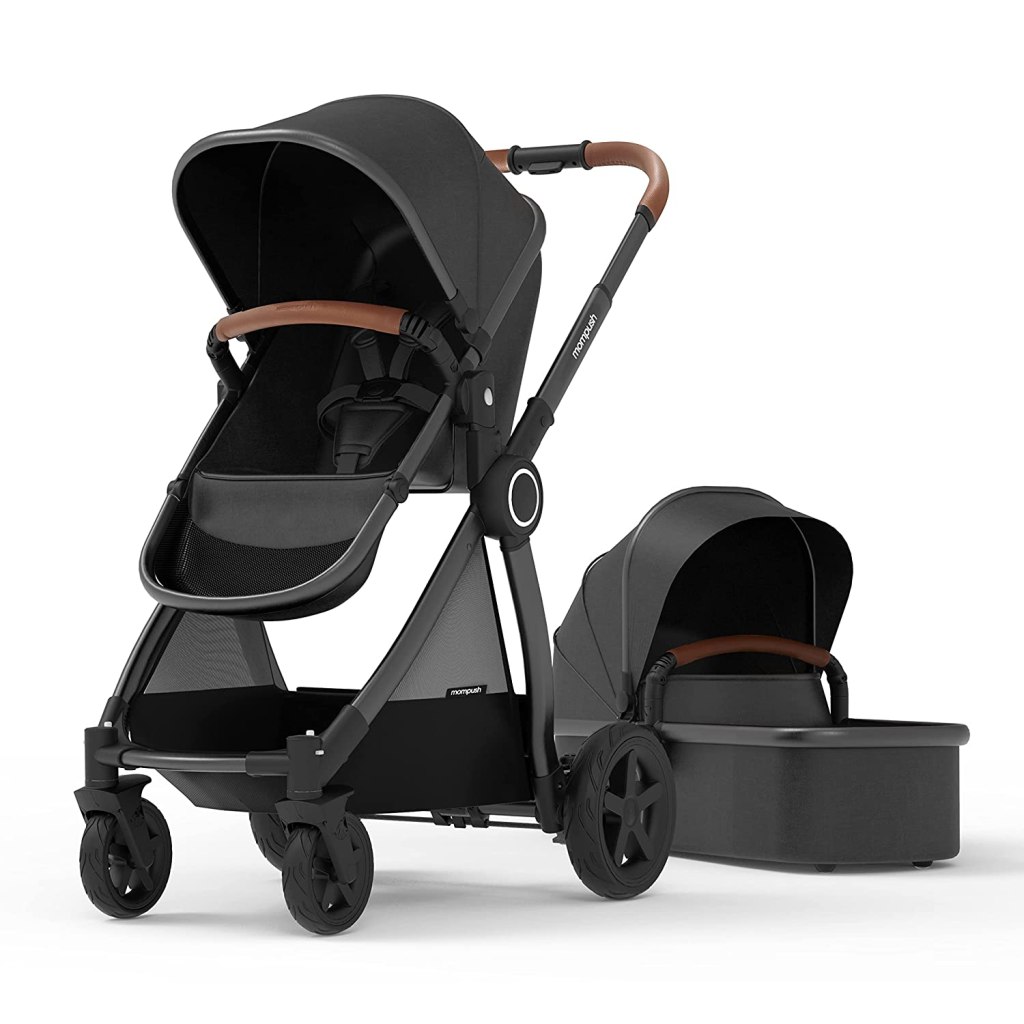 Why Buy
Two-in-one bassinet and stroller
Super stylish
Compact folding
Supports a child up to 50 pounds
For the first and last stroller that you'll ever need to buy, look no further than the Mompush Ultimate2 baby stroller. This full-size stroller is filled with so many wonderful, adjustable features that were designed to make your life as a parent as easy as possible. It functions as a baby stroller for newborns when you attach the bassinet, but transforms into a modern baby stroller that will see you and your baby through their toddler years. What's most impressive is how chic and stylish the Ultimate 2 really is!
The Ultimate 2 folds up super easily, either with or without the seat attached, and it stands up independently so you can easily load and unload your car. It is fitted with all-terrain wheels that are puncture-resistant to ensure that your baby rolls easily over even bumpy surfaces. Best of all, this stroller was made to grow with your child. From newborn to toddlerhood, it supports weights up to 50 pounds, so you'll get many years of use out of it.
Prime Day baby deals FAQ
If you're considering participating in Prime Day by taking advantage of some of the Prime Day baby deals, you already know that you're in a position to save big during Amazon's annual event. Even still, you may have some questions before adding to the cart on the big day. That's why we've taken it upon ourselves to answer some of your most frequently asked questions about this year's Prime Day deals.
Is Prime Day a good day to buy baby products?
Not only is Prime Day a good day to buy baby products, we would say that Prime Day is great day or even the best day of the year to buy baby products. Prime Day baby deals are often the best of the year, and Amazon is known for taking discounts to the next level during its annual event. There's no better time to stock up on all of your favorite baby products.
While we're sure that by now you know that Prime Day baby deals are the best of the best, what you may not realize is that Amazon isn't the only company offering Prime Day deals. Amazon's biggest competitors have figured out that the best way to keep up with Amazon during this time of the year is to offer competitive deals on so many of the same products. So while you're keeping your eye on all of the Amazon Prime Day baby deals, make sure you're keeping the other eye on other major retailers that specialize in baby products, too. Either way, Prime Day is the best time to get the best prices.
When do the Prime Day baby deals start?
Even though Prime Day doesn't start officially until July 12, Amazon has already started rolling out so many Prime Day baby deals. We've already seen so many discounts on countless baby items, but we are certain that the main event will include deals on all of the products that you and your family can't live without.
Amazon's Prime Day baby deals may also include some of New Folks' best baby products, and it's a good idea to watch out for those specifically, as they're highly recommended. Stocking a new nursery can be expensive to say the least, so Prime Day is a great way to save money while purchasing everything your little one will need.
Should you shop the Prime Day baby deals now or wait until July 12?
There's no correct answer to this question, because when it comes to babies, they need what they need, and it's impossible to ask a baby to wait. While the deals that are happening today are awesome, we are anticipating the best deals we'll see all year will hit Amazon on July 12 and July 13. It's really challenging to time your purchases perfectly, but Amazon has been known to run Prime Day baby deals that make it worth the wait whenever you're able to hold out.
That being said, if you need to stock up on baby items sooner than later, there's no reason not to capitalize on the deals that are available right now. The most important thing is ensuring that you and your baby have everything you need right when you need it. While we do recommend that you wait for Prime Day when you can, we know that either way you'll be happiest when you get what you need so you don't have to stress or worry. No matter when you click add to cart, you're going to get a great deal.
Editors' Recommendations