Find us a toddler who doesn't like presents, and we'll show you a unicorn.
Little ones (and big ones, for that matter) enjoy tangible gifts — toys, stuffed animals, and other play items. Of course, as grown-ups, we know that, while toys are important to a child's development, they often get used once or twice and then completely forgotten about. Toddlers are fickle; a new addition to their collection may lose its luster after a few minutes.
That's why we encourage balance come birthdays, holidays, and present-giving events: A new trinket or two and then a few meaningful non-toy gifts. These might not seem quite as exciting at first, but we promise, kiddos will absolutely love our picks for super-fun, cool, and inspiring hands-on items and immersive experiences.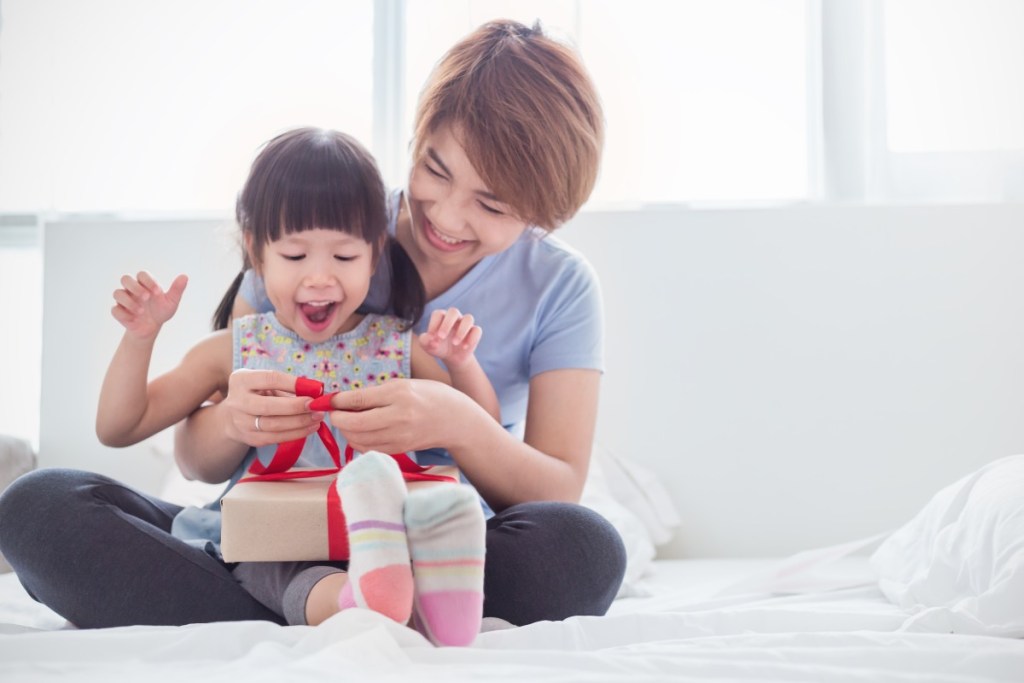 A book series
Okay, hear us out: We know that giving books as gifts may sound boring on paper — and, indeed, they might not elicit that initial gasp of excitement from your wee one as they eagerly rip the wrapping paper off a box. But once you sit down with your child to actually read together, they'll be absolutely delighted.
Here is the truth: You may not always want to get down on the floor to play dolls with your kiddo, but you will always be ready, willing, and able to curl up on the couch to read the latest from Mo Willems or explore a gorgeous pop-up book together. In short, giving books is giving your time — and that is a win-win.
Craft subscription
Does your little one love making a mess? Help them embrace their sticky, colorful, and glitter-covered (eek!) side by giving them a craft subscription box. Every month, they will get a new project to do independently — or with your help. (Just maybe consider also getting them a smock!)
Little Passports subscription
Three-year-olds will absolutely go crazy over the Early Explorers monthly subscription box from Little Passports. It's chock-full of age-appropriate activities, immersive hands-on lessons, stickers, games, and fun surprises inspired by a love of travel and global adventure.
Toddler cooking stool
Does your wee one love to participate in the kitchen? Consider getting them an enclosed height-boosting cooking stool. It allows them to stand at counter level to help you safely mix, stir, and season (just, you know, keep the knives out of reach). Your child will get to exert some independence, and you gain a sous chef. You both make out great with this gift!
Give an experience
Make a date with your cutie pie for a special outing! Plan something that they will enjoy — a trip to an extravagant ice cream shop, a Disney movie matinee, a tour of the best playgrounds in town, a beach afternoon, a Happy Meal picnic, or perhaps a visit to a children's museum. Be creative; your little love will be ecstatic to spend some uninterrupted one-on-one time with you. That is the real gift!
Play tent
Does your toddler love to make-believe? Encourage that beautiful imagination and foster creative play by giving them a super-cool and spacious tent or clubhouse. It can be their special hideout, fort, or whatever else they want it to be that day — a rocket ship, camping tent, or, yes, an ice cream truck.
Bike or scooter
You want your kid to get outside, play, be active, and burn energy. One way to encourage a love of outdoor play is by giving them a beginner bike or scooter. Younger toddlers may benefit from a tricycle or balance bike, while older ones will enjoy balancing on a scooter and confidently picking up the pace.
Toys are great and all, but gifts that inspire creativity, spark joy, and encourage new skills are even better — and way more memorable. Your little one will get plenty of play items, so think outside the toy box with these creative gift ideas for toddlers.
Editors' Recommendations