The Halloween season comes with the most creative crafts for your pumpkins to do. Halloween crafts for kids are the favorite thing to do in October, aside from trick-or-treating. They are also the most convenient, as you probably have the materials to do them around your house, anyway.
When you have older kids, like 10-year-olds, it's more relaxing to get crafting. You can get into more detailed crafts or do them side by side since they don't need the supervision smaller children would. These nine Halloween crafts for 10-year-olds are perfect for all to have a spooktacular season.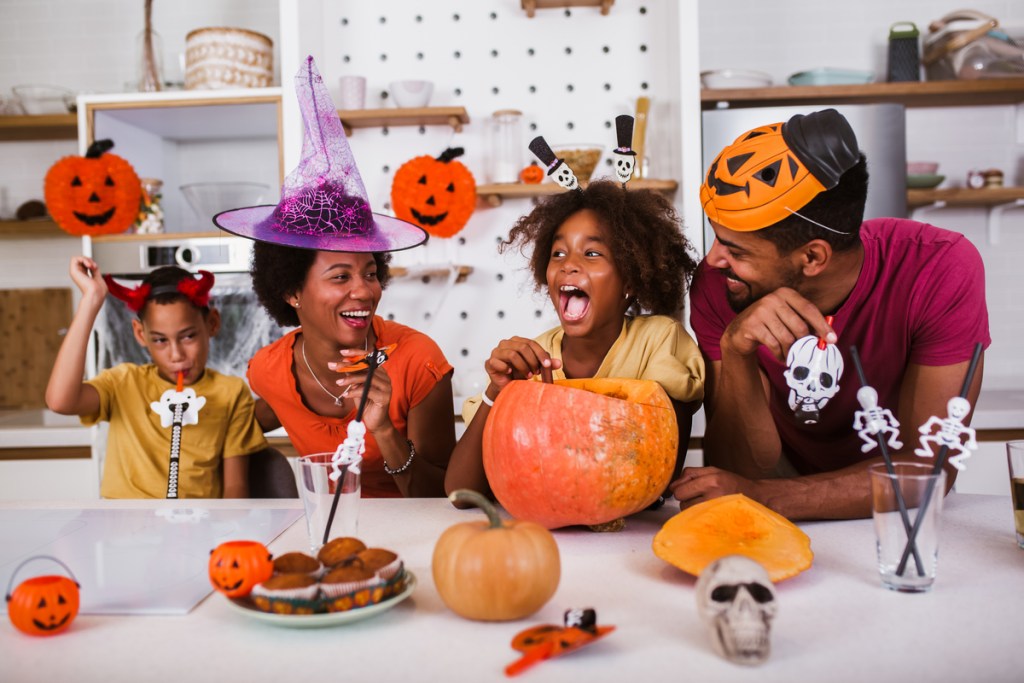 Themed games to play
Spooky bingo
What you'll need
Blank papers
Markers/crayons
Candy for Bingo chips
Any way to play a game to keep kids entertained is encouraged, and Bingo gets the whole family involved. Have your 10-year-old make the boards by printing off blank templates and filling in the spots with Halloween-themed pictures. Once your kiddos finish decorating the cards, use candy as chips and play Halloween Bingo.
Halloween hunt
What you'll need
Scavenger hunt sheet
Objects to find
Print a list or take a walk around your neighborhood to see what you could find that's related to Halloween or fall and write it down. Let the kids pick treats as a prize for the first one done. Whatever gets the kids to run around and burn that energy off works the best.
Bobbing for treats
What you'll need
String
Candy/donuts/treats
Forget bobbing for apples. Who actually likes sticking their face in water? Let the kids have a blast trying to grab treats with their teeth. Use string to tie around candy bars, donuts, or other candy, and hang them from a tree in your yard or around your house. Get the camera ready for this one. It will be sure to provide great candid shots.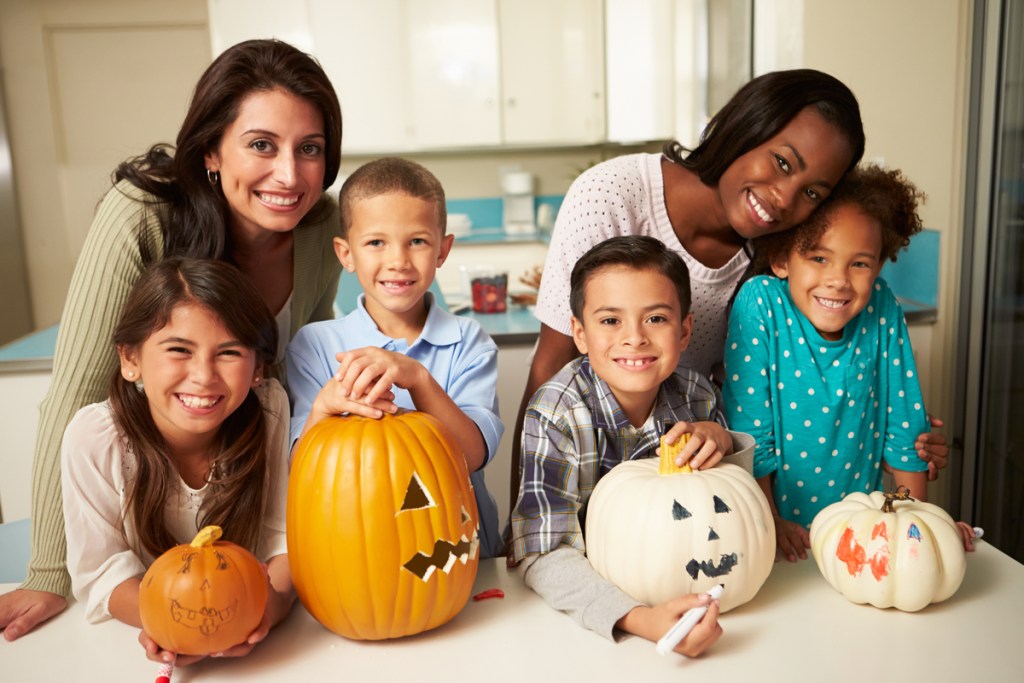 Crafts for decorations that also have practical uses
Painting pumpkins
What you'll need
Paints/paintbrushes
Pumpkins of various sizes
At 10 years old, a child's creative ability is good enough to have some real fun with this. Plus, painting pumpkins is a lot less messy than carving pumpkins. Does your child like Minecraft? Roblox? Disney?
Your kiddo will have fun painting their favorite show's logo on the pumpkins. Adults should paint a pumpkin as well and ask the rest of the family which they like best. Make sure to put these on the porch for the neighbors to enjoy.
Monster mason jars
What you'll need
Permanent markers
Googly eyes
Washi tape
Paint/paintbrushes
It's always best when you make a craft that you'll actually use. Your kiddo will have fun making a mummy, monster, skeleton, pumpkin, or ghost mason jar. Make one of each or an army of your choosing.
Use them to store pens, your Q-tips, or the good candy that you'll be snacking on later after the kids are in bed. You could also fill them up with goodies and pass them out to family members.
Ghoulish bookmarks
What you'll need
Thick car stock
Markers
Washi tape
Googly eyes
Let your kids make bookmarks for everyone. Hand them out in school on Halloween or give them to the neighborhood kids. Cut the card stock up to the size or shape wanted and let your child decorate it.
Or, if your kid does well with beginner origami, there are plenty of Halloween-themed folding bookmark crafts. You could also cut the card stock into smaller pieces and put a magnet on the back to make fridge magnets.
Day of the dead rocks
What you'll need
Various rocks
Paint/paintbrushes
If your kids love the movies "Book of Life" and "Coco," keep that light alive by letting them try their hand at painting rocks in that sugar skull style. Get small planters and let them paint those as well. Painting is calming, so maybe the adults should do this one as well. Put Halloween music or a movie on and let everyone enjoy.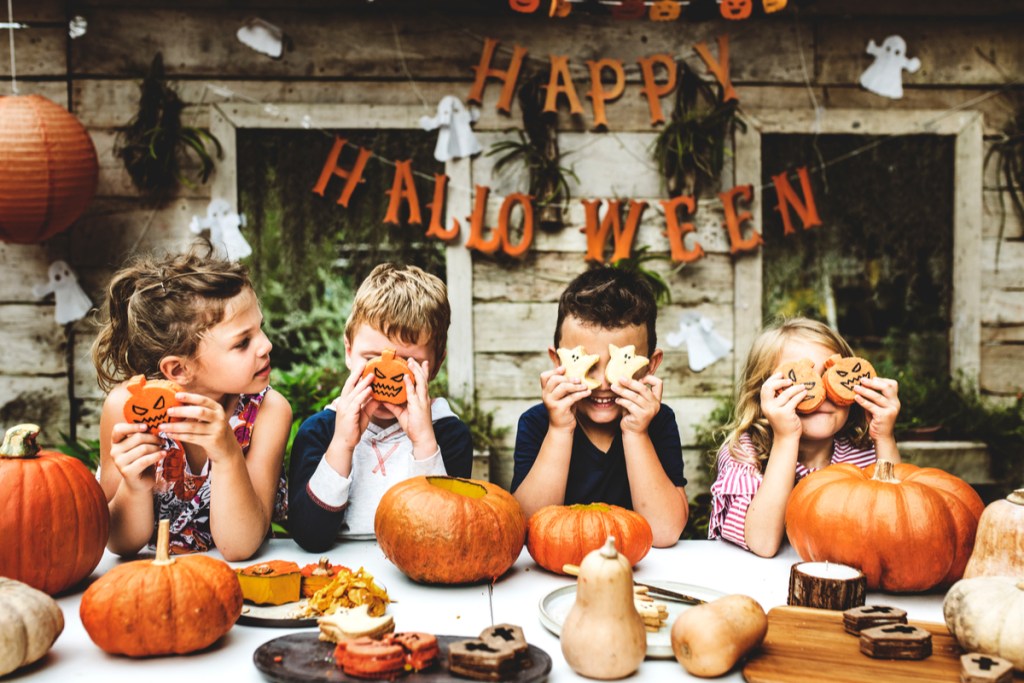 Crafts that use food
Pasta bones
What you'll need
Various kinds of pasta/noodles
Black and orange paper
Glue
Paint (optional)
Let them get as spooky or as funny as they want creating their own noodle skeleton scene. Your child will glue the pasta pieces on either black or orange paper. Paint the pieces before they glue them down if they want to make the art more colorful. Hang their artwork up around the house to have the spookiest crypt on the block.
Ghostly Oreos
What you'll need
Oreos
Melted chocolate
Sprinkles
Edible glitter
Various candies (smashed up)
Various small bowls
Fork
Get this all set up and let the kids have the most ghoulish time making the treats. Melt chocolate in a microwave-safe bowl and put sprinkles in another bowl, and any other smashed candy pieces you want to use for decoration in other bowls. Have your child put a fork inside the cream of the Oreo and dip it in the chocolate, sprinkles, or whatever other toppings they want. They do all the work, and you get to taste test. It's perfect!
As your child gets older, the world of activities opens up and becomes so much more interesting. You'll spend less time showing them how to do a craft and more time watching their mind figure out what they are going to do. And Halloween crafts are always the most adorable ones.
You are going to love watching your 10-year-old doing these Halloween crafts. We want you to get into the spirit of celebrating this Halloween season and with these ideas for your 10-year-old, you'll be sure to do just that.
Editors' Recommendations