If you're going camping as a family, you might be wondering how to choose a tent. There are so many types and styles out there, but all you really need is enough floor space for sleeping and materials that will keep you dry and comfortable. If you're figuring out how to buy a tent for camping, this article will take you through the features, sizes, and types of tents to make the best choice for your family.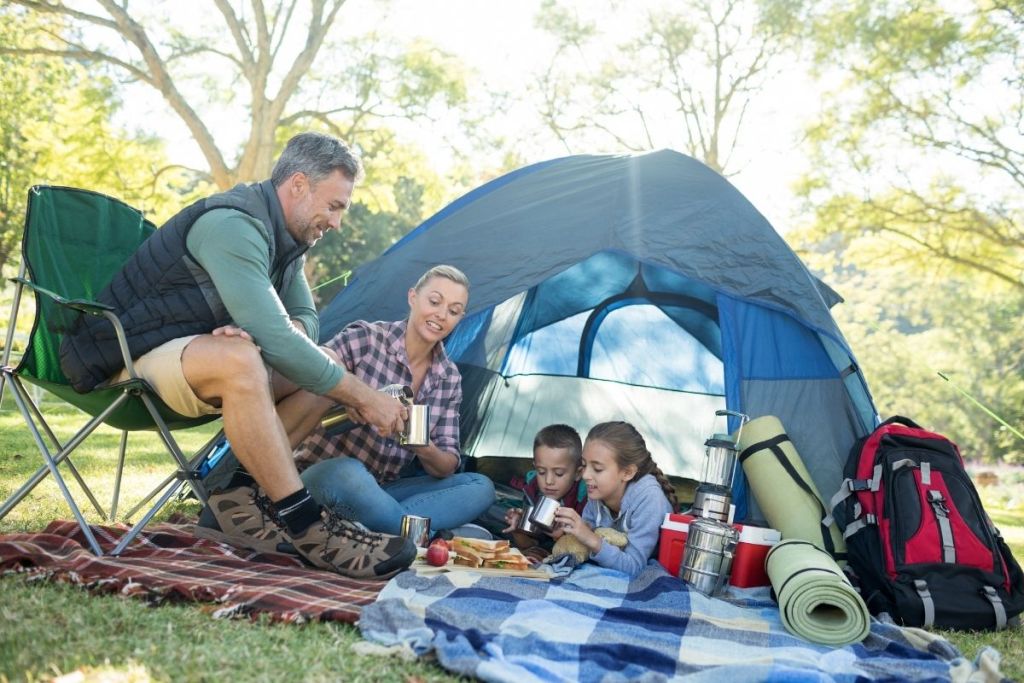 How big should a tent be?
You don't necessarily have to measure out tents by inches and feet, since they are often labeled as "two-person tent," "four-person tent," and so on. However, these designations will tell you how many can fit, not necessarily how many can comfortably fit. For a family of four, a six-person tent is the better choice. In general, add two people above what the tent is rated as (i.e. for two people, get a four-person). Remember that unless you keep your gear in the car, that will need to be inside your tent with you when you sleep, too.
When camping with kids, getting a two-room or even three-room tent can be very nice if it fits in your budget. This gives you a zippered fabric wall between two separate sleeping areas which can really help kids who are used to having their own bedrooms to fall asleep and stay asleep. It also lets the grown-ups stay awake past the kids' bedtime more easily.
Bigger is certainly better for having space for everyone and their stuff, but the bigger the tent, the longer it will take to set up and the most expensive it will be. Read reviews carefully before choosing a huge tent that may take half a day to put up.
What features should a tent have?
Aluminum poles
Nylon rainfly/awning with polyurethane/polyurethane/silicone coating
Waterproof floor/Waterproof rainfly/Water-repellant walls
One-piece tub floor
Double-stitching
No-see-um meshing
Vents for ventilation
You want to make sure there is no stitching on the tent floor, just one large swath of waterproof fabric so there is no chance of leaks. The walls should be water-repellant and double-stitched together, and the door should have a heavy-duty, durable zipper. Look for a rainfly on the top, which is an extra piece of fabric that makes a roof to keep the rain off of the tent and door. This should cover everything including doors and windows for maximum rain protection. The whole tent should be kept up with poles made of aluminum, not another material.
For ventilation, all openings should be covered with no-see-um mesh, not completely open to the outside. These could be vents at the top under the rainfly, some windows, or at the very least, the door having a mesh layer separate from the solid fabric layer. The vents need to be well-covered under the awning so that rain doesn't come inside through them.
As for the material, remember that canvas/cotton tents are waterproof and long-lasting but can become very heavy when they absorb water. Many cheaper tents are made of nylon or polyester, which are also waterproof, but they don't last as long. Look for the word "rip-stop" for the best fabric.
You don't need more than one room or more than one door, but if the whole family will be in one tent, both are nice. Having storage pockets along the inside of the walls is also convenient.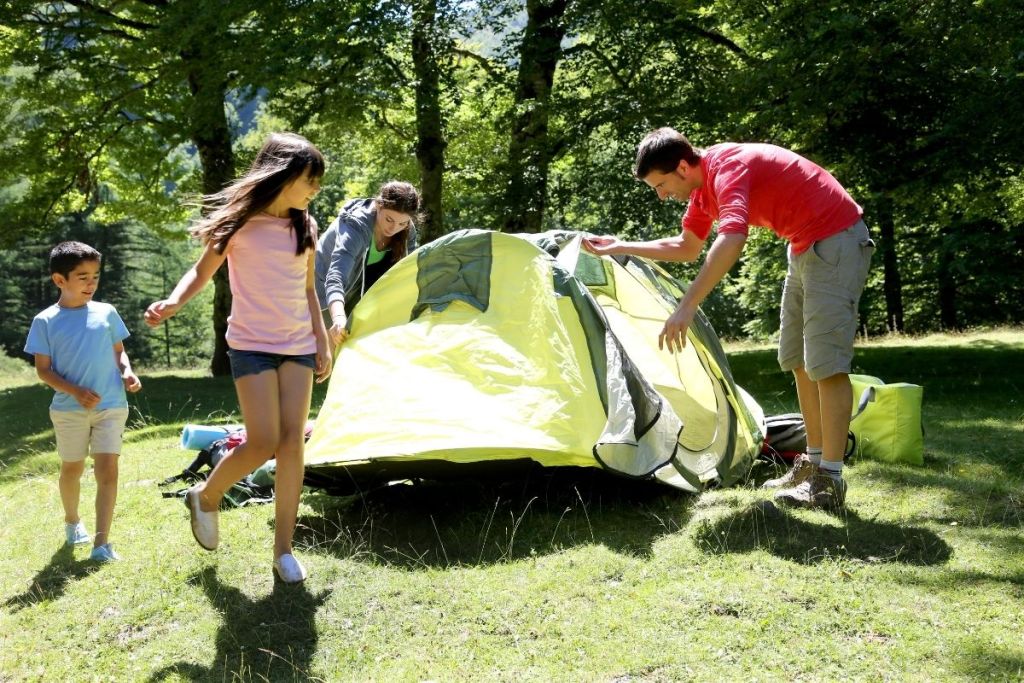 What are some tent types good for families?
As long as you have the features above, your tent should be OK no matter which type you choose. If you are just looking for a backyard tent without rain or other elements to consider, you could use a pop-up tent, which requires practically no set-up time. These are great for kids for short periods of time, but not for camping.
These tent types work well for families going camping:
Dome tent
Tunnel tent
Vis-a-vis tent
Pod tents
These tents are less advisable for families camping:
Ridge tent (harder to stand up)
Geodesic tent (harder to set up)
Cabin tenets (heavy and complicated to set up)
Pyramid tent (too small)
Cheapest isn't always best when it comes to choosing a camping tent. You may be wishing you spent an extra $50 when you're wet on the ground at two in the morning with crying kids, so this is one camping item to splurge on for the best materials and reviews. Happy trails!
Editors' Recommendations