New faces and new spaces. Kindergarten is an exciting time for your child, and you can help them prepare mentally, emotionally, and physically. Chances are this is the first time you will be away from each other for a long block of time during the week, so you'll need to transition gradually. Each child adjusts differently at their own pace, but with some key exercises, you'll both be ready during back-to-school season.
Set a routine
You may already be in a set routine at home. However, when the time comes, you'll need to find a new groove on school days. To start, wake up at the same time every day as you would on a school day. Follow a morning routine like taking a shower, eating breakfast, getting dressed, brushing teeth, and then grabbing the backpack.
Pack supplies and pick out clothes the night before to save time in the morning. A ready outfit is one less thing you and your child need to think about the next day.
Encourage following simple directions
At day care, your little one will have to follow simple, independent tasks. With you out of the picture, they'll need to know how to clean up small messes, ask for help when they need it, put away their school supplies when directed, and more. They'll also need to follow basic instructions like sitting down at a designated spot or lining up behind classmates.
By and large, independence, responsibility, and concentration are all crucial at day care. Foster these skills at home by letting your child wipe their faces and hands off after meals or messes. Gently guide them — but not interrupt them — when they're cleaning up after the day. Point out where specific items go, instilling discipline and self-responsibility.
Get them used to being away from you
Most kids find the first day of kindergarten hard without their primary caregivers by their side. Prepare them for this aspect of school by giving them plenty of time for independent play. Never sneak off, however, if you need to step out of the room for a few minutes. Firmly tell them you're going off to use the restroom, do the dishes, or clean up in another room.
If possible, enlist a family member or friend to watch them up to an hour at a time, gradually stretching out the length. Weaning children off of separation anxiety can take a while, so small and patient steps are welcome.
Make arts and crafts time a priority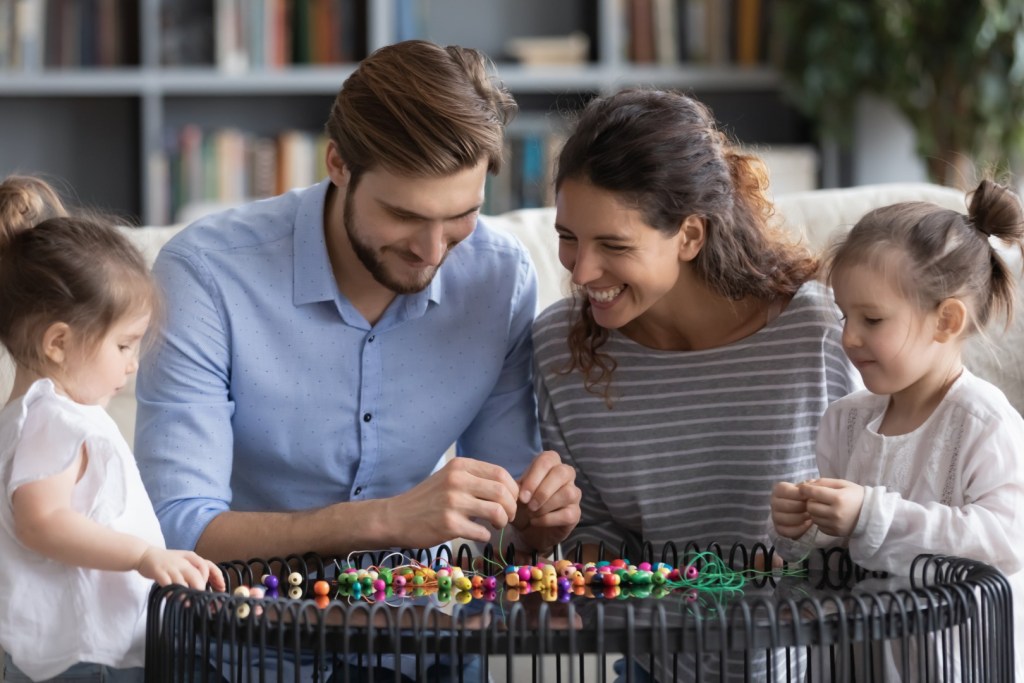 Kindergarten is the center of painting, drawing, cutting, and stamping. At home, introduce your little one to child-friendly scissors to develop motor skills. Offer plenty of chances to use different kinds of markers, crayons, pencils, rulers, papers, and any other crafts supplies you can get your hands on, though we understand if glitter is off the table.
Incorporate numbers and letters into arts and crafts time, though don't pressure your little one too much. After all, they'll learn these ever-important concepts at kindergarten, anyway.
Equally important, encourage your child to ask you or any adult for help when they need it. This eliminates frustration when learning and will help establish trust between your child and their teacher.
Learn classic songs
A big chunk of a typical kindergarten class is singing, dancing, and learning through song. Teach your little one essential tunes if they don't know them already. Learn dances together to get them used to instruction-based schooling.
Classic songs include, "If You're Happy and You Know It," "Ring Around the Rosie," and "Head, Shoulders, Knees, and Toes." Since kids learn effectively through motion, these dances are good to have in their repertoire.
Talk to them about kindergarten and help them prepare supplies
One of the best ways to prepare your kid for kindergarten is to talk to them about what it's like. Talk about the teachers, their new classmates, the classroom, recess, sharing toys, naptime (if applicable), and other novel things they'll encounter.
Give your child a chance to pick out their own backpack and supplies. The day before, let them pick out their first-day kindergarten outfit to get them mentally prepared.
The more excited you and your child are, the better their first day will be. Ask them about any concerns or fears they might have about kindergarten, and give them thorough, honest answers to address their feelings. In the end, make sure they know you'll always be there at the end of the day.
Kindergarten is a big change for both you and your child. Naturally, you might worry. But the good news is you can prepare your child for kindergarten in a lot of different ways long before their first day. From learning how to follow direction to talking about any nervousness, we hope that this back-to-school manual will guide you through it.
Editors' Recommendations