Why? Why is it so hard for kids to sit down at the table and eat a meal?
They're often picky, of course, sometimes in ways that test the boundaries of logic. They're fidgety. And that's to say nothing of the screens, those ever-present screens. Tuning up mealtime manners with your kids can go a long way toward a more pleasant and wholesome (pun intended) experience.
There are a host of tips and tactics out there to instill good mealtime habits, from the simple to the complex. As with many other things, the success of each approach depends on many factors, including each family's unique circumstances.
However, there's one time-honored approach to smoother mealtimes that appears to get real results: music. If it soothes the savage beast, maybe there's a chance it will soothe your brood as well. Here are some ideas to get the party started with mealtime music for kids.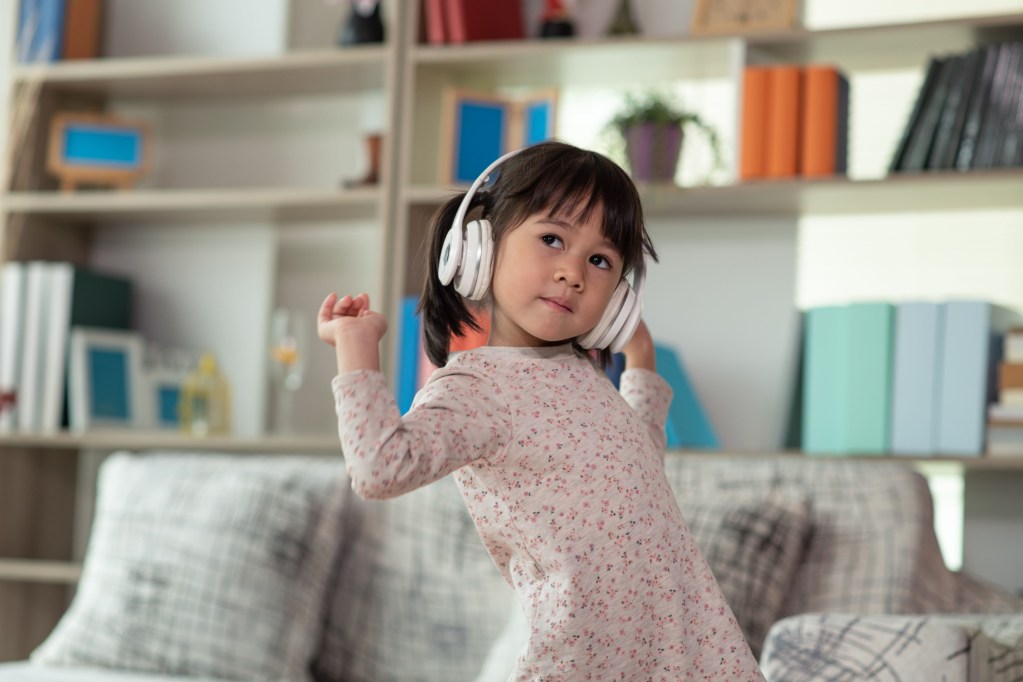 How does music affect a child's brain?
Music can positively impact a child's development, from birth all the way to adulthood. According to Diane Bales, an associate professor of human development at the University of Georgia:
"Music has a powerful effect on our emotions. A quiet, gentle lullaby can soothe a fussy baby, and a majestic chorus can make us swell with excitement. But music also can affect the way we think… Children who grow up listening to music develop strong music-related connections in the brain. Some of these music pathways actually affect the way we think."
Music can benefit child development from an early age. Ibrahim Baltagi, a global expert on music and children, notes that "music ignites all areas of child development and skills for school readiness, particularly in the areas of language acquisition and reading skills." Moreover, soft music has a powerful soothing effect that can slow the heartbeat and provide a sense of calm, particularly for youngsters who have a hard time sitting still.
As for mealtime, music shows two particular benefits that could help calm the proverbial waters. First, according to the American Academy of Pediatrics, music can be used as a cue for creating greater structure among household activities. For example, playing a certain kind of music for eating and one for studying can help organize the day. Second, there is evidence that calming music can promote socializing while decreasing impulsivity — two important components of good mealtime manners.
Bringing music to mealtime
There are several ways to incorporate music into mealtime. Given the many benefits music can have for children, the too-much-of-a-good-thing logic doesn't apply here.
Here are some steps toward setting up mealtime music for kids.
Try classical music: The slower, peaceful rhythms of pieces by famed composers like Mozart and Chopin can provide a substantial calming effect. If your goal is to bring order back to the mealtime proceedings, this may be your best bet. It's also been shown that slower music causes people to slow down and chew their food more slowly.
Experiment: Classical music is great on paper, but it's not for everybody. The last thing you want is for this to feel like school or homework. This should add value to the dining experience. You might want to lay off the death metal, but good options could include movie soundtracks, jazz, lullabies, and kid-specific selections — hits from your childhood or a previous era.
Get the kids involved: Consider letting the kids take turns bringing their own playlists to dinner (age-appropriate selections only). The kids get to be DJs for a night, and you get fresh insights into their tastes and personality (and maybe exposure to your next musical crush).
Look around online: If you have very young children, a special song about mealtime could be a perfect way to signal that it's time to come to the table. Need more inspiration? Eating and meal-themed playlists are easy to find on services like Spotify.
Music is a worthwhile addition to just about any family routine or activity, and it can be especially helpful at mealtimes. And this is not to say you should choose music over other important components of mealtime, such as conversation. If you're listening to music that's loud enough to drown out normal talking volume, you may want to turn it down a bit. That aside, there's no reason you can't do both. What do you have to lose, except the chaos?
Editors' Recommendations