Your preschooler likes to stay busy — and when summer comes around, they will want to enjoy some fun in the sun with lots of engaging and artistic outdoor activities. Yeah, that cutie-pie of yours is not going to be content to put their feet up and lounge in the shade, so you will want to be prepared with crafty plans, stocked with easy-to-do projects, and equipped with plenty of supplies to ensure that "Camp Mom" or "Camp Dad" is a smashing success.
The best things about taking art time outside? Fresh air, lively inspiration, and less mess to clean up from your floors, walls, and tables!
Ready to get your kiddo alfresco crafting? Here are a few of our favorite summer activities for toddlers and tykes.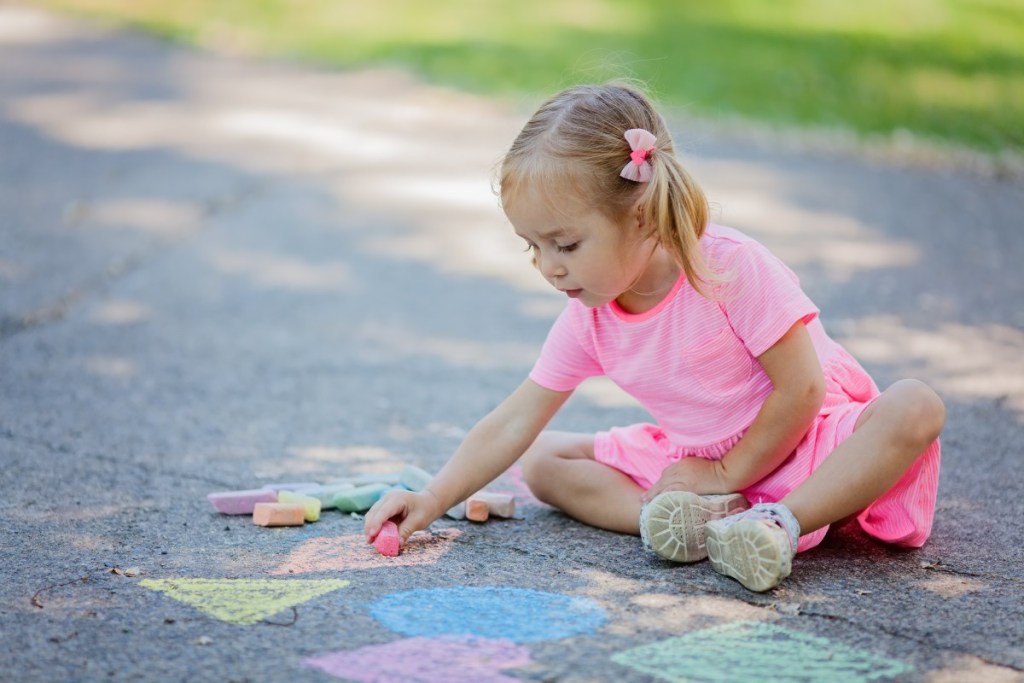 Step-in sidewalk chalk-art scenes
You have already written out numbers and the alphabet with your sidewalk chalk, and you've used stencils to trace flowers, watermelons, and other seasonal staples. But have you created a real-life, walk-in scene? Make a big mural that your kiddos can step inside — and then take a picture. Draw a picture of a bunch of balloons and have your kiddo pretend to hold them, and they are floating up into the sky. Try drawing a cape extending from the body of your stretched-out superhero. Or another apropos option? Draw a pool chair, and have your lounger lie down.
Squirt-blaster painting
Any activity that involves a toy squirter or blaster is an automatic win with kiddos (it's just a given). Fill a few water "shooters" with different colors of paint. Then, set up a canvas and let your kiddo create an abstract work of art.
Of course, fair warning: They will probably also "blast' your house, your fence, your cars, themselves, and potentially some neighbors and dogs passing by — so definitely keep an eye on the squirting action. This is not a paintball fight, after all.
Tie-dye creating
The ultimate summer camp activity: Tie-dyeing T-shirts! FYI, consider getting a kit to make this process a bit more streamlined. Step up your fashion-creating game a notch and craft headbands, sweatpants, dresses, and other cotton staples.
Make foam art
Your little artist loves to make a mess — it is part of their creative process. Embrace this truth — and be grateful your house is being spared.
Fill a mini baby pool or water table with shaving foam. Add drops of washable paint to different sections of the foam. Then, have your child use their hands (or a brush) to spread the hues and create colorful and blended, tie-dye-inspired foam art. You will be shocked and amazed at how long this can keep a little one engaged, entertained, and happily making a mess. Sensory play that is also colorful and beautiful? That's sure to be a hit!
Next stop: The sprinklers! Cleanup has never been so easy or so enjoyable.
Outdoor canvas
Nature can be inspiring. Set up an outdoor canvas and easel, and have your child paint a scene that moves them — a garden of flowers, a bird chirping on a branch, or the wild surf at the beach.
Kindness rocks
Have your child go on a scavenger hunt for the most interesting and beautiful rocks they can find. Next, use paint to personalize these rocks. You can include a written message, a happy picture, or some abstract design. Once your rocks are dry, consider leaving them at a neighbor's house or bringing them to a public park to spread joy. We love that this project encourages kids to share love throughout their community, too! (Kindness rocks, don't you think?)
There are lots of summer activities for preschoolers to add to your repertoire. Doing art outdoors gets the kids motivated, excited, and inspired. It is a change of scenery and an excuse to get extra messy (win-win!). Remember, you don't have to have all sorts of elaborate crafting supplies — even using crayons and paper on the patio can change things up and give your young artist a fresh perspective.
Editors' Recommendations