Valentine's Day has long been considered a couples-only holiday. The air of romance has hung around February 14 since the middle ages. For kids, however, the holiday isn't so much about Cupid and his much-talked-about arrows. Valentine's Day is more about friendship and of course candy for children. School kids have long celebrated Valentine's Day in a class by exchanging valentines and having a party. Many families have brought the tradition home, choosing to celebrate February 14 together. Sure, many parents still carve out couple time on Valentine's Day, but it's fun to include the kids. A cute and yummy way to kick off any Valentine's Day festivities is with a themed breakfast. Now, don't worry if you're not super creative in the kitchen. There are easy and delicious ways to mark Valentine's Day that you can whip up in your kitchen… without needing any help from Cupid.
Valentine's Day breakfast ideas
A sweet or healthy treat made with love on Valentine's Day is the perfect way to show the kids and your partner how much you care. Here are six kid-friendly breakfast ideas to enjoy on Valentine's Day.
Heart-shaped pancakes
Mornings can be rushed, but pancakes are fast, especially with Martha Stewart's best quick pancake recipe. It really is quick and tasty. If you prefer to leave out the added sugar or cut the amount back, it won't impact the taste of the pancakes at all. Add chocolate chips for a touch of sweetness in honor of Valentine's Day. So, how do you make them into hearts? All you'll need to do to make heart pancakes is fashion a mold out of aluminum foil. Place the mold on the griddle and pour the batter inside. A metal heart cookie cutter works too, but not the plastic ones.
Heart-shaped cinnamon rolls
Kids love cinnamon rolls, and what better way to welcome Valentine's Day than with a warm batch. For fresh-baked cinnamon rolls shaped like hearts with a cherry in the middle, get baking with this easy recipe from Rasa Malaysia. If you're pressed for time in the morning, pick up a package of Pillsbury Cinnamon Rolls in the refrigerated aisle of your favorite grocery store. How do you make them look like hearts? Check out Simply Being Mommy for step-by-step directions and wow the family on Valentine's Day morning.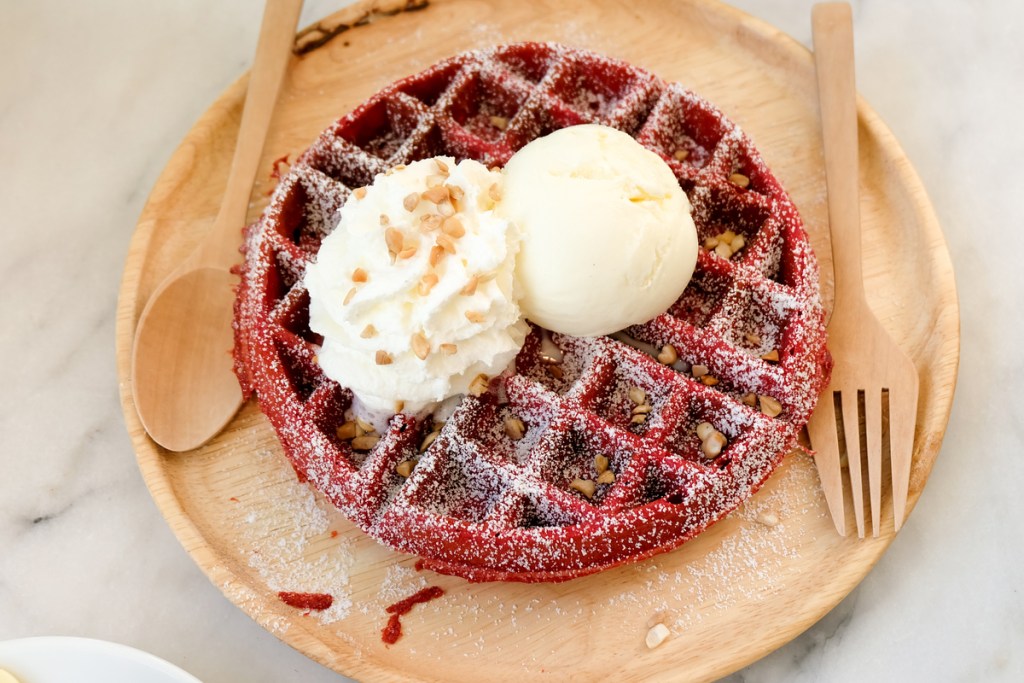 Red velvet waffles
If your kids love waffles and you're a whiz with the waffle iron, start off Valentine's Day with red velvet waffles from Kevin is Cooking. The cream cheese glaze really makes this recipe rock.
Red velvet muffins
Don't have a waffle iron? No worries. You can still celebrate Valentine's Day with a bit of that red velvet goodness with these super yummy muffins from McCormick. Make the night before if you're pressed for time, but the red velvet muffins only need 15 to 18 minutes of baking time.
Heart-shaped omelet muffins
Looking for a healthier option for a Valentine's Day breakfast for the kids? Try these omelet muffins from Skinnytaste. Variations are included, so you can easily change up the omelet ingredients to suit pickier eaters or make an egg white omelet. There are also directions for freezing the omelet muffins if you're time-strapped in the morning and need to make ahead. All you need to turn these omelet muffins into a Valentine's Day specialty is a heart-shaped muffin tin.
Strawberry milk
Are your children milk lovers? Give them a noteworthy treat with some homemade strawberry milk. All you'll need to whip up Pastry Affair's strawberry drink is milk, strawberries, water, sugar, and vanilla extract. Fresh or frozen strawberries work as do almond or soy milk. If you prefer less sugar, cut down the amount in the recipe. It won't impact the flavor.
Other Valentine's Day breakfast ideas
What's breakfast without bacon? If you've got a house full of bacon enthusiasts, the Baker Mama can show you how to make heart-shaped bacon.
Bring those tiny candy hearts that pop up every Valentine's Day to the breakfast table with this tasty and adorable conversation heart toast recipe from Hungry Happenings.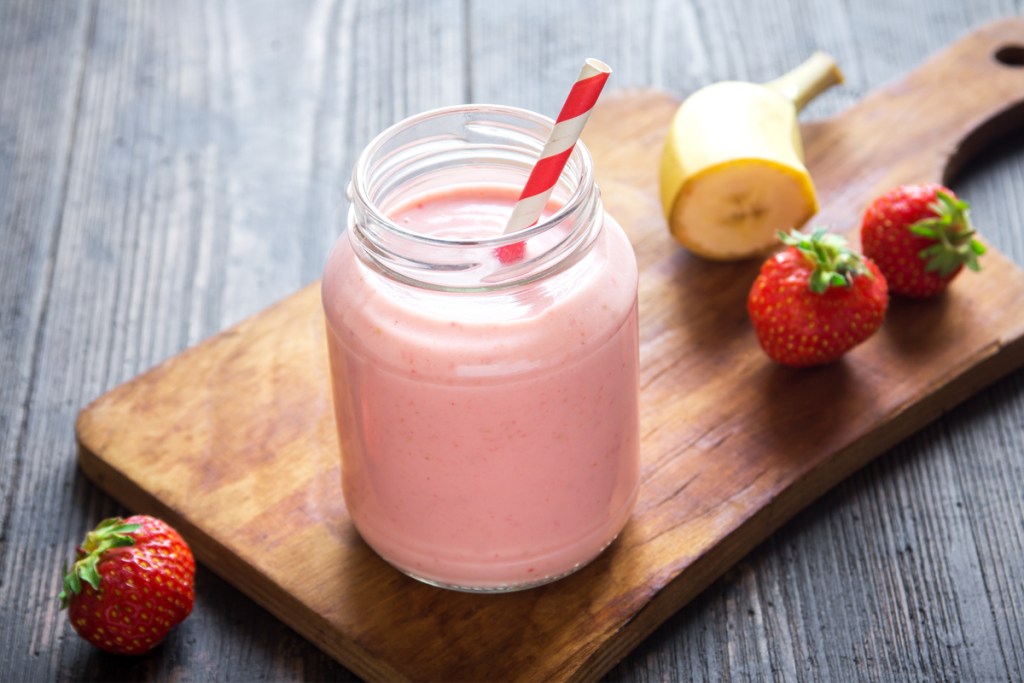 Happy Valentine's Day!
Valentine's Day for adults has become quite the production with trying to score a February 14 reservation for a nice restaurant and, of course, there's lining up a babysitter if your kids are young. When it comes to family time, however, celebrating Valentine's Day is pretty simple. Children and even teens enjoy those sweet treats on Valentine's Day. Starting off February 14 with a fun Valentine's Day breakfast is a wonderful way for the family to mark the day. Something as simple as heart-shaped pancakes is a welcome surprise to brighten up a Valentine's Day morning before school and work. With these Valentine's Day breakfast ideas, you'll have delicious options from something quick to something more involved. Either way, you will be kicking off Valentine's Day in style and showing the kids and your partner how much you care.
Editors' Recommendations