Planning your teenager's next birthday party or event — that's an activity that can strike fear in the hearts of parents. They love their teens deeply, but also know that pleasing them is the equivalent of flapping their arms and flying to the moon — exhausting and impossible to do. While it's true that children are picky when it comes to just about anything — or so it would seem — we have some prodigious party favors for teenagers that can help parents find them and scratch that task off their to-do lists.
No matter what theme or style of party you may be planning, we have favors to fill the bags that every teen wants to pass out at their next birthday bash. If you are struggling to think of a possible theme, let alone favors to match, a few of our top favorites for teens are:
Tie-dye
Social media
Candy
Neon/glow-in-the-dark
Level up/gamer
These are just a few of the many themes you can present to your teen as options for their party. Consider what interests your teen has, blend two or more ideas together, or come up with a theme totally your own. In any case, we've carefully selected some interesting and creative favor options for parents.
Good: Glow LED Light Up Supplies Set
If your teen is thinking about a neon, glow, or blended neon-glow party theme for their big bash, you may want to add this 60-piece LED light up party favor set in your Amazon shopping cart quickly. This set contains light-up grid glasses, finger lights, and glow-in-the-dark bracelets. Not only is this set of items a fantastic bang-for-your-buck option, but it's also a great way to give multiple favors without having to spend a ton of money on all the items separately. The LED lights are brightly lit, and they should last through the night and then some — providing constant, intermittent, or flashing light steadily for eight to 12 hours. These would be great additions to your list for a preteen party, as well, such as goody-bag ideas for a 10 year old.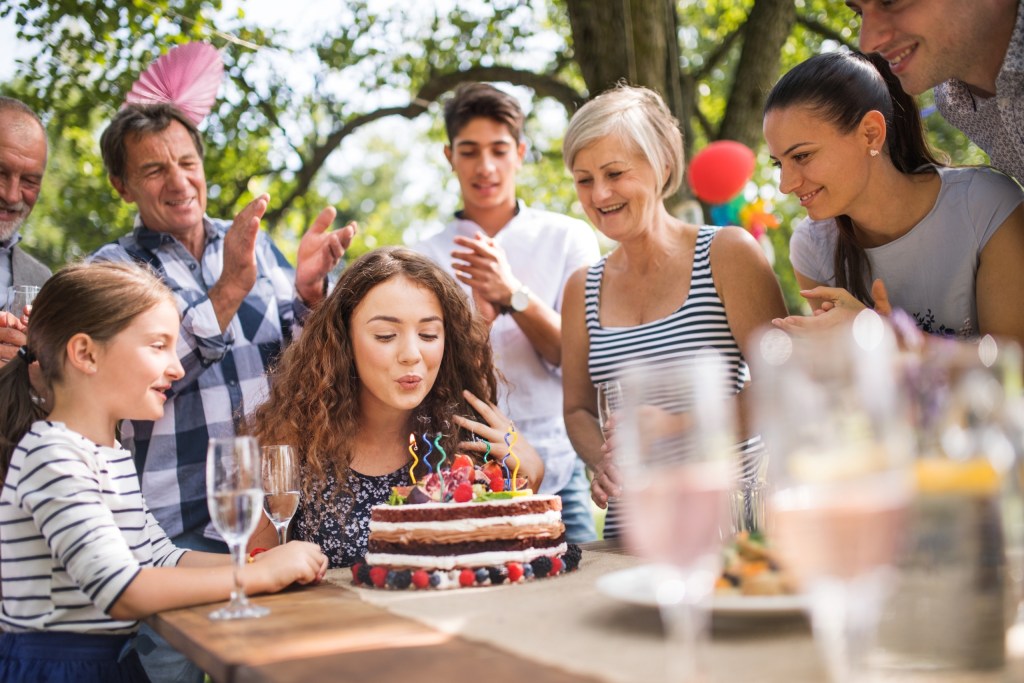 Better: Tie-Dye Inspirational Bracelets
These tie-dye inspirational bracelets from Juvale are a very popular and trending party-themed favor. These brightly colored pops of cheer slide easily and comfortably onto the wrists of your teen's guests, commemorating a night of laughter and joy. The inspirational quotes printed on the favors are simple yet meaningful. They offer young minds a positive message and affirmation that so many youths need to hear. Your teen will love the personalization that goes along with selecting each person's quote based on their individual personality. Not only does this give your teen a chance to see their friends in a different light, but it can also strengthen their bonds and reaffirm friendships when the added pressures of "teenager-ism" can get to them.
Best: Gamer Drawstring Favor Bags
As most parents around the country know, teenagers love video games. There is something about them that draw our kids in and hold onto their attention with force. If your teen wants to celebrate their yearly trek around the sun with all things gamer, then we have the perfect favor to top that list. These neat level-up-themed drawstring bags feature a design that is woven directly into the fabric of each one, making the colors pop without concern of the decals coming loose or falling off. The bags can be filled with additional favor items like candy or other treats, or may simply be handed out at the end of your child's party in thanks for attending. The featured images memorialize a memorable shindig, which appeal to teens of all ages and backgrounds.
Whether your teenager is looking to glow all night long with their friends on the dance floor, build character and togetherness with affirmation bracelets, or express their undying love for all things gamer, our list should have something to get the creative ball rolling for their upcoming birthday blowout extravaganza. Your time is valuable, and our goal is to help save you more of it — along with some cash if we can help it! So, break out your planners and prepare to kick that celebration's butt into gear by checking your teens birthday party favors off your ever-growing to-do list today.
Editors' Recommendations