Blanket forts make for a hideaway space right inside your own home. Unlike tree houses and outdoor forts, blanket forts have a straightforward and quick construction that can be broken down just as fast. While blanket forts don't have the longevity of a backyard tree house, they can be built and put away wherever and whenever kids want one. Blanket forts can also be made by using materials you already have around the house, saving you time and money. Inclement weather and cold days are earmarked for a kids blanket fort, but it doesn't have to be raining, snowing, or frigid for kids to want to hunker down inside an indoor fort for an afternoon adventure or a bit of quiet time.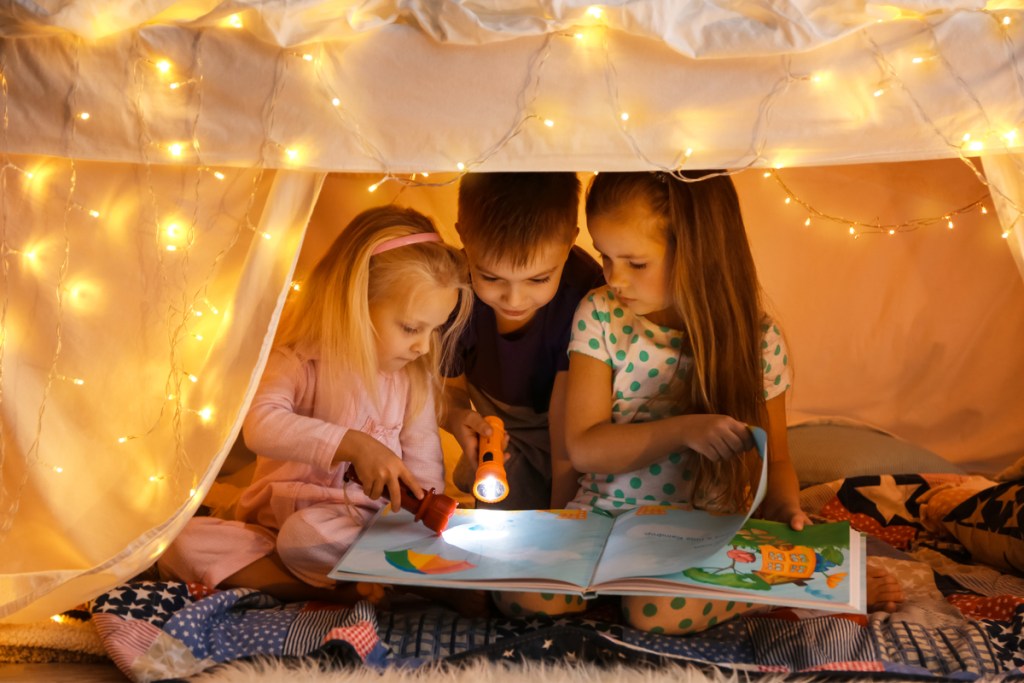 How to build a quick fort
This type of fort can be made underneath a side table or even the dining room table. For larger tables, you will need multiple sheets. Just make sure anything breakable is put away and the table is empty.
Step 1: If you don't have a lot of time, and your child really, really wants a blanket fort, clear off a tabletop.
Step 2: Drape a queen- or king-size sheet over it.
Step 3: Place books on the top. Sturdy books will secure the sheets.
Step 4: Create a cozy floor with a comfy blanket or sleeping bag and toss in some pillows.
How to build a standard blanket fort
Step 1: Choose an area where there is a lot of floor space.
Step 2: Place a cozy blanket or sleeping bags on the floor to mark dimensions of the fort.
Step 3: Line up four to six chairs about 4 feet apart along the outer edges of the blanket for walls. The backs of the chairs face inside the fort.
Step 4: Take a large sheet and drape it over the tops of the chairs to create the roof. Pull the sheet tight so it doesn't sag.
Step 5: Place books on the seat of the chairs on both sides to ensure it stays in place. Add additional sheets for a thicker fort.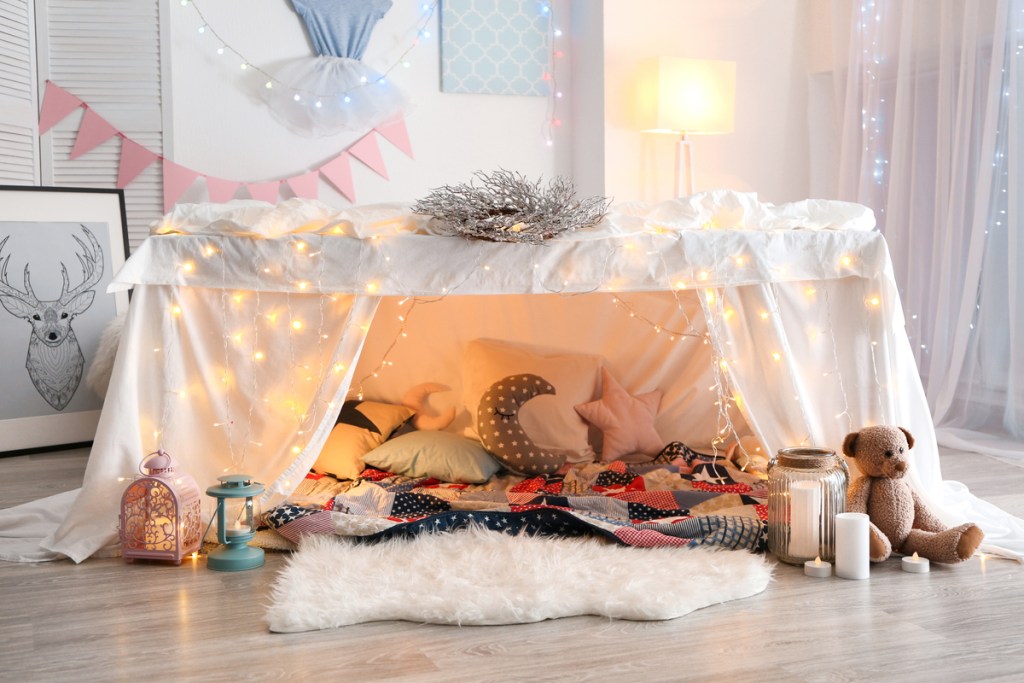 Style it up
Once the blanket fort is finished, the fun can begin. Add extra throw pillows and blankets to make it super comfy. Forts can get stuffy, so be sure to keep at least one side open for ventilation. You can also position small table fan nearby for added circulation, but if your kids are younger, skip the fan for safety reasons. Another nice touch is to take a set of holiday lights and string them through the chair backs. This creates a soothing atmosphere and gives the kids lighting for reading, coloring, and playing board games. If holiday or LED string lights aren't an option, flashlights or battery-powered lanterns work, too.
Don't forget the "keep out" signs. Those are a mainstay for any kids' indoor fort. The kids can be making those while you're making the blanket fort.
Toys
The fort is now ready for occupancy. Kids can bring in the books, dolls, stuffed animals, pets, games, or any other items they want to use inside the fort. Forts are a wonderful place to read, color, play games, or even take a nap. Kids may also want to watch a movie on a streaming device while snuggled up inside their indoor fort.
Refreshments
A snack basket with nonperishable goodies is an addition kids will appreciate because they won't want to leave the fort to eat. Make up a basket with juice boxes or water bottles, fruit, crackers, or whatever snacks your kiddos enjoy. Be sure to stock the fort with a small pail for garbage, too.
Enjoying a quiet afternoon alone with siblings or friends is a great way for kids to ignite their creativity and imaginations. A blanket fort isn't terribly difficult or time-consuming to make. The cleanup will probably take longer than the construction, but it's the memories kids create inside that totally make it worth the effort.
Editors' Recommendations