After school. Mid-morning. On a Saturday afternoon. Kids get a craving for a snack any day of the week at just about any time. Once in a while, that snack attack comes with a craving for something sweet. However, you might be looking for alternatives to cookies or candy. So, we present to you some healthy fruit recipes for kids that'll curb the sweet tooth and the temptation for junk food. Then next thing you know, your children will be asking for fruit instead of cupcakes.
Spaceship fruit snack
Have your kids dreamed about going for a ride on a spaceship? While they might have to wait a few more years to embark on a journey beyond the stratosphere, they can create their voyage using a watermelon to form the rocket, grated carrot for the detailing, and an orange slice for the planet or moon. You can also slice strawberries and kiwi for additional decorations. Just for fun, you can add some star-shaped crackers.
Pirate ship in a fruit cup
Many fruit recipes for kids appeal to the eye as well as the palate. Such is the case with this fun fruit cup that resembles a pirate ship. A small bowl of blueberries make up the sea. Plus, your kids can craft their pirate ship using toothpicks and apple wedges for the vessel and triangular slices of honeydew melon for the sails. Your little shipmates will go wild over this super cute and yummy snack.
Strawberry Parfait
Who doesn't love a good parfait? This fruit recipe offers a delicious option for snacks, breakfast, or dessert. And of course, it's quite simple.
Your ingredients include:
Strawberries (frozen or fresh)
Vanilla yogurt
Granola
In small parfait cups, you'll start off with a layer of granola followed by the yogurt and topped with the strawberries. From there, you'll add a second layer of granola and follow up with the other two ingredients in the same order. You should end up with six layers in all.
Stuffed apples
How do you bake a wonderful fall snack that involves apples but zero caramel? The answer is one of the most unique fruit recipes for kids. Even the adults will enjoy this one. First, you'll need to core six apples. (Granny Smith or Honey Crisp varieties will work.) After that, you'll fill them with a mixture of raisins or craisins, a small amount of brown sugar, butter, and ground almonds. Finally, you'll bake the stuffed apples at 302 degrees and watch as this becomes your family's new favorite.
Rocket kabobs
Going back to the space mission idea, you can also have your children create fruit kabobs in the shape of a rocket. You can use wood skewers or toothpicks for a smaller version. The following fruits would be the easiest to cut in a trapezoid for the base and middle:
Honeydew melon
Pineapple
Mango
Cantaloupe
For the top, you can use triangle-shaped pieces of watermelon or the tips of a banana.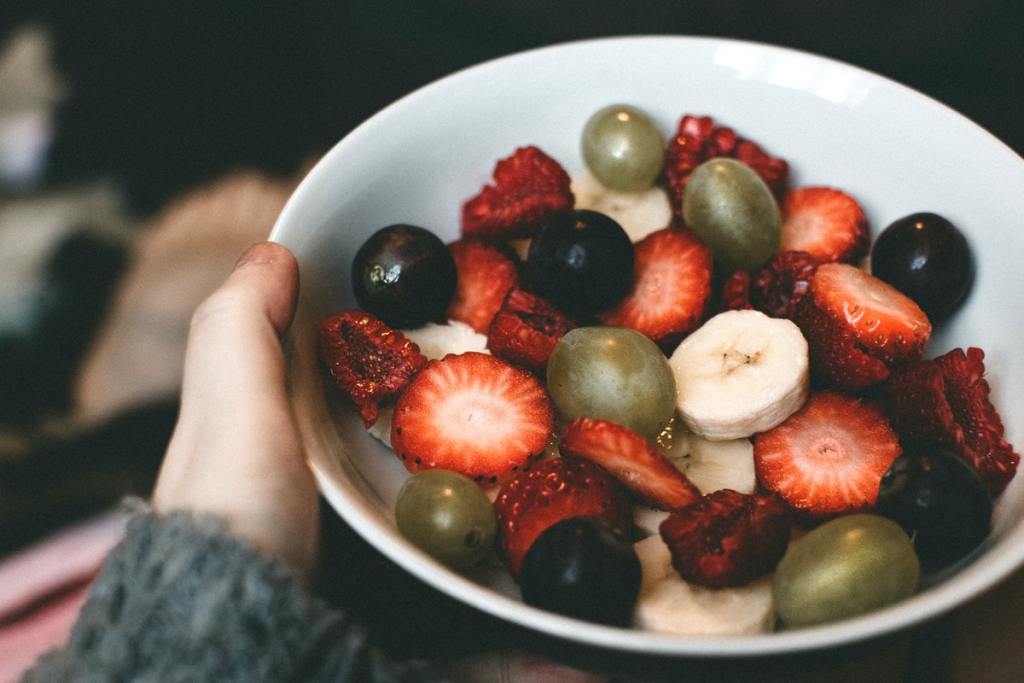 Best fruit salad for kids
Kids might find fruit salad rather overwhelming with its varieties of melons, berries, and other unfamiliar fruits and textures. So we found one of the most palatable of fruit recipes for kids that has bigger, more chewable pieces. You can toss any of the following together:
Grapes
Pineapple chunks
Bite-size pieces of orange
Bite-size pieces of red apple
A small dollop of strawberry yogurt makes an excellent topping for this very kid-friendly salad.
Spicy crispy apple slices
Granny Smith apples work out well for this tasty recipe that offers another fall or winter favorite. Plus, snacking on baked or dried fruit always presents a healthy option for kids.
To prepare this snack, you'll core and slice some Granny Smith apples very thinly. Next, you'll place the slices on a cookie sheet that's covered with parchment paper. Finally, you'll sprinkle them with cinnamon and bake for about 45 minutes. Halfway through baking, you'll need to turn the slices over. Once cooled, your children will enjoy this healthy comfort food.
After preparing these fruit recipes for kids, you might be able to come up with your own variations, such as adding nuts to the top of the parfait or creating a yogurt dip for your fruit kabobs. By the time you get to trying other recipes of this type, your children will be craving healthy options instead of sugary sweets.
Editors' Recommendations