"Space Jam: Legacy" was a slam dunk at the box office, but it fouled out with critics. But if it introduced a new generation of children to Warner Bros. classic cartoon characters, all is forgiven,
The Warner Bros. dream team of writers, directors, and voice artists, had one goal: to make hilarious cartoons. Mission: Accomplished! We've selected 10 of the looniest and merriest classic Warner Bros. cartoons that represent the best of Bugs, Daffy, and company. But that's not all, folks. We've also included some lesser-known gems that you'll enjoy watching together as a family.

"Back Alley Oproar"
Sylvester is best known for his cartoons with Tweetie Pie, but this 1948 classic gives him his best starring role as an alley cat whose caterwauling keeps Elmer Fudd awake.

"Duck Amuck"
This is the first of two essential Daffy Duck cartoons on this list. Poor Daffy cannot get on the same page with the unseen animator who sabotages his every move. Daffy's increasingly desperate attempts to regain control of his universe reach a frenzied pitch of epic proportions. Bet you can guess who his tormentor is.

"Duck Dodgers in the 24½ th Century"
Some of Daffy Duck's best cartoons found him cast as the hero, but not quite being able to rise to the occasion. In this classic, he does battle with Marvin Martian for control of the uncharted Planet X. Porky Pig is a scene-stealer as his eager space cadet who saves the day (and gets the best lines).

"Fast and Furry-ous"
This is the cartoon that started one of the screen's most enduring chases. It's Wile E. Coyote (Carnivorous Vulgaris) in hot pursuit of the Road Runner (Accelleratii Incredibus). The Road Runner cartoons were director Chuck Jones' valentine to silent comedy. As with "One Froggy Evening," this non-verbal cartoon loses nary a step if viewed with the sound off, but then you'd miss the Road Runner's signature "Beep Beep."

"Feed the Kitty"
Ferocious bulldog Marc Antony is forbidden to bring "one single solitary thing" into the house, but he can't resist the adorable stray kitty he befriends. His attempts to hide his new feline friend are hilarious and heartwarming.

"Hair-Raising Hare"
Bugs Bunny is at his unflappable and wisecracking best as he outwits an evil scientist's hulking red monster. This so-funny-it's-scary classic includes one of Bugs' most famous scenes, in which he impersonates a manicurist to fool the beast. ("You monsters lead such interesting lives.")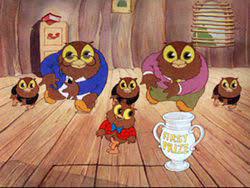 "I Love to Singa"
Here's a real oldie (1936) but a goodie. A young owl defies his classical music-loving father to sing jazz. Kicked out of the nest, he heads to the big city to seek his fame and fortune on the radio. The title song was featured in the very episode of "South Park" as the ditty that Cartman sings each time he is zapped by an alien ray.

"Little Red Riding Rabbit"
This fractured fairy tale is one of Bugs Bunny's funniest cartoons, and kids may get an extra kick out of seeing a familiar story turned on its head. A brassy and ear-splitting Red Riding Hood takes a little bunny rabbit to her grandma "ta have." The Wolf is eager to play out the story until he gets a look at Bugs and changes priorities. He can't get Red Riding Hood out the door fast enough, but she keeps coming back.

"One Froggy Evening"
Though none of the Looney Tunes iconic characters appear, this could be the best Warner Bros. cartoon ever. A construction worker thinks he's struck it rich when he unearths a box containing a singing and dancing frog. But no matter to what lengths he goes, he cannot get the frog to perform in public. Even with the sound off, kids can follow the story, a timeless parable about man's get-rich dreams.

"Rabbit of Seville"
"It is so sad," Elaine once told Jerry in an episode of "Seinfeld." "All your knowledge of high culture comes from Bugs Bunny cartoons." Like this one; a hilarious, sing-alongable parody of Rossini's grand opera. "What's Opera, Doc" and "Rhapsody Rabbit" are also classical gasses.
Each of these cartoons is available online and would make a fun kickoff to any family movie night. Also recommended are the many archival home video box sets that contain all of the greatest Warner Bros. cartoons "ta have."
Editors' Recommendations