No one is really sure when leaf-peeping became a thing, but one thing is for certain; parents loaded the kids in the car to take a look at autumn colors long before fall foliage posts on social media were trendy. It's tough to predict just when those red, orange, and yellow hues will strike, but typically, the autumn colors begin to take hold in late September and early October, depending on where you live.
The Farmer's Almanac does its best to provide leaf-peepers with dates when Mother Nature's fall show is at its peak. Those are the times when it's ideal to plan a hike or a road trip to see autumn colors in all their glory. It's also the perfect opportunity to hop onboard one of the United States' scenic railroads. Scenic or heritage railroads are a piece of living history along America's railroads. Most states have at least one scenic railroad within its borders.
A train ride to see fall foliage is a fun daytrip for the whole family. A fall scenic railroad trip is a wonderful way to sit back, relax, and enjoy fall foliage at its peak. Riding the rails on a scenic railroad is a step back in time and appeals to kids of all ages. Even tweens and teens will get a kick riding the rails this fall. So, all aboard to ride the rails this autumn on some of America's top heritage railroads.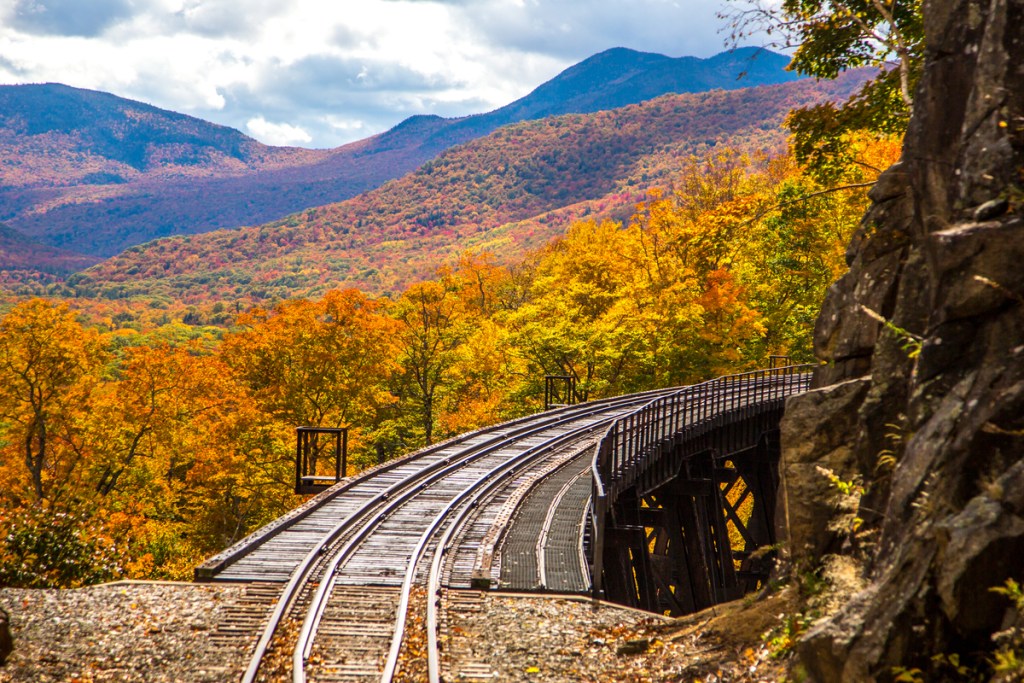 Best scenic railroads to see fall foliage
Scenic railroads really do take riders back to a simpler time. It's an ideal way to capture the show Mother Nature puts on every autumn with amazing fall foliage. States from the East coast to out west operate scenic railroads. Fall excursions on the rails are extremely popular and make for a fun and different family outing. Here are eight scenic railroads to check out this fall.
Essex Steam Train and Riverboat
New England is known for its stunning fall colors and a ride on the Essex Steam Train in Essex, Connecticut doesn't disappoint. The scenic railroad has been running since 1971 along the beautiful Connecticut River Valley thanks to the Valley Railroad Company. Autumn is a great time to enjoy a ride on the steam train. The railroad also offers a combination train and riverboat ticket, which makes for a super fun day for all on the water and the rails.
Strasburg Railroad
This scenic railroad marked its 175th anniversary back in 2007 and takes riders to Paradise. Really! One of the stops along the train ride through picturesque Lancaster County in Pennsylvania is the town of Paradise. Train enthusiasts will love the sights and sounds of a fall ride on the Strasburg Railroad as well as the additional train-inspired things to do, which include the National Toy Train Museum and the Railroad Museum of Pennsylvania. You can even sleep in a refurbished train car at the Red Caboose Motel. The unique accommodations are just up the road from the Strasburg Railroad.
Green Mountain Railroad
Another New England hot spot to ride the scenic railroads is the Green Mountain Railroad. Two or one-hour fall foliage trips begin booking in August. The Wulfson family has been running the Green Mountain Railroad for over 50 years. Departures are available from Chester and Burlington, Vermont. Both offer sensational rides showcasing Vermont's fall beauty.
Blue Ridge Scenic Railway
The Blue Ridge Scenic Railway takes riders on a four-hour journey through the North Georgia countryside along the Toccoa River. The 26-mile round trip provides glimpses of the mountains along the Georgia and Tennessee border and includes a two-hour layover in McCaysville, Georgia, and Copperhill, Tennessee where passengers can enjoy the historic towns. This heritage railway is a perfect pick for families with older kids, tweens, and teens. Younger kids might have a hard time with the lengthy time spent on the train.
Durango & Silverton Narrow Gauge Railroad
For a taste of the west and breathtaking views of the Rocky Mountains and the San Juan National Forest in fall, hop on board the Durango & Silverton Narrow Gauge Railroad. This scenic railroad takes you back to the railroad days of old. The heritage passenger train is pulled by an old-fashioned steam engine.
Mount Hood Railroad
Enjoy a scenic slice of the Pacific Northwest when you climb on the Mount Hood Railroad in Oregon. Passengers can see fall colors in all their glory as the train winds its way through the Columbia River Gorge with Mt. Hood as a striking backdrop.
North Shore Scenic Railroad
For a Midwestern treat, hop on board the North Shore Scenic Railroad running between Duluth and Two Harbors, Minnesota. The train runs along 28 miles of lakefront track that used to be a part of the Duluth, Missabe, and Iron Range railroad lines. Fall foliage rides begin in mid-September and continue through mid-October. The entire trip takes six hours and includes a two-hour stop in Two Harbors for lunch, shopping, and exploring.
Mountain Rail Adventure
For a true fall escapade in the mountains, book a trip on the Durbin & Greenbrier Railroad in Elkins, West Virginia. Different trips are available including a two-hour, open-car excursion that is ideal for kids. There are overnight and weekend trips ideal for tweens and teens for families looking for a different vacation. Don't delay if you're planning on booking the weekend photography excursion, especially during the fall. This scenic railroad is popular and trips book up quickly.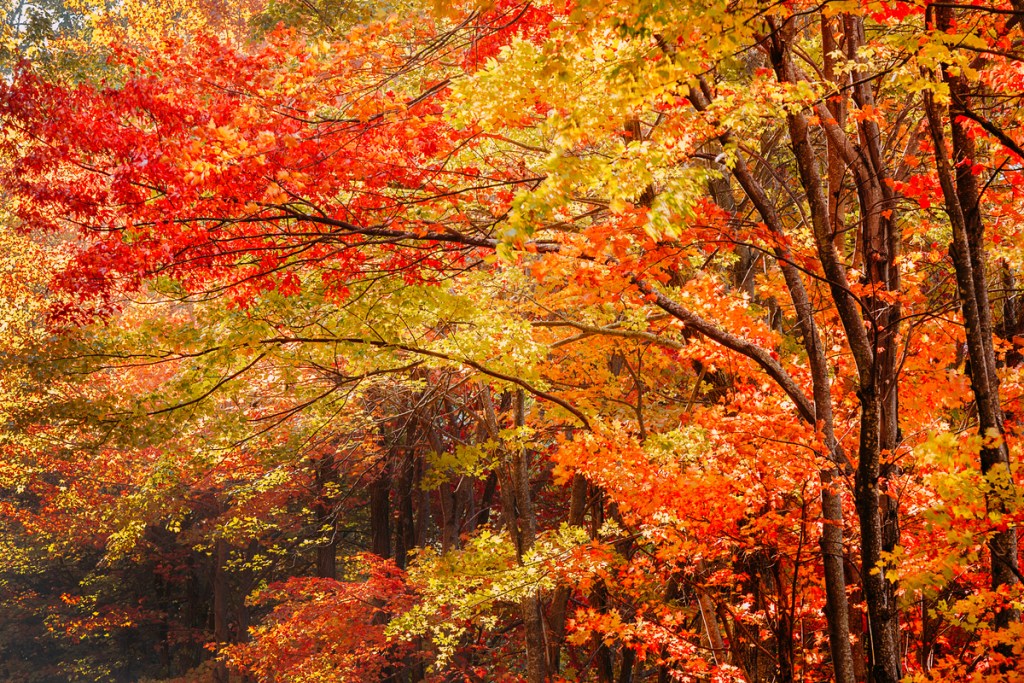 All aboard!
Life rolls by pretty quickly all year, so it's kind of nice to sit back and take in how transportation used to be with a ride along one of America's many heritage railroads. These scenic railroads are often staffed by volunteers and preserve the rich history of the rails in the United States. Fall is the perfect time to climb aboard a scenic railroad for some leaf-peeping. It's a great family-friendly activity showing off nature in all its fall glory while giving kids and adults a taste of what life used to be like when railroads were the primary transportation in the US. So, go ahead and hop on board one of these eight scenic railroads, and be sure to grab a window seat because the views really will be captivating.
Editors' Recommendations