Preschool is your little one's first school experience. When this exciting year of firsts is over, you'll want to show your appreciation to your child's teacher. Unfortunately, a lot of teacher gifts, like apple mugs and candles, typically find their way into the regifting pile or worse — the trash. It's not that teachers don't appreciate the sentiment; they do. It's just the common teacher gifts aren't something most teachers will actually use.
While teacher mugs are awesome, veteran teachers usually end up with quite a collection. So what do you get a teacher at the end of the year? There are a lot of wonderful end-of-the-year gifts for teachers they will appreciate and use. Here are some great suggestions for your child's preschool teacher that he or she will love.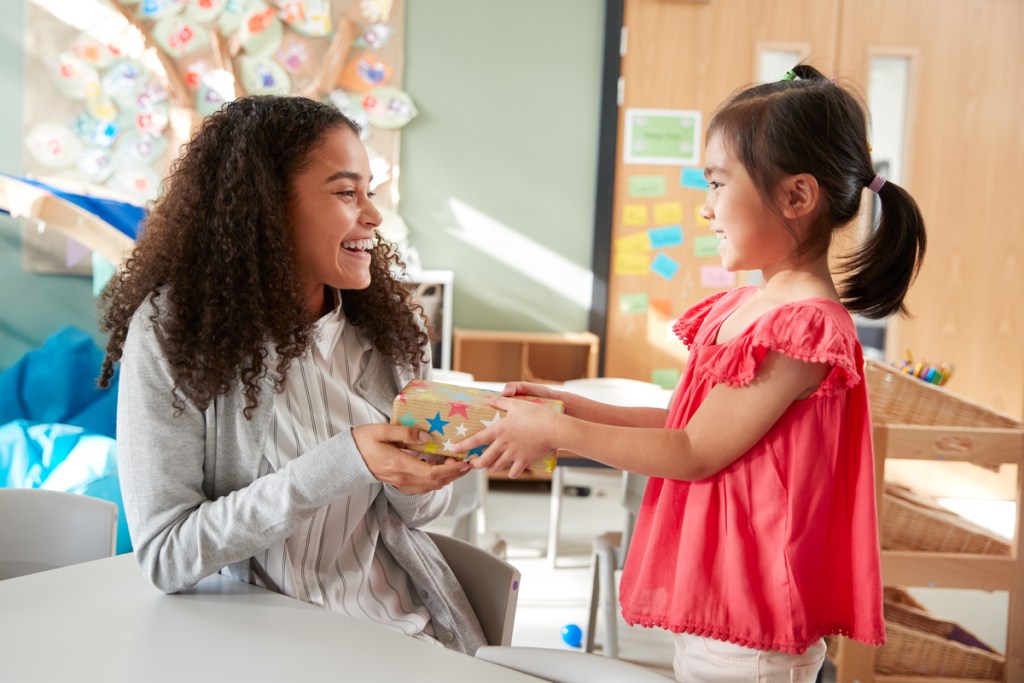 Dejaroo Mesh Beach Bag
Has eight pockets to aid organization
14 different color options
Originally designed for the beach, but can be used in a variety of ways
Your child's preschool teacher will think of them fondly every time he or she loads up this versatile tote bag. It is ideal for the beach, supermarket, picnics, field trips, and more. Your son or daughter's teacher can even use this bag to go back and forth to school. It's waterproof, fashion-forward, and super roomy. The bag is available in a variety of stylish colors.
Giotto 32oz Leakproof Water Bottle
Comes in more than a dozen different color options
Markers help you keep track of how much water you've had to drink
BPA-free
Unlike an office job, teachers cannot leave the classroom to grab a drink whenever they want to. Many bring a reusable water bottle to school every day, which makes giving one a useful end-of-the-year gift. The Giotto water bottle is a perfect pick for school, hikes, or a day running around doing errands. It's lightweight and BPA-free. The straw folds in to ensure cleanliness, and markers on the side help to keep track of the amount of water the user drinks each day. You can even dress up the gift by filling it with Hershey's Kisses.
Sunwill 14 oz Insulated Coffee Mug
Comes in more than a dozen different color options
BPA-free
Sweatproof
Instead of a mug that says "teacher of the year" on it, how about a covered coffee mug your child's teacher can take right from the kitchen into the car and to the classroom? This reusable, insulated coffee mug will certainly get a lot of use. It's ideal for coffee, tea, hot chocolate, and even soup. Available in different colors, the mug sports a comfy handle and is BPA-free. Hot beverages stay toasty for three-plus hours, while cold drinks stay cool for nine-plus hours. It's the ideal on-the-go mug.
Kingole Flannel Fleece Microfiber Throw Blanket
Comes in more than a dozen color options
Available in four sizes
Machine washable
Who doesn't enjoy cuddling on the couch under a cozy blanket to read or binge-watch their favorite shows? Even in the summer with the air-conditioner on, throw blankets come in handy, making this a fabulous end-of-the-year teacher gift. Available in different colors, Kingole's flannel fleece throw is super comfy and cozy. It's available in twin, queen, king, and travel sizes. The throw can be machine washed and tumble dried on low heat.
Mumu Sugar Sand-Free Oversized Beach Mat
Folds into a bag for easy transport
Heat-resistant
Dries quickly
A beach blanket that doesn't collect sand? Now, that's a wonderful end-of-the-year teacher gift, especially if your son or daughter's teacher has kids. This stylish beach mat can be used on the beach, at outdoor concerts, picnics, camping, and hiking. It travels well, so the mat can go on vacation, too. It is lightweight, dries quickly, and is heat-resistant. As an extra plus, it folds up into a compact bag.
Preschool is such a special and exciting time. It's a year of firsts, starting with that all-important first day of school. Maybe there were tears, but it was your son or daughter's preschool teacher who helped to make your child's preschool experience a positive one. Teachers appreciate any gift they receive from their students, but the best end-of-the-year gifts for them are ones they can use either in their classroom or at home. Any one of these five gifts will get a smile from your child's preschool teacher every time they use it.
Editors' Recommendations