Summer is such a fun time for a toddler to have a birthday. With nice weather and warmer temperatures, planning an outdoor party is a great idea, but it can be a little overwhelming considering the age group. When planning an outdoor party for toddlers, remember to build in a rain date and put it on the invitation.
Choose a party time that is ideal for toddlers. Timing is everything, after all, because you don't want cranky party guests. Try for a later morning party or after that critical afternoon nap. Short and sweet also works best for toddler parties, even in the summertime. Ninety minutes is a perfect time frame.
Summer birthday party supplies aren't difficult to find, and, even better, they're budget-friendly. So, what are some summer birthday party ideas for toddlers?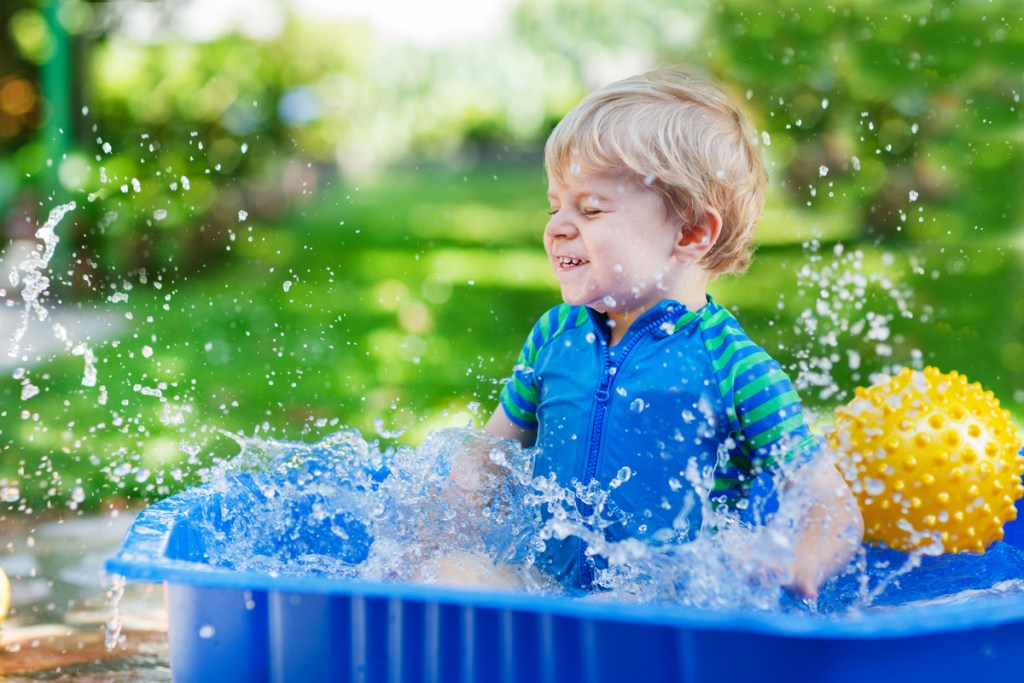 Water wonderland
A summer birthday party cries out for something wet and wonderful. Of course, even if you have a backyard pool, toddlers aren't quite ready for that kind of splash party. Instead, hit the dollar store or head online to order a few kiddie pools to set up water play stations around the yard. On the invitation, ask guests to wear their bathing suits and swim diapers.
Fill the pools early in the morning, so the sun has time to warm up the water. Stock each pool with a different set of water toys. It's a good idea to divide the kiddos into groups of three or four and rotate them from each baby-pool play area.
Fill one pool with rubber ducks, another one with squirty toys, and a third with magnetic fish and poles. If you have the space, you can add a fourth pool with pails and buckets for the toddlers to splash around or put out a splash pad. Your birthday boy or girl and their friends will have a blast splashing around and playing in the water. You can also fill an extra baby pool with balloons or balls for any guests who don't like getting wet.
Stack and pour buckets make adorable favors and can be given as-is, or toss in some bubbles.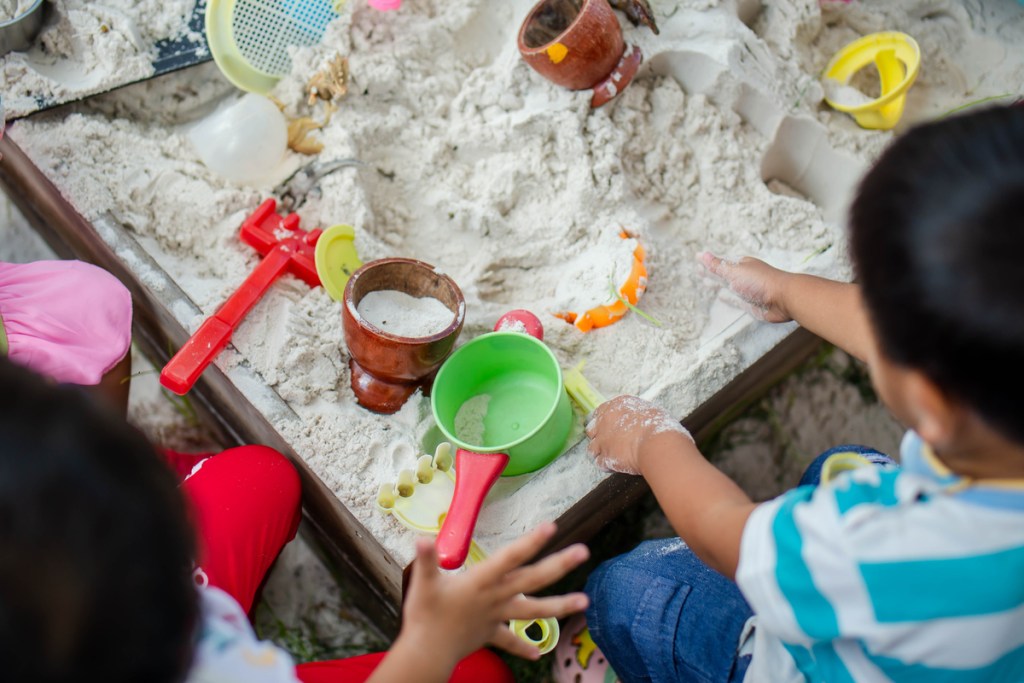 Sensational sand extravaganza
Like water, sand is a toddler favorite. A sandbox is permission to dig in the dirt. So, if your kiddo loves to dig, turn your backyard into a beach oasis by using those multipurpose kiddie pools. Pick up three or four kiddie pools online or at the dollar store and fill them with play sand. Outfit each pool with pails and buckets. You can order these in bulk online or purchase a bunch at the dollar store. You can make it a game by personalizing each bucket by using a paint marker. Have each guest find his or her bucket, which will serve as the party favor.
Since toddlers enjoy digging and uncovering items in the sand, bury some in each sandbox. You can use dinosaurs, rubber ducks, shells, or fish. Just be sure the items are large enough for toddlers because these little ones will still put objects in their mouths. On the invitation, ask parents to dress for the beach.
Kids can have a party full of sandbox fun. Be sure to have a cleanup station where kids can wash up before eating. Party decorations can include a beach theme with blue and green balloons.
Balls, balls, and more balls
Water and sand are super fun for toddlers, as are balls. They come in all shapes and sizes, so you can turn your backyard into a summertime ball pit. Fill up two or three kiddie pools with balls to make backyard ball pits. Set up other play areas with differently sized balls throughout the yard. One station can have a couple of yoga balls to roll or bounce on. Another can have a small soccer goal with Nerf soccer balls for the guests to kick around. A toddler-sized basketball hoop is a fun station, too. Scatter playground-style rubber balls around the yard for the toddlers to play with.
A fun party favor is a personalized playground ball. Each ball can be personalized with the child's name using a paint marker. Organized games are tough for toddlers, but they will have a blast playing in the homemade ball pits and kicking, rolling, and bouncing around the backyard.
Kids will be hot from all that running, kicking, and bouncing, so a make-your-own sundae bar with basics like chocolate and vanilla ice cream with sprinkles and chocolate chips will be refreshing. Toddlers have simple tastes, and it's best not to overwhelm them with a lot of ice cream topping choices. It's a cool way to conclude the party.
Summer birthday parties are so much fun to plan for toddlers. With inviting weather, you can turn your backyard into a toddler playground with one of these sizzling themes toddlers love. Whether you choose sand, water, or balls, your toddler and their guests will have a splash at this backyard bash.
Since the party is outside, don't forget to build in a rain date and include it on the invitation. Have your party guests dress for the beach for sand or water play, or for the playground for a ball bonanza. And, budget-friendly kiddie pools are the key to setting up these toddler-friendly summer birthday party themes.
Editors' Recommendations