Are you preparing for the arrival of a new bundle of joy? Are you looking for nursery decoration ideas because you're intent on setting one up, except you haven't yet decided on a theme? Check out these four ideas for modern baby room decor.
Jungle or safari
A classic — yet timeless — option is theming a nursery with wild animals. It can be quite simple, too. Since it's so popular, there are lots of products on the market that fit this theme.
Consider an animal print rug or curtains for a dramatic accent. More subtle ways to integrate a jungle theme include buying crib sheets with animals like giraffes or elephants on them. Hang photos of animals around the nursery if you're going for realism, or choose sketches of them if you want to take a more fantastical approach.
Decorate the nursery with stuffed animals and books about animals in the jungle or the savannah. You may even be able to find light fixtures and other furniture pieces that are animal-inspired. For a finishing touch, get a jungle-themed activity gym for your little one to enjoy!
Minimalist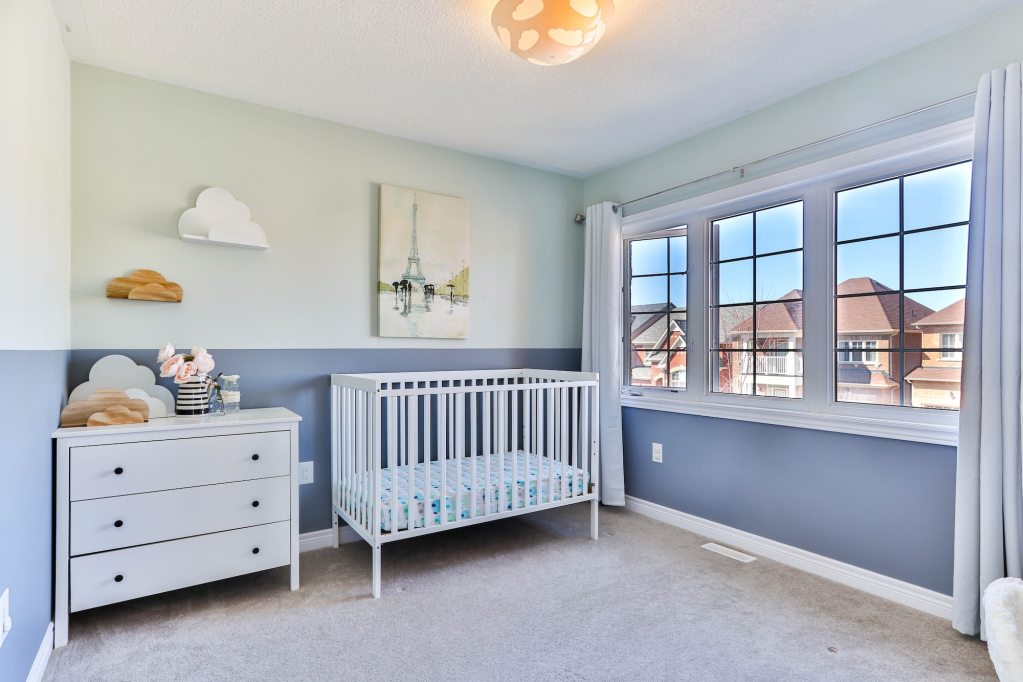 A truly modern style is minimalism. This trend, marked by, as you guessed it, minimal decoration, is perfect for a simple yet bold nursery.
Consider buying wood pieces that complement one another, such as a chair and a crib made out of the same material. Lighter colored woods create the illusion of space and have a gentle feel to them.
A minimalist baby's room doesn't have to be all neutral colored, however. Feel free to highlight one or two colors in the nursery. For instance, you might have a wooden crib but orange sheets and a matching orange toy bin.
Wall hangings that go well with this theme are black-and-white photographs in no-nonsense frames or Polaroid photos hung from a line by clothespins. Be sure to keep it simple, though, if you're going for true minimalism. Clean, crisply colored walls and lots of open floor space make for an area that looks large and inviting.
Color pop
You can choose an accent color for a minimalist room — or for any theme, really. By highlighting a single color, you divert attention to those colorful items. They'll also break up an otherwise neutral-colored area of the room.
You can make nearly any nursery theme feature pops of color if you start with neutral furniture. For example, create a minimalist nursery with a white crib and a white and gray rocker, then add bright blue sheets and a powder blue pillow for a statement color pop.
The addition of an accent color to a black and white room shows that you're not afraid to be bold. Some colors have been shown to make people happier, too, like yellow — perhaps consider the psychology behind a color when picking one to feature in your child's room. Don't forget that trinkets, toys, and wall hangings can also be in the accent color.
Geometric shapes
A feature of many modern rooms is the inclusion of sharp lines. What better way to highlight boundaries of objects than by choosing those that have definite shapes? Hexagonal shelves, square wall decals, and sheets printed with triangles can all contribute to a sharp, crisp looking room.
You might combine shapes or choose to focus on one. Consider placing a globe or round mirror in the room for a rounder touch. And perhaps also buy a set of balls, a shape sorting toy, or a puzzle to help your child learn about the shapes that decorate their room. The resulting geometric look will be reminiscent of posh hotels and other modernly furnished spaces.
Like a pop of color, you can integrate an emphasis on geometric shapes into another, more concrete theme. A minimalist room with geometric accents would look great, for example. Mountain and forest themes are all the rage right now, and they are the perfect opportunity for using triangles in the form of mountains and trees.
Decorating your new child's room might seem daunting. But when you choose the right theme and the nursery starts to come together, you'll see how much fun it can be! Modern decor doesn't have to be sacrificed just because you're having a child.
Haven't found your favorite theme yet? Check our guide on giving baby's nursery a country-themed makeover.
Editors' Recommendations