Choosing a nursery theme is tough in part because we don't know who our infant will grow up to be. Will they like science, sports, or singing, or all of the above? There's no way to know yet, so it's best to choose nursery decor that you find calming to help with sleep or a theme that means a lot to you because you've always wanted to pass it down. This is your chance to get what you want in there before they choose everything themselves once they have their own opinions.
Since we only know the gender of a baby when they're born, you might be looking to steer away from the "princess pink" room for your baby.
So, what are some nursery ideas for girls that aren't focused on everything pink? Read on for eight themes with beautiful nursery decoration ideas.
Night sky
Bring the moon and stars into the nursery with decals, a mural, or glow-in-the-dark ceiling stickers. There's also the option to get decor that says sweet phrases like "I love you to the moon and back." This is a perfect nursery theme because it focuses on sleep, which is the primary thing you'll be trying to get your baby to do in this room. You'll have no shortage of decor options with this classic nursery theme for your daughter.
Woodland
A calming forest (maybe even an enchanted forest?) filled with cute woodland animals makes for a relaxing and adorable theme. Frame prints of watercolors of forest animals, get a leaf print on the crib sheet, and add in cuddly stuffed foxes or teddy bears. This option still can give a nod to the princess motif without the pink, since Rapunzel, Snow White, Aurora, and others are associated with living in the woods.
Strong women
If you're excited to be having a girl but don't want to go the stereotypical pink route, consider leaning into the "girly" idea but focus on strong women instead of fairy-tale princesses. You could put up posters of inspirational women of history. Put up Eleanor Roosevelt quotes, drawings of female knights, and affirming words like "strong" and "brave" around the room.
Underwater
Mermaids, starfish, narwhals, and dolphins will bring a cheery and whimsical feel to your nursery, and there are many decor options from murals and decals to curtains and mobiles. Friendly ocean animals bring a multicolor theme into the room without the focus on gender. This theme gives you space to be colorful and playful.
Coastal
Who wouldn't want a relaxing beach escape every time they go in for a midnight feeding session with their newborn? Think decor that shows seashells, birds, lighthouses, anchors, sky, and sand to bring a coastal feel into the room. You could go New England beach or tropical location with this one.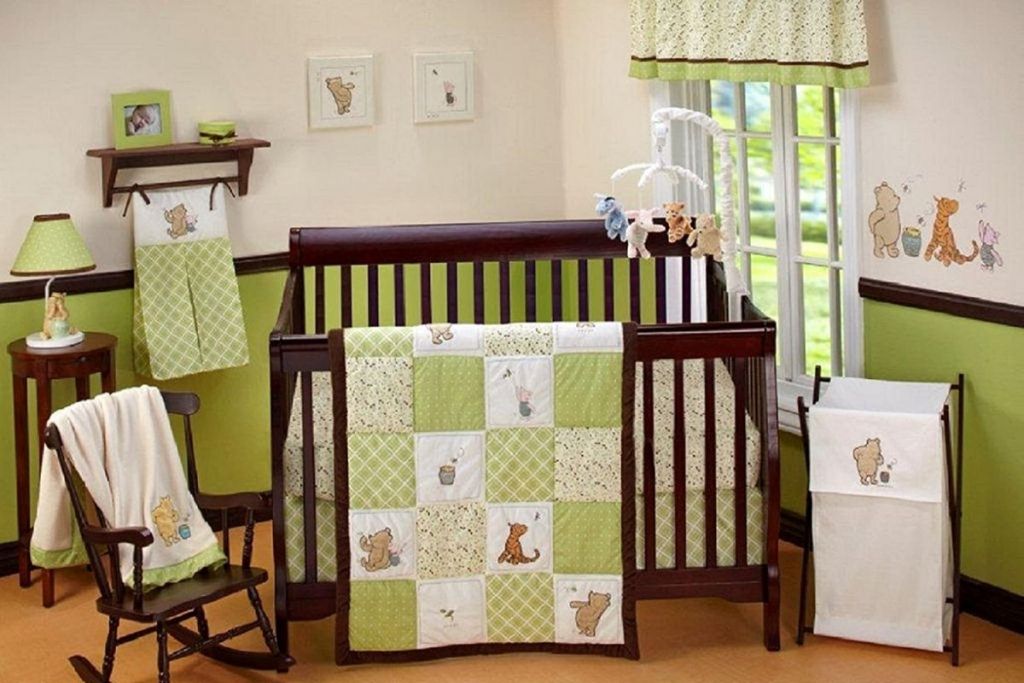 Storybook
You can still bring classic tales into a girl's room without overdoing pink or even princesses. Think Peter Rabbit, Winnie the Pooh, Curious George, Little Red Riding Hood, Jack and the Beanstalk, and Charlotte's Web. You could choose just one of these (like the Winnie the Pooh decor above) or mix them all in with a "book" theme.
Counting sheep
Many nurseries include animals with a theme like all jungle animals or all forest animals, but picking one animal to focus on is an adorable approach to a nursery theme. Since this is a room for sleeping, what better animal to choose than fluffy sheep? The walls could be painted as fields with pillowy sheep decals scattered among them, and there are sheep mobiles and other cute options for every corner of the room.
Unicorns
Unicorns are a whimsical and magical decor theme for a little girl's room that doesn't have to be overly pink. Unicorn decals, bedding set, and lighting will all add to the magic of a unicorn room for your daughter.
The possibilities of nonpink nurseries for girls are endless, but with one of these eight, you'll have a perfect start to designing a nursery that is sweet and relaxing while not playing up a stereotype. Choose one that brings you joy and enjoy the decorating process.
Editors' Recommendations