If you thought you could make it through your pregnancy with your current collection of shoes, we may have some bad news for you. For some women, pregnancy and feet simply don't go well together. Your feet swell, you need a new level of support, and comfort is the name of the game.
But you can't just get one pair of maternity shoes and call it okay. Just like you need multiple pairs of "normal" shoes to get through your day-to-day life, you'll need multiple pairs of maternity shoes, too, for everything from work to formal affairs, casual days to going on vacation. Here are the best shoes for pregnancy for a little bit of it all — and they're all under $50 a pair.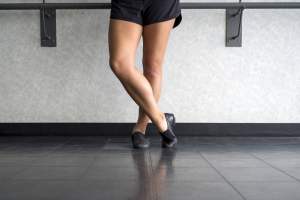 Tiosebon Women's Athletic Walking Shoes
These are the best maternity shoes for working out (or just walking around the block).
Whatever kind of exercise you enjoy during your pregnancy, you need a solid, supportive tennis shoe to wear — and you might find that your pre-pregnancy workout shoes are a bit snug now that your feet are swelling a bit.
We like these affordable tennis shoes from Amazon. They come in a range of colors, and each features a stretchy, elastic material that will expand as your feet expand, and the mesh means they're super breathable, a godsend when it seems like your feet just won't stop sweating.
Best for: Getting exercise
Sanuk Yoga Slings
Looking for the best maternity shoes for summer wear? When it's a sandal you want, you may find many traditional women's sandals to be uncomfortable, hard-soled, and made with unforgiving straps that tighten as your feet swell.
But that's not the case at all with these versatile sling-style sandals. Made for yoga, they're very comfortable and lightweight, with a foam bottom made from actual yoga mat material (cool, right?). The fabric top stretches along your foot for a comfy fit, and the thong-style front leaves a lot of your foot exposed, in case you're finding a lot of shoes too constricting and tight.
Best for: Casual summer days
CZZPTC Women's Canvas Shoes
These are some of the best maternity shoes for casual outfits, and they're not even made with maternity fashion in mind. Plus, they just so happen to be maternity-approved. Mommy bloggers rave about TOMS and shoes like the CZZPTC brand for maternity wear, with the key reasons being the lack of fabric around the ankle (where you're most likely to swell) and the flexible fabric.
So, for casual looks — like jeans and a tee, or a summery sundress — ditch the casual heels or wedges you may have preferred in the past and go with something a little comfier. These canvas-style shoes bend and expand with your feet for extra comfort, but they're a lesser-known brand than TOMS, meaning you'll enjoy a smaller price tag (and they look so much like TOMS, no one will even know).
Best for: Everyday wear
RSVP Malley Flats
Looking for the best maternity shoes for your "dressy" outfits?
When it comes to dressier outfits, whether you're headed to an important work meeting or a friend's wedding, you want to still look your best, regardless of whether or not you're pregnant. In these instances, you can't go wrong with a simple ballet flat. Breathable, comfortable, easy to slide on and off, and stretchable, ballet flats come in a variety of colors to match any outfit or style. These flats are usually pretty affordable and come in a few different colors, and they are noted for being comfy, well-fitting, and ideal for wide feet.
Best for: Dressy occasions
Rohb by Joyce Azria Maison Mules
Need something equally dressy but a little more on-trend than classic? If you typically find yourself on the cutting edge of most fashion trends but are struggling to remain so while shopping for maternity wear, you need to add these fashion-forward shoes to your closet. They're some of the best maternity shoes for fashion-forward outfits. There's no denying that mules are in style right now, and these particular pointed-toe loafer mules will add a special touch to any maternity outfit. Plus, you get so many colors and patterns to pick from, including nude, denim, gold, and snakeskin.
Best for: Dressy occasions when you want to make a statement
Express your style with the right maternity shoes
Don't feel like you have to sacrifice style in order to have comfortable feet throughout your pregnancy. You can find a range of stylish shoes for any occasion, all of which will fit your feet in comfort, no matter how swollen or sweaty (because, let's face it — pregnancy feet are no walk in the park). From the office to a day date, a formal affair to running around the block, pick from our favorite maternity shoes to find the best fit for your needs and schedule. Once you have the support you need and the comfort you crave, you'll thank us.
Editors' Recommendations