Tired of Taco Tuesdays? Tacos are a perfect fit for kids and healthy too, but if you want to change it up, think about bringing taquitos to the table. Taquitos are a Mexican dish with beef or chicken filling combined with cheese. Unlike soft tacos, the tortilla in which the filling is rolled in is typically fried. Frying is what gives taquitos their crispiness. Dipped in sour cream, guacamole, or plain, taquitos are a tasty dish.
Now, don't think kids will turn their noses up at taquitos. Even the pickiest eaters will dive into a taquito. After all, a taquito is meat with melted cheese, and cheese is always a big hit with kids. The other plus: taquitos are not complicated. If you prefer not to fry, taquitos can be baked instead, or even made in an air fryer. So, let's get ready for Taquito Tuesdays.
How to make taquitos?
The easy part of making taquitos is the filling. Beef or chicken can be used for the filling. Or, a sweet potato and black bean filling makes for a yummy vegetarian twist. Once you decide on the filling, cook the chicken or ground beef in a frying pan with a bit of oil. For a quick filling, add in a packet of taco seasoning and stir. Once cooked, remove the ground beef or chicken from the heat and place in a bowl. Have a bowl of your favorite shredded cheese nearby and you're ready to start rolling up each taquito. Taquitos are usually made with corn tortillas, but flour tortillas work too.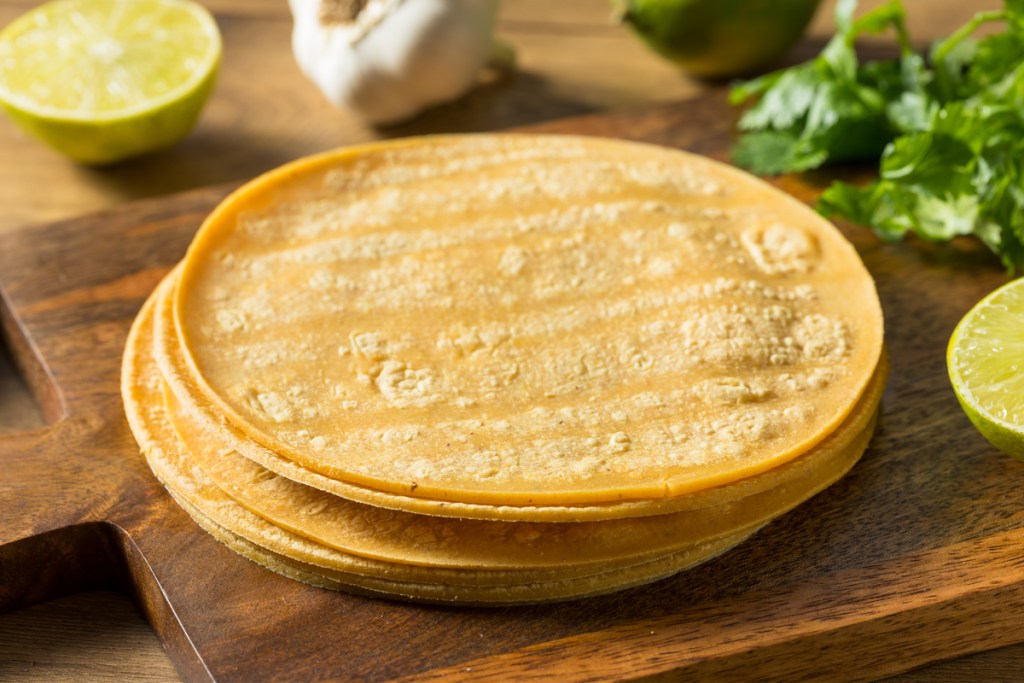 How do I prepare corn tortillas for taquitos?
Taquitos are traditionally made with corn tortillas. Heating the corn tortillas makes them easier to work with. You can heat the tortillas by placing them in an oven preheated to 300 degrees. Arrange the tortillas on a cooking sheet and place in the oven for ten minutes. You can also place a stack of 6 to 8 in aluminum foil and put it in the oven for 10 to 15 minutes. Never put more than eight in a stack because the tortillas won't heat evenly. The tortillas can also be wrapped in a paper towel and microwaved for 30 seconds. Again, don't make the stacks bigger than 6 to 8 if you're microwaving. Another way to heat tortillas is by placing a small amount of olive oil in a pan and heating each side of a tortilla for a minute. If heating tortillas in a pan, you can only do one at a time, which is what makes using the oven or microwave more time-efficient.
How do you make taquitos stay together?
Rolling taquitos can be the most frustrating part of making this dish. To start, place a tortilla on a cutting board or piece of waxed paper. Put two tablespoons of filling in the center and sprinkle a liberal amount of cheese on top. Then starting at one end, roll to the other end. It's at this point you may encounter difficulty keeping each taquito rolled until frying or baking. Thankfully, there are a few tips to rely on to help keep those taquitos together. You just have to find which one works best for you. Try these tips to prevent your taquitos from unraveling.
When using corn tortillas, it can be helpful to heat them up before filling and rolling. Heated corn tortillas stay closed easier.
Once the taquito is rolled, keep everything in place with a toothpick. Place one toothpick at each end, being careful not to push the toothpicks all the way through. Toothpicks must be removed once you start frying.
Brush a bit of olive oil on the rolled end to keep it in place.
Make an egg wash using water and a beaten egg. Brush the egg wash on the rolled end.
Another way to seal the end is by making a flour and water mixture. Brush on the mixture to seal the edge when you're done rolling.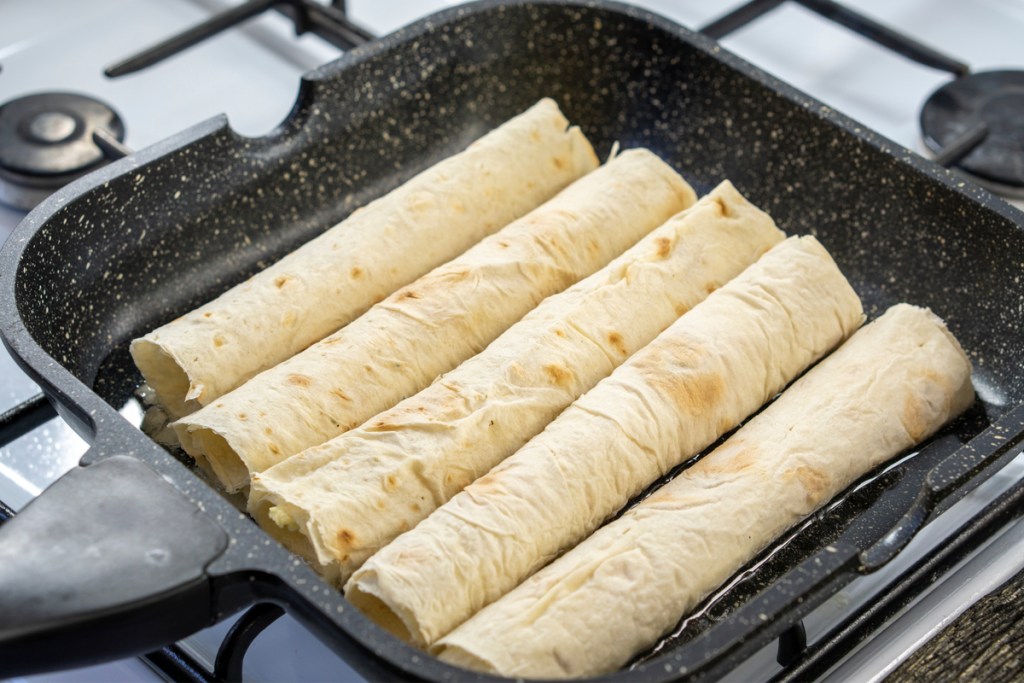 How do you keep taquitos rolled when frying?
Even if your taquitos are all neatly rolled, when they're placed in the pan of hot oil sometimes the tortilla does open. Utilizing one of the methods mentioned above does help keep the taquitos closed while frying. The trick is to place the sealed end face down in the pan so that it cooks first. If you do decide to use the toothpick method to keep the taquitos rolled, you'll have to remove the toothpick early on in the cooking process.
Place the taquito in the pan with the toothpicks facing up and the closed end down.
Once the closed end begins to brown, hold the taquito in place with a spatula or tongs and slide out the toothpicks.
Repeat the process for each taquito.
How long do you cook taquitos?
Fry taquitos for about 4 to 5 minutes on each side until golden brown. If baking, preheat the oven to 400 degrees and cook for 12 minutes or until golden brown.
Keep the T in Taco Tuesdays with taquitos. Taquitos can keep the family from getting bored with tacos and are a fun and relatively simple meal to make even on busy nights. Baking taquitos is easier especially if you're strapped for time. The great thing about taquitos? They taste delicious either way. To make taquitos a complete meal, serve with rice and beans or a salad.
Editors' Recommendations