February means the Super Bowl is here! Whether you're heading to a party, hosting, or just hanging with the family around the television, snacks are an essential part of Super Bowl Sunday. Snacks for the Super Bowl need to be a cut above the regular game snacks, but busy parents don't always have a lot of time to make homemade food.
Don't worry about fumbling the Super Bowl snacks. With these easy recipes in your playbook, you'll be the MVP of the party. These simple Super Bowl snack recipes will definitely score a touchdown with guests.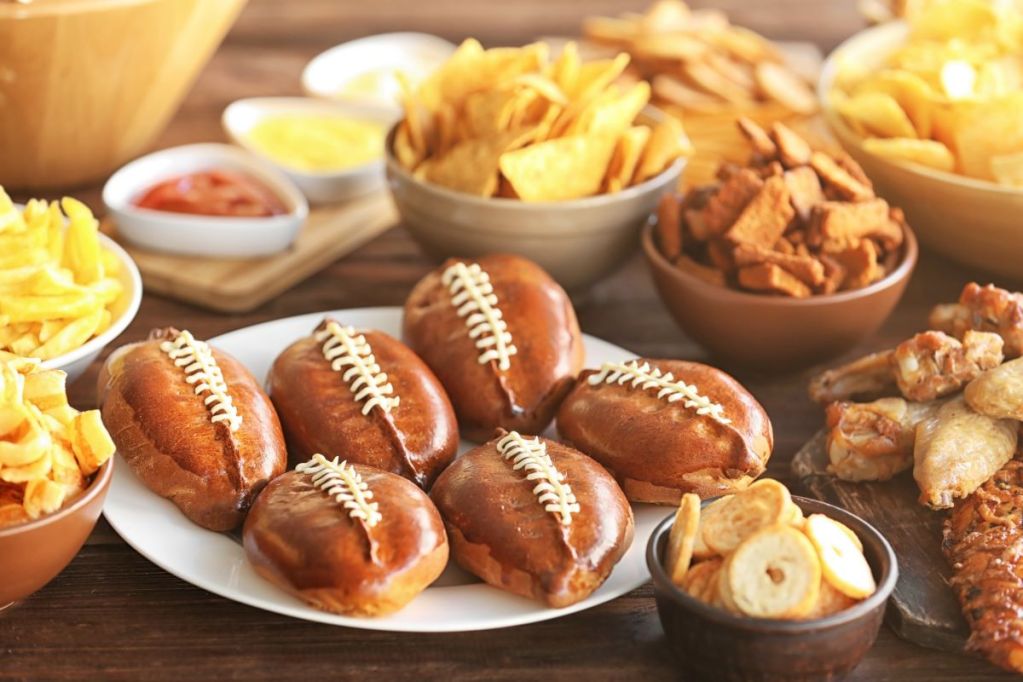 Easy Super Bowl snacks
If you're looking to make some homemade Super Bowl snacks that are a step up from putting out chips and dips, these recipes are for you. They're not complicated or time-consuming eats, but they are yummy. So, let's kick off the snack-making party.
Sheet pan nachos
Nachos are always a hit, especially if your Super Bowl party has multiple ages, and the dish is simple to create. This sheet pan nacho recipe from Allrecipes is ready to go on game day in only 20 minutes. You can also adapt the recipe to suit particular tastes.
Baked chicken tenders
Chicken tenders are a kid-favorite food that adults enjoy, too. If you're looking for chicken tenders that are big on taste, you'll love this baked chicken tender recipe from Allrecipes. Chicken tenders don't always have to be fried to be tasty. These ones are crunchy and yummy and ready to serve in 30 minutes.
Homemade pizza rolls
Pizza rolls and football games go hand in hand. Those standard frozen pizza rolls are quick to make, but homemade pizza rolls just taste so much better. Turns out they're not hard to make and are a perfect pick for Super Bowl Sunday. Make Your Meals homemade pizza rolls recipe only takes a half hour to make so you won't miss those pregame commercials.
Ranch snack mix
Ranch party mixes have long been on snack tables for Super Bowl parties. They're always a crowd-pleaser, too. Some ranch party mixes have a lot of ingredients and can be a time-consuming snack to make. For a quick ranch party mix that isn't short on flavor and crunch, try the Taste of Home's ranch snack mix recipe. This recipe can be ready for kickoff in 15 minutes and you can mix it the night before. Just store it in an airtight container.
Guacamole
Chips and dip are a Super Bowl party mainstay. Guacamole is a popular dip and a healthy one. Homemade guacamole is pretty simple to make, too. Allrecipes has a simple guacamole recipe that will score big at any Super Bowl party. It's made with basic ingredients and you can pair it with tortilla chips or as a topping at a Super Bowl taco bar.
Super Bowl parties are fun, and you don't even have to like football to go to or host one. Snacks are a major part of any Super Bowl party. If you're looking for easy, homemade Super Bowl snacks, we've got the recipes to score a touchdown.
Editors' Recommendations