Are you a parent who's a big fan of nutritious options for your child's packed school lunch? Do you find yourself running out of new or original ideas for healthy lunches for school? If you're fresh out of new dishes to make for your child's packed lunches, then we're happy to bring you a set of recipe inspirations and plans to get healthier foods into your child's regular diet, no matter where they may eat lunch.
These recipes are easy to put together, making them ideal for meal prep. By doing this ahead of time – most often at one-week intervals – you'll save yourself time each weekday morning. Additionally, by prepping meals and pre-planning your child's weekly school lunches ahead of the game, you can enlist the assistance of your kids by having them pack their own lunch each morning from their prepared containers of meals, snacks, and sides.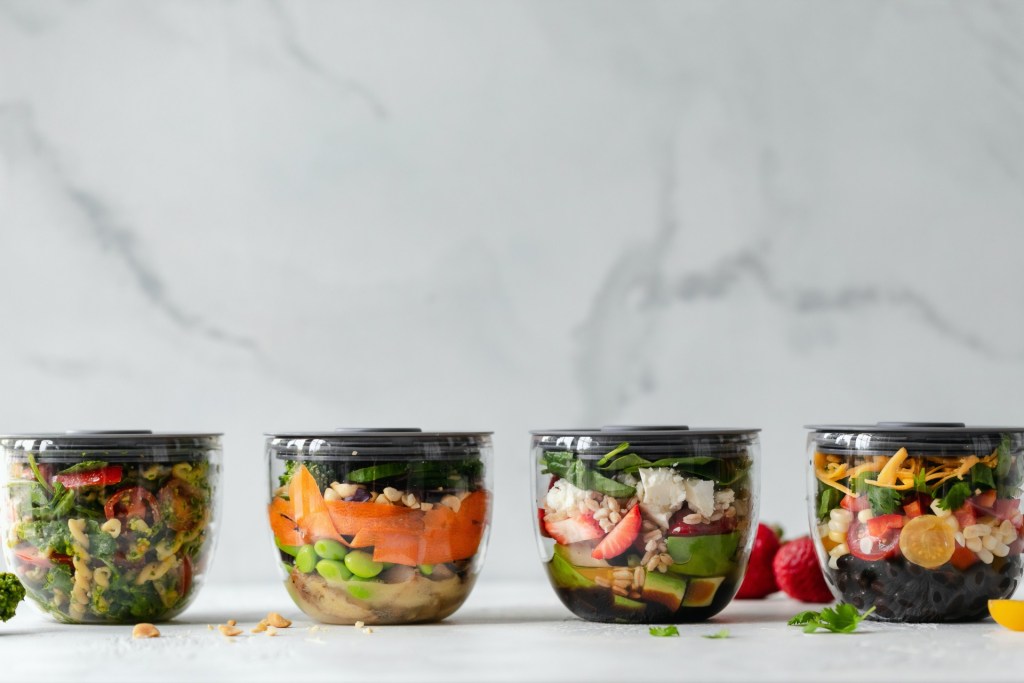 Healthy school lunches
Waffle sandwiches
This inventive, sweet, and satisfying sandwich is perfect for kids who have an insatiable appetite for sweets, with a healthier twist. These crazy-easy to make and super tasty bites take less than 5 minutes to prepare and fill bellies with sweet and salty, health-friendly ingredients. Whole wheat mini-waffles toasted — or un-toasted — are spread with your child's favorite jam or preserve on one, and a healthy swipe of a no-nut alternative butter, like Sunbutter on the other. The pieces are put together like a sandwich and cut into quarters. These nut allergy-friendly sandwiches are great for nut-free schools, while still giving your kids that PB&J feel.
Is there anything better than a baked, salty, and cheesy pastry filled with your favorite pizza toppings? We know it can't be just us, and we also know kids across the country will love these tasty treats tucked into their lunch bags regularly. By following this easy-peasy recipe, you can whip these flaky and delicious little wraps ahead of time, pop them into plastic baggies or your favorite to-go container, pop them in the fridge, and keep them ready to go into your child's lunch bag all week long. Have a fussy eater on your hands? Easily substitute out or completely omit ingredients based on your kid's desired toppings and additions or cater to specialty diets with ease thanks to this quick and simple recipe.
Healthy walking tacos
Walking tacos are a trendy, tasty, portable version of tacos. While delicious in its original form – ground taco meat, lots of cheese, sour cream, and Doritos nacho cheese chips in a fun-sized bag — we'd like to give you a healthier version of this tantalizing treat that's easier on the saturated fats and unnecessary sodium levels. Simply swapping a few ingredients can take this handheld dish to newer, and healthier heights:
Instead of regular Doritos nacho cheese tortilla chips, substitute the baked version instead.
Swap out regular sour cream for a lighter version with less fat.
Instead of 80/20 ground beef, consider ground turkey for your taco meat of choice.
Mix up your shredded cheeses for a lighter or lower fat option instead.
Prep ahead by placing the toppings into separate baggies or containers. Your child is then able to assemble their taco on site.
If your kiddo is a fan of the recently released kabob-style snack kit from Lunchables, then they will absolutely love this DIY version made ahead at home. By prepping ahead of time, your child is free to make the choice on what exactly goes into their kabob-style lunch, from the meat selection to the flavor of pretzel stick they use to hold it all together. The sky truly is the limit on what your child can put on their kabobs. As long as the key to its construction is placed in the mix — in this case, a pretzel stick — your child is sure to enjoy them. A few suggestions for additions are:
Pearl-style mozzarella cheese
Mini-pepperoni slices
Pitted olives
Cherry tomatoes
Fresh basil leaves
Sliced bell peppers
Cubed cheeses such as provolone, Swiss, or Monterey Jack
These easy-to-make, tasty, and portable muffins are awesome options for make-ahead prep and are great warmed up or chilled out of the fridge. The melted cheddar cheese makes an excellent crust that tastes amazing and helps bind the muffin together. Take this recipe a step further by adding your kid's favorite fixings such as:
Varying types of cheeses like pepper jack, Swiss, Gouda, or Munster
Toppings such as jalapeños, bacon bits, breadcrumbs, or green chilies
First graders love easy, and fun to eat meals. These types of make-ahead-friendly lunches are great to use through the long weeks of classes. They are also excellent ways to get your kids involved in the process of prepping meals, melting flavors, and planning ahead. Consider adding at least one to your lunchtime rotation.
Editors' Recommendations