A princess nursery is a royal idea for your baby on the way. Designing a nursery as a fantasy escape from the hard work of parenting a newborn will help you feel like you're in a storybook, even during those early-morning feedings.
These unique nurseries don't have to be one certain pink way, so read on for some creative princess nursery ideas.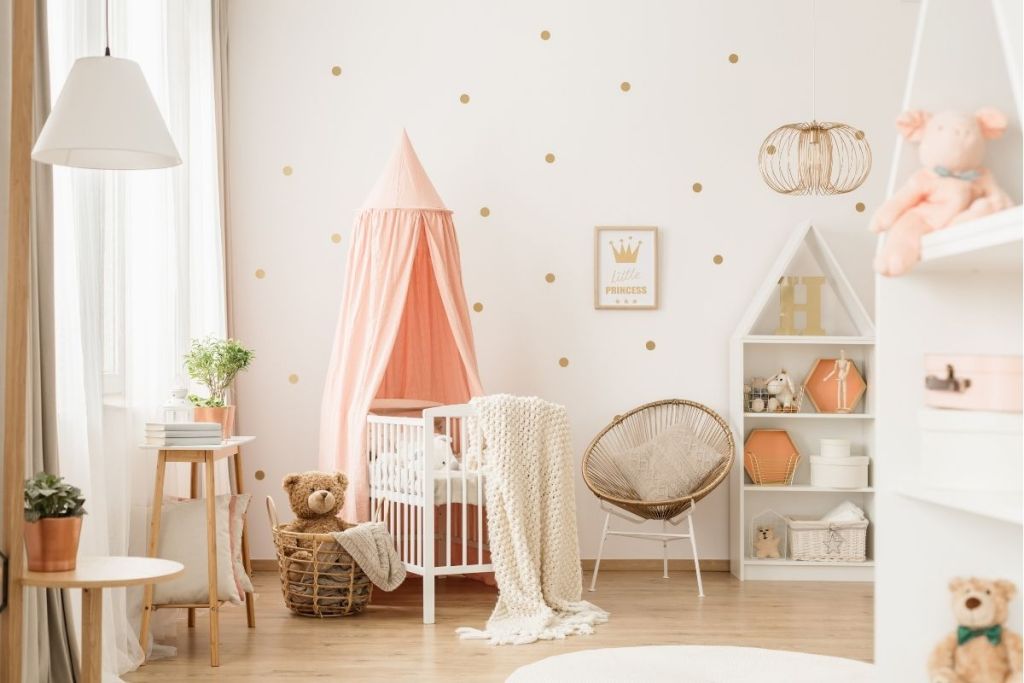 Incorporate your own culture
Princesses aren't only European like in Grimm's popular tales. Welcome your baby into your family's culture with a princess set-up that showcases your heritage, whether it's where you currently live, your ethnicity or your generations-ago heritage. Without using someone else's culture as a design, use your own to create a nursery that will give your princess pride in who she is and where she comes from. This cherry blossom decal is fit for a room devoted to Japanese heritage.
Pick one princess or go with a general theme
You can make a Frozen-themed nursery or a Little Mermaid-themed nursery, or you can generally put castles and crowns around the room. Either will work! If you do choose one Disney princess to focus on, you'll easily find more than enough merchandise to fill a room, from bedding to curtains to sidekick plushies. You can also take inspiration from the setting (winter wonderland or under the sea, for example) and use that as the larger theme with elements of the princess woven in. If you go the general princess route, you can create a storybook feel with a huge castle decal and woodland creature accents.
Think outside the princess box
Who else is a princess besides Cinderella and Snow White? Princess Leia (later General Leia), for one. Even within the Disney universe, think about who is a role model and why. Moana, Merida and Elsa all work hard for their dreams without a love interest, for example. There are also many real-life princesses from history who you could hang portraits of or quotes from if they spoke to you.

Show off inspirational messages
While your baby won't be able to read for a while, they will eventually ask you what the words mean. The messages will also be there to help you keep going through the late nights when you're in the nursery changing another diaper. Some of our favorites? "Have courage and be kind," from Cinderella, and "Remember you're the one who can fill the world with sunshine," from Snow White. You can also put up general encouraging messages like "Dream big, little one" or "Be your own kind of beautiful."
Think of every detail
Decorating a themed nursery is one of the most fun experiences while waiting for the debut of your little one. Go all out if it brings you joy! Some items not on the must-have list but on the fun-to-do list: a sign on the door to the room, a decal border, a crib sheet and changing pad cover that match the theme, an area rug, storage bins, a nightlight, a mobile, curtains, throw pillows, dresser decals, ceiling decals, and wall art.
Give subtle nods
On the other hand, you don't have to go all out if that is stressful or expensive. Like in the photo at the top of this article, can you add a canopy above the crib and one simple crown on the wall to give flecks of princess around the room without being too on the nose? Maybe you choose a gold palette as the theme with crowns as the accent item, without being overly literal by putting every princess item into one room.
Leave room to grow
Remember that your baby might grow up not to like princesses, so use removable decals instead of painting a mural. Can you paint the room a more neutral color while adding in accents of the theme's color? Just about everything is easily changed out other than the wall paint. Keep in mind as you decorate that this decor is more for you and will likely be replaced once your baby develops their own tastes. It's OK to decorate a nursery the way you like since there's no way to know yet what your baby's input will be, and since you're the one who will be awake in there more often for now. Add elements you enjoy since this is your one chance to use what you like instead of what they like.
Which of these princess nursery ideas do you think you'll use?
Editors' Recommendations