It's that time of year to start thinking about end-of-the-year gifts for your child's elementary school teacher. Parents always struggle with what to get a teacher at the end of the year to show their appreciation. You want to get a present that shows your gratitude and also won't be thrown away or re-gifted. Thankfully, there are a lot of great teacher gift ideas that will definitely be treasured and used. So what are the best end-of-the-year gifts for them? Here are five useful gifts for elementary school teachers that are all under $25.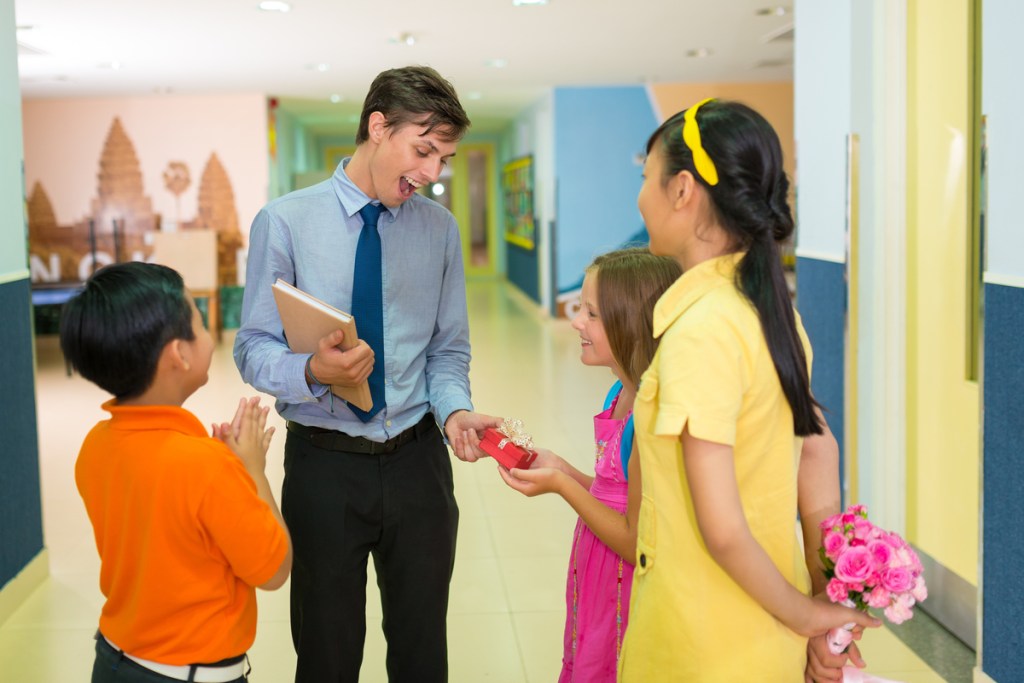 Zomake Golf Umbrella
Comes in a range of colors
Double-layered canopy creates a vent
SPF 50+
If your child's teacher has parking-lot duty or comes outside for dismissal, a golf umbrella will certainly be a welcome parting present. Available on Amazon, the Zomake Golf Umbrella comes in an assortment of fun colors. The 62-inch oversize umbrella opens automatically, and it is sturdy enough to protect your child's teacher on those rainy, windy days. The umbrella is wide enough to shield students, too, when those last few are still waiting for their mom or dad.
Mud Pie Classic Black and White Initial Tote Bag
Initial offers a bit of personalization
Black-and-white design goes with most outfits
Great for everyday use
This stylish and sturdy tote bag is an ideal present for your child's elementary school teacher. It measures 17 x 19 x 2 inches and can be used for school, outings, traveling, and more. Fashioned from 100% cotton, its classic black-and-white design perfectly complements any outfit and can be used every day. Choose the first initial of your child's teacher's last name to personalize the end-of-the-year present.
Contigo Autoseal West Loop Travel Mug
BPA-free
Features autoseal technology
Drinks stay hot for seven hours and cold for 18 hours
Your child's elementary school teacher will always remember your son or daughter fondly every time this fashion-forward travel mug doesn't leak or spill in the car or on his or her desk. Thanks to its autoseal technology, it is leak- and spillproof, which is always a major plus whenever kids are around. The travel mug holds 20 ounces and is BPA-free. Its lid cleans up easily and can go on the top rack of the dishwasher when needed.
Beverages stay hot for seven hours or cold for up to 18 hours. Users can drink with just one hand at the push of a button — no more fumbling with lids to drink.
BEAUTEX Sherpa Fleece Throw Blanket
Comes in multiple colors
Reversible
100% microfiber
Throw blankets make a perfect end-of-the-year thank-you gift for elementary school teachers — because who doesn't use throws year-round? A throw is ideal for watching shows, reading, or when napping. Throw blankets also come in handy when you're hosting sleepovers (if the teacher is a parent, too). The Beautex Sherpa Throw is super soft and stylish, and it's available in black, gray, navy, and red. It is reversible, as well. The throw size is 50 inches by 60 inches.
Amazon Gift Card in a Flower Pot Reveal
Who doesn't love gift cards?
If you can't decide on the perfect end-of-the-year gift for your child's teacher, you cannot go wrong with an Amazon gift card. Gift cards aren't impersonal. It allows the recipient to purchase an item he or she wants. Amazon gift card amounts start at $15 and are shipped directly to your home in a cute flower pot reveal. Your child can bring it to school on the last day. Pair the Amazon gift card with a small potted plant or a box of chocolates if you want.
Teachers do what they do because they enjoy children. At the conclusion of the academic year, parents and students want to show their gratitude. Of course, teachers appreciate any gifts they receive from their students, but as parents, we know not all the gifts get used. Many end up being re-gifted or tossed into the trash. To avoid wasting your money, choose a gift you know will be both treasured and utilized by your child's elementary school teacher. Any teacher would be delighted to receive one of the five gifts on our list.
Each gift will certainly come in handy at home, in the classroom, or on the go.
Editors' Recommendations