The holidays are a season of joy. You get together with loved ones and receive cards from friends and family who live all over. You get to see your kids' faces light up brighter than your tree when they wake up on Christmas morning. It's a good time to be surrounded by friends, family, and loved ones.
Unfortunately, this time of year isn't the happiest for everyone. For some, it's a reminder of what they don't have, such as strong connections with loved ones or money to purchase their children the trendiest toys on the shelves. Lending a helping hand can not only allow these folks to have a happier holiday, but it's also beneficial for your children. Giving back as a family can teach kids empathy and the importance of altruism. You may have a ton on your plate, so finding Christmas charities can be overwhelming. Let us help you and yours help others.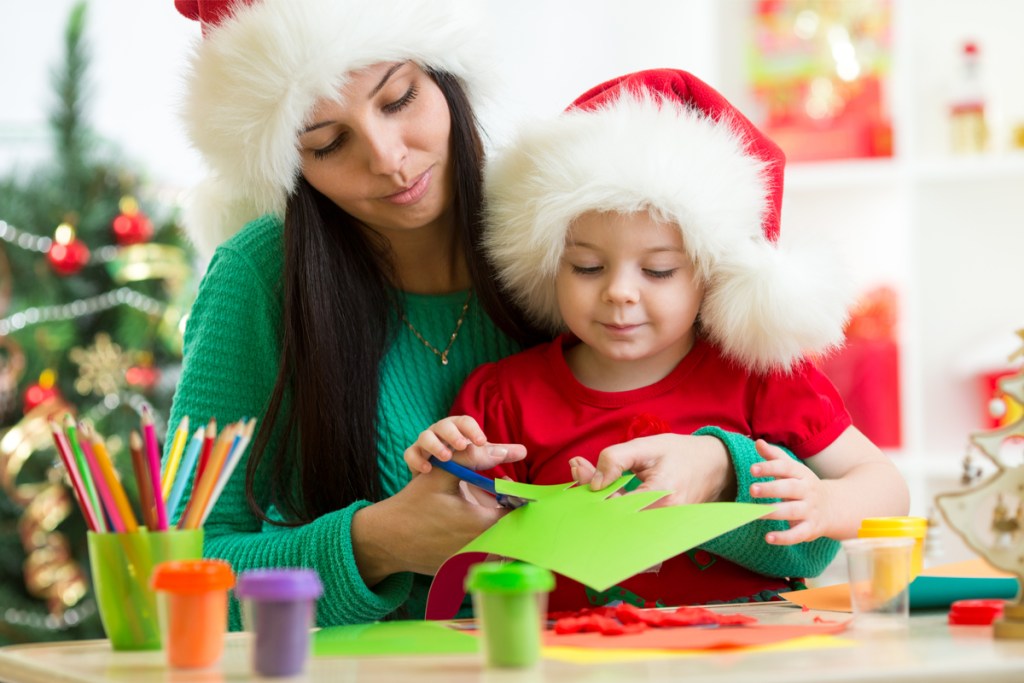 Charities that mostly cost you time
More Love Letters
Getting holiday cards in the mail is a fun surprise. Everyone loves a bit of snail mail. We all enjoy hanging our Christmas cards on a door or wall to make the holidays more special. However, some people may not get mail during Christmastime. In fact, they may feel rather lonely during the holiday season.
More Love Letters' volunteers help give people the pick-me-up they need through the simple act of collecting handwritten letters. Every day, the organization will feature a story about a person who could use some cheer. People write sweet notes which will get mailed to those who need them most. Your family could do this all year long as well, not just at Christmas.
Project Linus
The weather outside gets a tad frightful this time of year. Project Linus helps children in need, such as those with an illness or who have experienced trauma, feel physically and emotionally warm by collecting handmade blankets. You and your family become "blanketeers." The website has free patterns to choose from, and you and your children will pick out the materials together.
Work as a team to create quilts, comforters, fleece blankets, crocheted or knitted Afghans, or receiving blankets. You'll want to ensure your blanket is washable, doesn't have any pins, and is made in a smoke-free environment because of allergy concerns. When you're done, simply drop it off at a local chapter.
Charities where you buy presents
Toys for Tots
You love seeing your children's faces on Christmas morning. Sadly, not every child experiences that same joy. Toys for Tots, a charity headed up by the Marine Corps, is trying to change that by collecting toys for children whose caregivers cannot afford to purchase them. Talking to your children about how some kids don't have the same good fortune fosters empathy and makes them grateful for what they have. Allowing them to help pick out a toy or two for another child empowers them to create change. Families donate online through a virtual toy box or a drop-off in their community.
Some communities also organize hot chocolate runs for Toys for Tots, where a portion of the proceeds go to the organization, and participants donate a new toy on race day. Signing up to run or volunteer at a race and picking out a toy together is a way to get out and give back as a family.
Salvation Army Angel Tree
Salvation Army and Walmart are teaming up to play Santa to children and families in need. Work with your kids to find the perfect present for a child whose parents are in need of a Christmas miracle. You and your family will take on this project online or in a store. Find a store or shop online using Walmart's Registry for Good. Have your children think about what another kid might love to find under a tree.
Donating time, money, and items to Christmas charities during the holiday season is a way to spread goodwill and cheer. It's also a gift to your own family. When you give back together, it helps children learn about empathy and kindness and helps them appreciate what they have. Volunteering together is also a bonding experience.
Charities come in all kinds of varieties at this time of year. Many focus on ensuring underprivileged children have a toy under their tree. Others let people know they are not alone by writing special letters so people feel connected. Families also warm people's hearts – and bodies – with no-sew blankets. Talk to your children about what they are grateful for and the importance of helping others, and be sure to get them involved by writing letters, making blankets, or picking out toys.
Editors' Recommendations