Gender neutral baby shower gifts aren't actually a new thing. Back in the day, baby showers were almost always neutral since parents didn't know whether or not a baby boy or girl as on the way. As ultrasounds became more advanced then the cumbersome machines used in the 60s, more and more parents decided they wanted to know if the baby was a little guy or gal. Today, many parents-to-be might know if they are having a baby boy or girl, but prefer gender neutral baby gifts and even a gender neutral baby shower.
Gender stereotyping is thought to begin as early as three months of age, which is why many parents want to avoid showering girls in pink and boys in blue. Others though are fine with pink for girls and blue for boys. Unless the gift buyer knows for sure where the parents-to-be stand, gender neutral baby gifts are an ideal choice. Thankfully, there are plenty to choose from to delight the future parents. Here are eight go-to gender neutral baby shower presents that are a win.
A baby bathtub is a wonderful gift for baby and it will certainly get a lot of use. Babies won't be able to go in the bathtub for quite a while, which means this is the gift that keeps on giving. Be sure to get a baby tub that grows with baby. Fill it with baby washcloths, towels, and a rubber duckie or two.
Veteran parents know you can never have enough receiving blankets, which is why a multi-pack of those cozy blankets parents use throughout the day make for a practical, gender neutral baby gift.
It's so important to begin reading to kids at an early age, but new parent's won't necessarily have a lot of children's books on hand. Help them develop a fun library with a baby shower gift of baby board books. Board books are those small, chunky books specifically designed for little hands. Well-known children's books like Guess How Much I Love You come in a baby board book sizes and our a present that will be used over and over again as well as passed down to siblings.
The bathroom is a great place to encourage reading and with children's books specifically made for tub time, bath books make bath time fun and educational. Like board books, bath books are fashioned for the tub, are easy for growing hands to grasp, safe to go in the mouth, and gender neutral. For a bigger gift, make up a basket with baby bath and board books.
Another useful gender neutral gifts are drool bibs. Like receiving blankets, parents can never have enough when baby begins cutting those teeth.
Diapers
Parents who already have kids know diapers are a much appreciated baby shower gift and it doesn't matter the brand. Diapers are expensive and the supply always seems to run out at the most inopportune time. A thoughtful gender neutral baby gift for the parents-to-be can be a creative diaper cake or boxes of newborn and stage one diapers. If you know the parents are opting for environmentally-friendly cloth diapers, then wrap up a package of Nora Nursery's Pacific Neutral Cloth Pocket Diapers instead.
Baby's spit up a lot as veteran parents know, which is why a large supply of burp cloths are a must-have. Burp cloths get a lot of use and are washed frequently. A couple of packages of gender neutral burp cloths is another multipurpose gift that keeps on giving bottle after bottle.
When you're a busy parent on the move, a go-to portable changing pad is a must-have. Sometimes diapers get changed in the back of the car and if you have to use a changing table out of the house, you'll want to cover it with a pad. Portable changing pads are gender neutral and extremely useful. Pair the travel changing pad with diaper wipes and disposable changing pads parents can use at home or out for those messy diaper changes.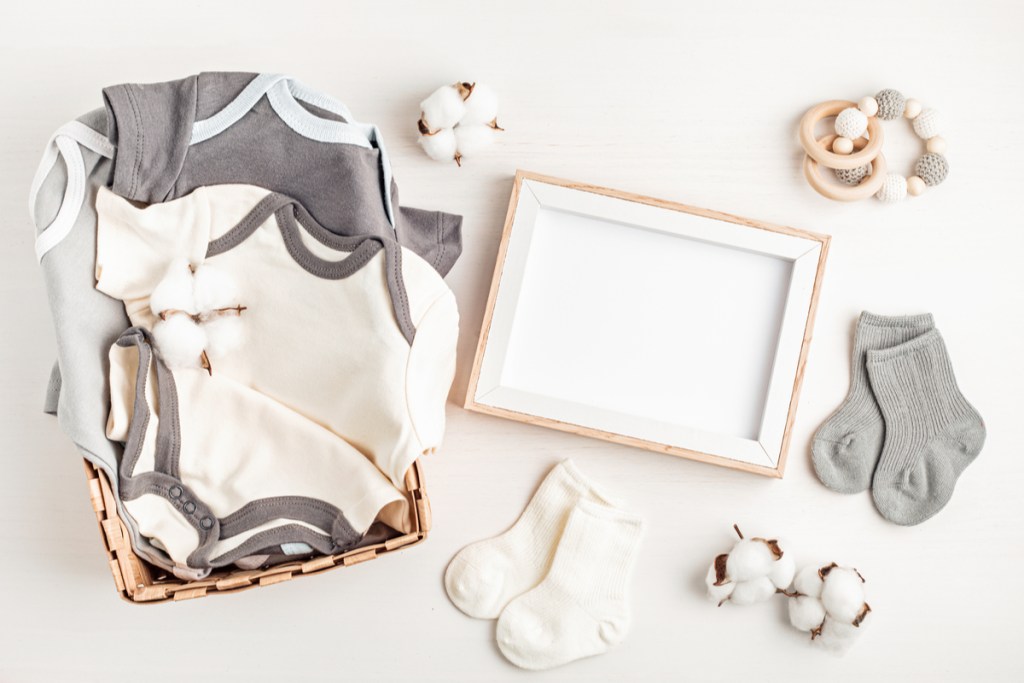 Other gender neutral baby baby gifts
Gift card
Basket of baby grooming items (brush, nail clippers, comb, baby shampoo, baby wash, baby bubble bath)
Healthcare basket for baby (infant Tylenol, gas relief drops, infant thermometer, nasal aspirator)
Picture frames
Often times picking out a gender neutral baby gift for a shower or after the baby is born is the way to go. Some parents prefer gender neutral gifts even if they know the sex of the baby. With these eight gender neutral shower gifts, you're giving a present the parents-to-be will most certainly appreciate and use a great deal. Combining smaller gender neutral gifts like burp cloths, receiving blankets, and drool bibs in a cute basket the parents-to-be can use for storage is also another way to go if you're looking for a larger shower gift.
Gender neutral baby showers have never really gone out of style. Today though there are more gender neutral gift options and colors available than white, yellow, and green. Shopping for baby shower gifts can be so much fun. So, if you're headed to a gender neutral shower, don't stress. With our list of gender neutral baby shower gifts, you'll be able to find something adorable and functional for the new addition.
Editors' Recommendations