Kids love holidays and exposing children and teens to other holidays around the world is a wonderful way to teach them about cultural diversity. School curriculums typically teach holidays around the world for kids, touching upon global seasonal holidays. Parents can continue the lesson at home, exploring global holidays in a bit more detail through foods, music, traditions, and books.
Those unique holiday characteristics are the things children enjoy most about celebrating a holiday. Fireworks and the 4th of July go together just like Trick or Treating and Halloween. When children are young they don't necessarily understand the significance behind holidays; introducing them to holidays around the world through books or a local festival can help children to understand, accept, and learn how to celebrate the cultural differences that make us all special.
Winter holidays around the world
Ever feel sad when Christmas is over? Santa has come and gone for another year. The days are shorter and cold. Turns out there are other fun holidays in winter celebrated across the globe both before and after December 25th, and learning about them can generate a little more holiday excitement.
Winter solstice
Have a party on the shortest day of the year? Many Americans dread the shortest day of the year because it marks the start of winter. Some cultures throw a party with a raging bonfire and many lit candles. The idea was that light would bring back the sun. Winter solstice festivals are held in Ireland, the United Kingdom, Japan, Iran, India, and parts of Canada. The Shortest Day: Celebrating the Winter Solstice is an interesting book to read around a cozy fire pit in the backyard under the stars on the shortest day of the year.
Hanukkah
The dates for this eight-day Jewish holiday fall any time from late November through late December. It commemorates the renewal of the Holy Temple in Jerusalem following a revolution by the Maccabees. It is celebrated with the lighting of candles on the Menorah with prayers and songs. Many Jewish families exchange gifts throughout the eight-day holiday and spend time with family playing games like a dreidel and sharing traditional Jewish dishes. A fun way to explain Hanukkah to kids is to add dreidel to a family game night. Try out a recipe for latkes or potato pancakes. A wonderful Hanukkah book kids will enjoy is Dear Santa, Love Rachel Rosenstein. This charming story will give kids a better idea about Jewish culture.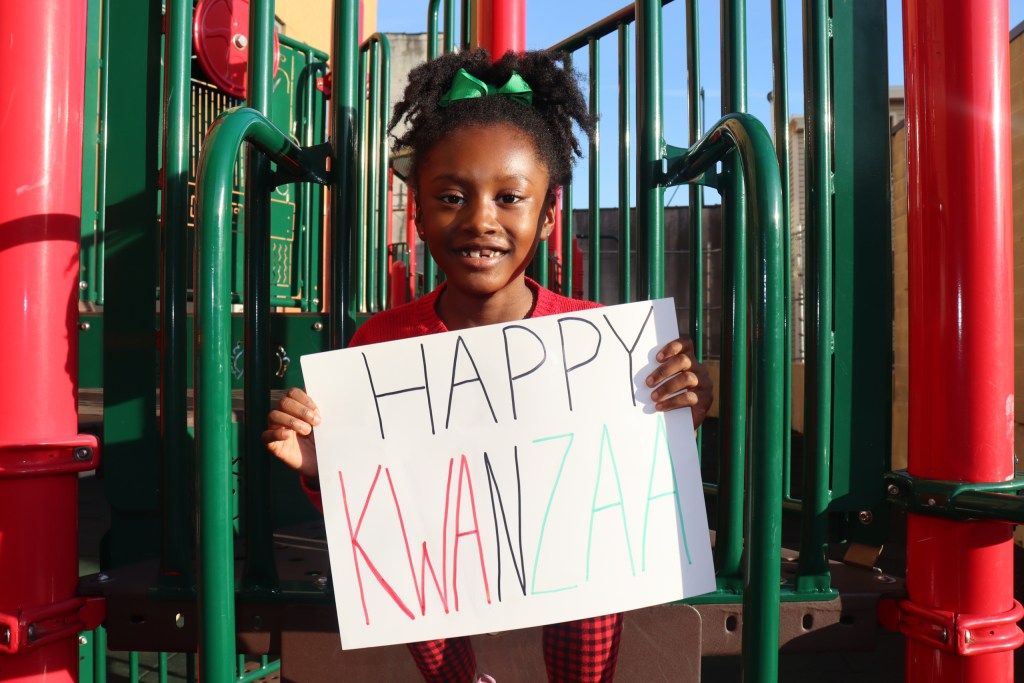 Kwanzaa
An African American holiday celebrated after Christmas, Kwanzaa was created by Maulana Karenga in the late 60s. Kwanzaa lasts for seven days from December 26 through New Year's Day. It, too, features a candle lighting ceremony and focuses on seven core principles including unity, self-determination, collective work and responsibility, cooperative economics, purpose, creativity, and faith. Much like Christmas and Hanukkah, gifts are exchanged, but the gifts are traditionally handmade. Meals are always shared with family and friends during Kwanzaa and can incorporate a variety of dishes. Traditional soul foods are popular during Kwanzaa and exploring some recipes during the holiday with kids is a delicious way to explore the culture. A must-read with the kids is Together for Kwanzaa. 
Three Kings Day
Teaching kids about Three Kings Day on January 6th may help them to understand the significance behind the popular Christmas carol The Twelve Days of Christmas. Three Kings Day marks the day when the three kings were said to have met baby Jesus and delivered their gifts. It is celebrated throughout Latin American and European countries with music, festivals, and parades. In Spain, Three Kings Day is when kids open their Christmas presents and in France, King Cake is a huge favorite. King Cake has a toy, jewel, or money baked inside. The Story of the Three Wise Kings is a fun read with kids explaining this popular winter holiday.
Mardi Gras
Lent marks the beginning of a somber period for Christians around the globe as they prepare for the Easter holiday. Before the season of Lent begins, however, there is a big party with a lot of celebration called Mardi Gras. Even if you can't necessarily head down to New Orleans or Brazil where Mardi Gras is legendary, you can explore some of the traditions at home on Fat Tuesday with gumbo, king cake, and hush puppies. Break out the beads and masks while reading Mimi's First Mardi Gras.
Chinese New Year
This celebration is typically considered a spring festival in Asian countries but is celebrated during the winter months in many countries including the United States. Chinese New Year, unlike New Year's Day, is based on the lunar calendar and is marked with food, firecrackers, and parades. Kids often receive gifts of oranges, treats, or coins. The small gifts are given in even numbers as a way of wishing good luck for the upcoming year. Check out the communities where you live during Chinese New Year to see if any festivals or parades are scheduled. If not, Chinese New Year Wishes is a great read after trying some traditional cuisine.
We've only scratched the surface of global winter holidays and that's what makes learning about holidays around the world with kids so exciting. Learning about other cultures teaches kids to embrace and celebrate diversity. Exploring other cultural holidays through music, food, and books is an ideal way to open up the world for kids and adults alike.
Editors' Recommendations