Taking down the holiday decorations is always bittersweet. The house just seems a little sad and bare when they're gone. Just because it's January doesn't mean you can't brighten up the house a bit before the Valentine's Day hearts come out. January is perfect for snowflakes, and we don't mean the kind you have to shovel or bundle up to try and catch on your tongue.
Paper snowflakes have been around for ages. Snowflake crafts are popular in art and elementary classrooms during the month of January, but the truth is you can create paper snowflakes anytime you want. Making paper snowflakes is a simple craft children of all ages can do. Paper snowflakes are also an easy and inexpensive way to decorate the house to keep those winter doldrums away. Forgot how to make a paper snowflake? Here's how to make paper snowflakes with your kiddos.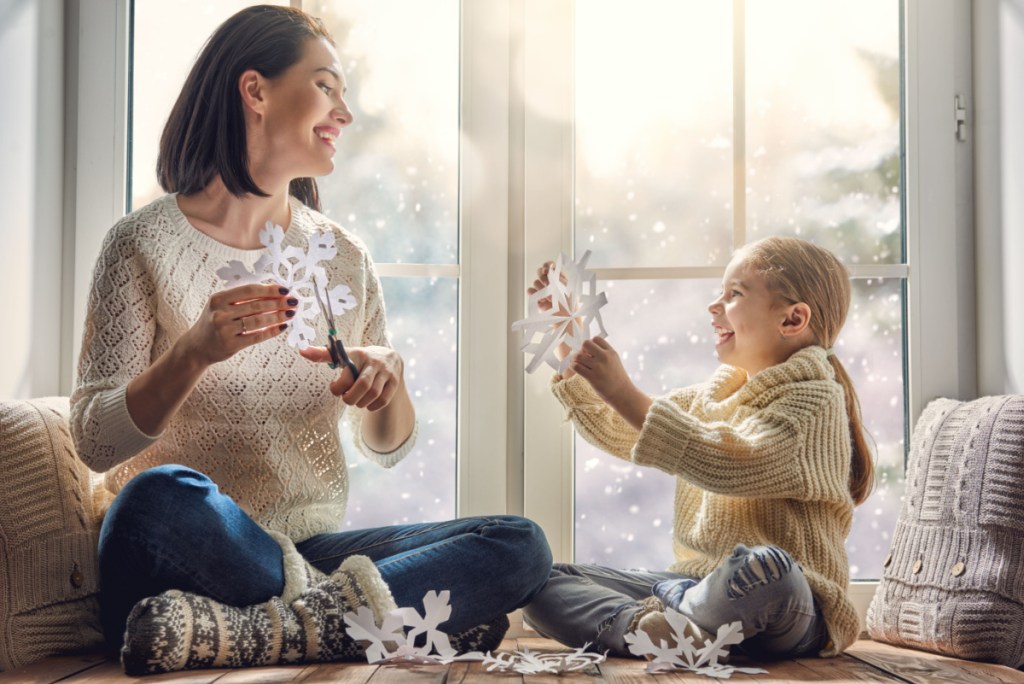 How to make paper snowflakes
You remember making paper snowflakes at the kitchen table when you were a kid. Creating the classic paper snowflake has never gone out of style and it's not just for kids either. Snowflake crafts are fun for all ages and a perfect pick for an arts and crafts family fun night this winter.
Step 1: Take a piece of white paper. Square paper works best, but traditional rectangle paper is fine too.
Step 2: Fold the paper in half diagonally, creating a triangle. When using a piece of rectangle paper, trim away the excess once you fold the paper in half diagonally to make the triangle.
Step 3: Fold the triangle in half again so the corners of the triangle meet.
Step 4: Take the triangle and fold it into thirds.
Step 5: Using scissors, cut away any excess and gently flatten.
Step 6: Using a ruler and pencil, lightly draw your snowflake pattern onto the folded triangle. Drawing a pattern is optional. You can also experiment and cut a freehand pattern.
Step 7: Take your scissors and follow the drawn snowflake pattern. Cut only where you have drawn lines.
Step 8: Open gently. If the snowflake doesn't stay flat, place it under a heavy book for a few moments.
Step 9: Use a hole punch to make a small hole in one end to hang the paper snowflake.
Step 10: Insert a piece of twine or yarn through the hole to make a loop for hanging.
Step 11: Hang the snowflakes on windows and doors as decoration. You can also tape paper snowflakes to windows or a piece of paper for kids to decorate.
Step 12: Repeat steps to make additional snowflakes.
Step 13: Use colored or textured paper to experiment with different types of paper snowflakes.
Step 14: For a dressier snowflake, paint lightly with glue and sprinkle glitter on it. Allow it to dry before hanging.
There's just something about snowflakes. They're whimsical, inviting, and beautiful. While winter can sometimes seem dark and dreary, snowflake crafts chase away a bit of that gloom. Take a page from your childhood and sit down and make paper snowflakes with your kids.
With this easy step-by-step guide on how to make paper snowflakes, the whole family can create sparkling snowflakes to brighten up the house this winter. All you need is paper, scissors, and imagination. If you want to add a bit of sparkle and don't mind the mess, glitter snowflakes always bring a warm smile in winter.
Editors' Recommendations