Celebrating the 4th of July with a picnic is a wonderful family-friendly way to spend the holiday. Whether you are heading to the beach, a parade, or staking a spot early for fireworks, a July 4th picnic is super fun. Of course, an Independence Day picnic calls for a special 4th of July picnic menu. Red, white, and blue are the colors of the day for this patriotic holiday.
So, you might want to keep that theme in mind when packing your 4th of July picnic to go. Don't forget to bring a garbage bag for easy cleanup, sunblock, and bug spray — especially if your picnic outing includes evening fireworks. These 4th of July picnic ideas will help you celebrate in style.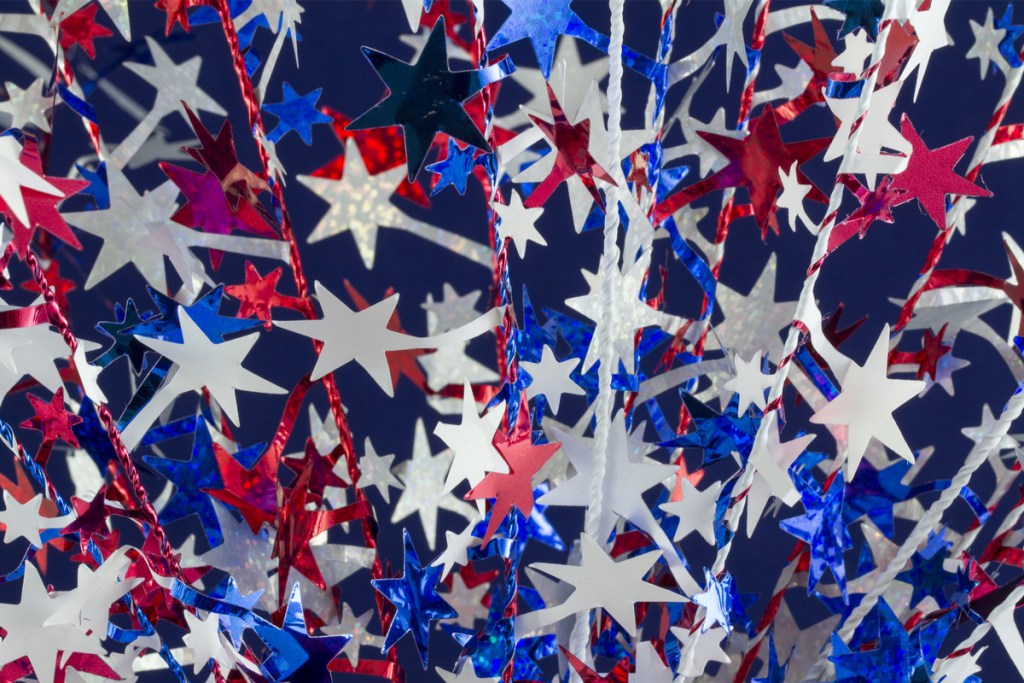 Red, white, and blue
Give your picnic a 4th of July flair by bringing along red, white, and blue plates, napkins, cups, and utensils. A patriotic party pack is an ideal pick for the picnic, and you can save any leftovers for a Labor Day picnic or backyard barbecue. If you're really feeling patriotic, you can pack all the goodies up in a matching picnic basket, and don't forget the blanket to complete the red, white, and blue theme.
Yummy 4th of July picnic menu
The key to a delicious July 4th picnic is to pack foods your family loves and keep it simple. It's a special day, so a couple of treats are in order, but you want to keep the menu healthy, too. A great way to do that is by mixing in some red and blue fruits.
Patriotic popcorn
Give a kid-favorite snack a patriotic look by mixing in dried blueberries and cranberries:
Take a bowl of your kids' top popcorn or make some microwave popcorn.
Mix in dried blueberries and cranberries to taste.
Make individual bags of the red, white, and blue snack using resealable bags.
Yogurt parfaits
There isn't anything healthier than yogurt, blueberries, and strawberries. This red, white, and blue dish can be a picnic snack or lunch. Here's how to make them:
Use your kiddos' favorite vanilla or plain Greek yogurt and spoon a layer into the bottom of a sealable cup. Condiment cups with lids are a perfect pick for picnics. You can buy in bulk online and toss them when the kids are done.
Place a layer of blueberries over the yogurt.
Top with a layer of yogurt.
Finish off with a layer of cut-up strawberries.
Make sure the lids are on tight to avoid spills in the picnic basket or cooler.
Mini flag sandwiches
All you need to make quick and tasty sandwiches for everyone with a red, white, and blue flair is bread, cream cheese, blueberries, and jam. Follow this:
Cut wheat or white bread slices into flags using a cookie cutter (you can do this with a knife, too, and just cut the bread into rectangles). The number of slices depends on how many sandwiches you need.
Spread a layer of cream cheese on one slice.
Spread a layer of strawberry jam.
Put the slices together.
Add a blueberry garnish and keep it in place with a flag toothpick.
Watermelon fruit salad
What 4th of July picnic wouldn't be complete without watermelon? For this sweet, cool snack or dessert, all you need is watermelon, blueberries, and strawberries. Add a dollop of whipped cream, canned or fresh, when serving to give that signature red, white, and blue look. Take these steps:
Cut up watermelon and strawberries into small pieces.
Mix together in a bowl with blueberries.
Spoon into condiment cups.
Seal with lid.
Don't forget the whipped cream!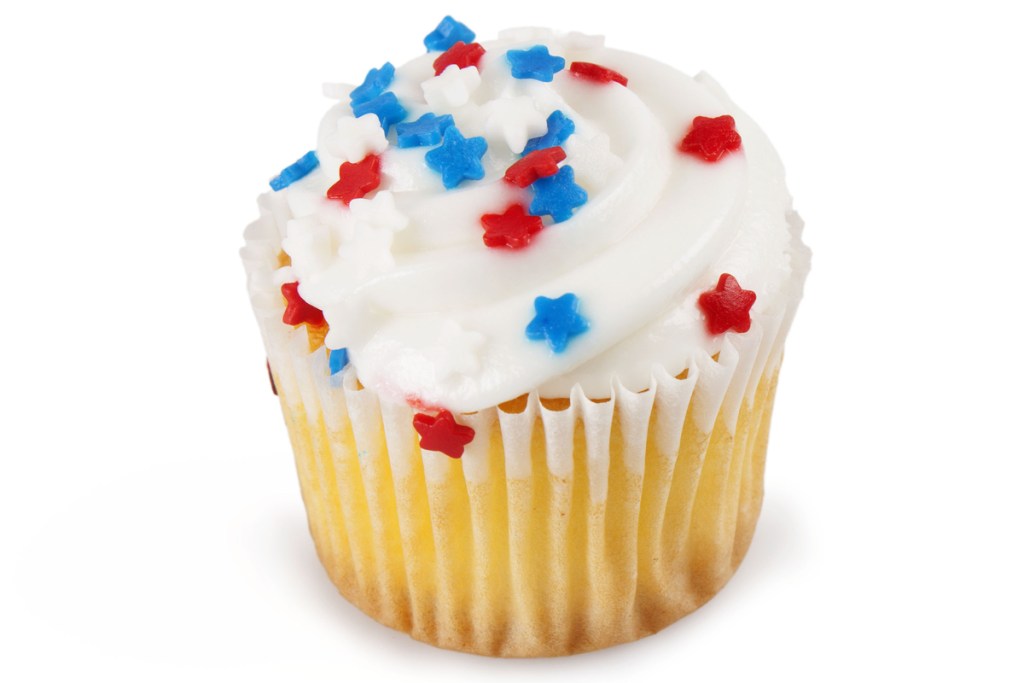 Mini patriotic cupcakes
With a healthy picnic in tow, you certainly need to top it off with a sweet treat. Mini cupcakes travel well and are quick to make. If you're short on time, use a boxed mix. For a scratch recipe, try this easy vanilla cake recipe:
Ingredients
3 cups of cake flour (all-purpose is fine, too)
3 1/2 teaspoons of baking powder
4 eggs
2 cups granulated sugar
1 cup unsalted butter (softened)
1 tablespoon vanilla extract
1 1/2 cup milk
Directions
Preheat oven to 350 F.
Grease and flour 4-inch or 6-inch cake pans.
Mix flour and baking soda together in a large bowl.
Combine softened butter and sugar using an electric mixer. Then, add in eggs and vanilla.
Slowly add the dry ingredients to the mixer.
Add milk into the mixer.
Blend until combined.
Line mini cupcake tin with liners. Patriotic liners are a nice touch. If you can't find red, white, and blue ones, use red or blue mini liners instead.
Bake for 22 to 24 minutes or until a toothpick comes out clean.
Cool on a wire rack before removing.
Allow to cool completely before icing.
When you're ready for frosting, store-bought white frosting is quick, and top it with red and blue sprinkles. If you prefer a frosting from scratch, try this recipe:
Ingredients
1 cup unsalted butter (softened)
2 cups powdered sugar
1 teaspoon vanilla extract
2 tablespoons milk
Blend in a mixture; add additional powdered sugar if the icing is too runny or milk if it's too thick.
When the cupcakes are ready, pack in a resealable container or a mini cupcake holder.
Now, you're ready for a deliciously delightful 4th of July picnic that won't stress you out to put together. Remember to put ice packs in the cooler or basket to keep the food cool. Don't forget juice boxes or water bottles. Bring extras if you're staying late for fireworks. Toss in some extra bags of the patriotic popcorn to munch on during those ultra-cool fireworks.
Editors' Recommendations