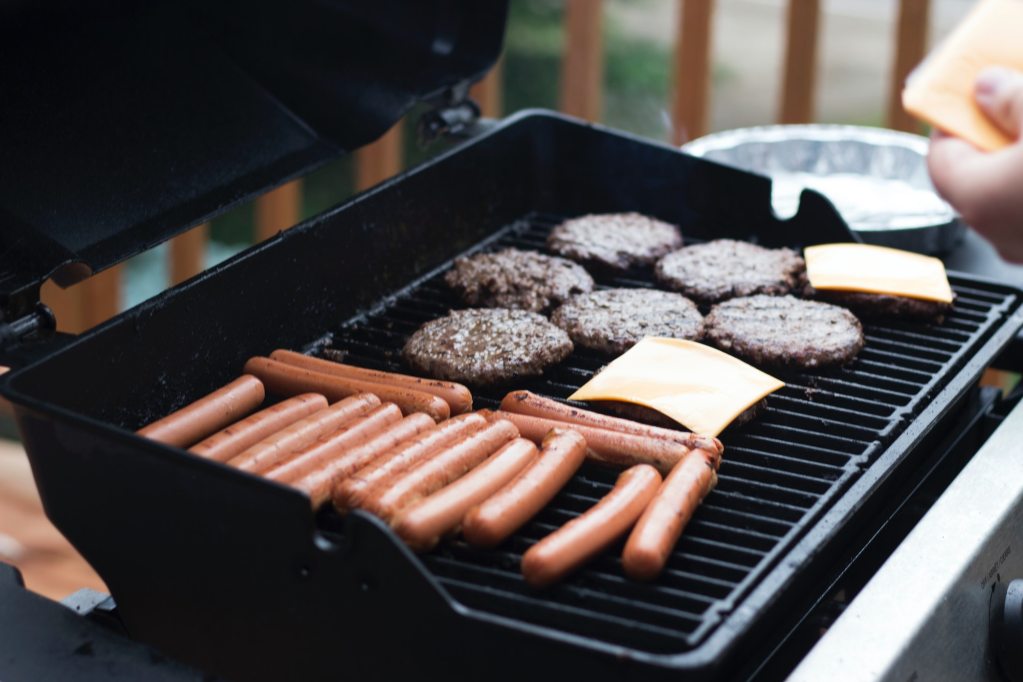 Who doesn't love grilling season? Throwing a few hamburgers or hot dogs on the grill often makes for a quick and easy meal for the whole family. But let's face it, typical barbecue fare can get old after a while, and not so healthy, leaving lots of parents on the hunt for kid-friendly barbecue ideas.
It's no secret that (most) kids love hot dogs, but if you're catering to a mixed group of kids and adults, you probably don't want to limit your barbecue menu to those yummy-yet-mysterious meat cylinders. As tasty as they might be, it's nice to swap the hot dogs for something else every once and a while. And while easy and stress-free to prepare, they're not exactly impressive to either your taste buds or your guests. So, instead of the hot dogs, throw something on the grill that's healthy, delicious, and fun for everyone.
Here are six kid-friendly grill ideas that are sure to please.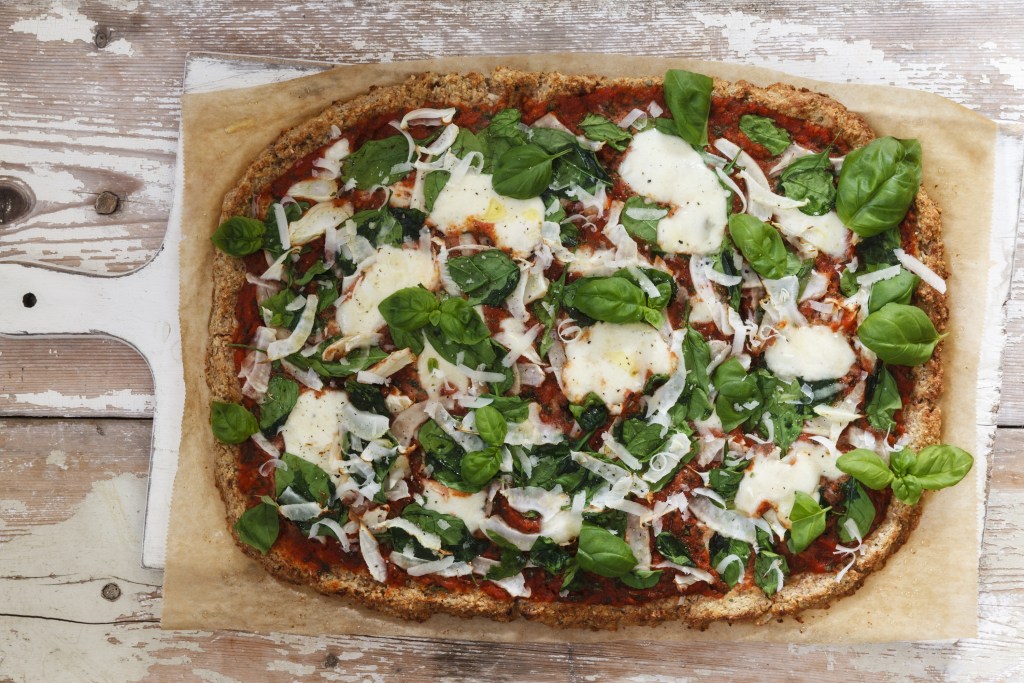 Grilled flatbreads: Choose your favorite toppings
Who doesn't love pizza? While flatbreads aren't precisely pizza, they are a pretty good stand-in and one that both adults and kids can get behind. Let the kids help build their own flatbreads and then top the adults' versions with something a little more upscale. You can use pre-made flatbreads if you're not in the mood to cook up your own dough. They'll cook quickly on the grill and you won't even need to preheat the oven.
We like this grilled pesto chicken flatbread recipe for the adults, but you can offer the kids other, more traditional pizza toppings, such as marinara, mozzarella, pepperoni, and more.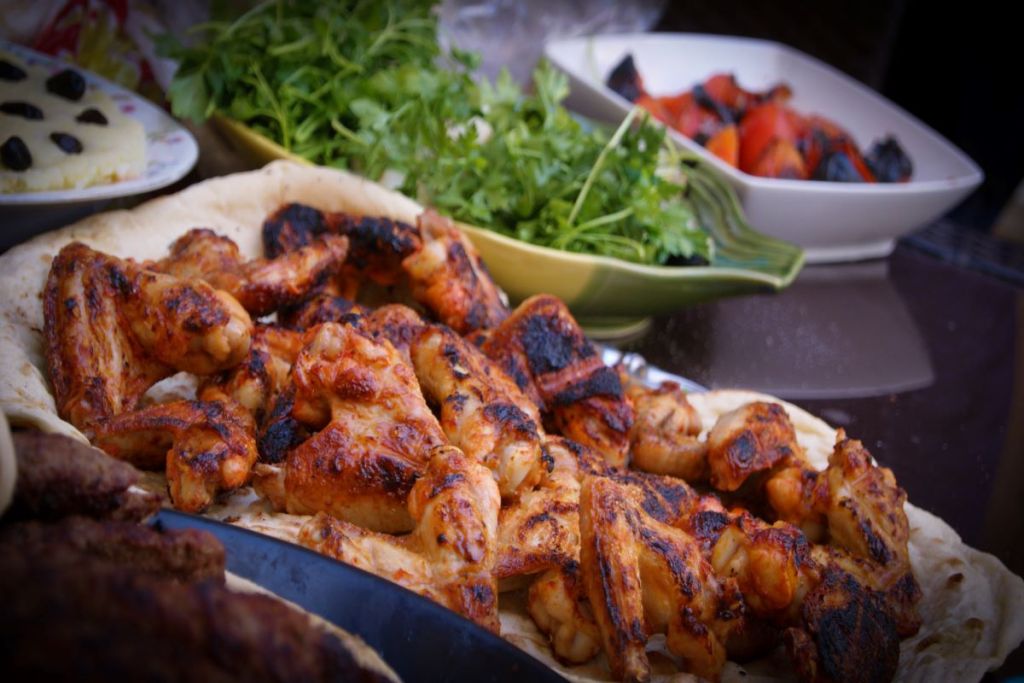 Honey barbecue grilled chicken is a crowd-pleaser
Barbecue chicken is always a winner. Kids like chicken tenders in general, and most adults like barbecue. If you have a particularly picky child, then you may want to grill a few plain chicken tenders on the side, so they can choose to dip them in honey mustard, barbecue sauce, or ranch, or just eat them as is.
Serve this honey barbecue grilled chicken with a side of freshly grilled corn on the cob, a salad, and some lightly grilled bread (a deceptively easy process) and you have an all-grill dinner that's perfect for summer and pretty healthy too.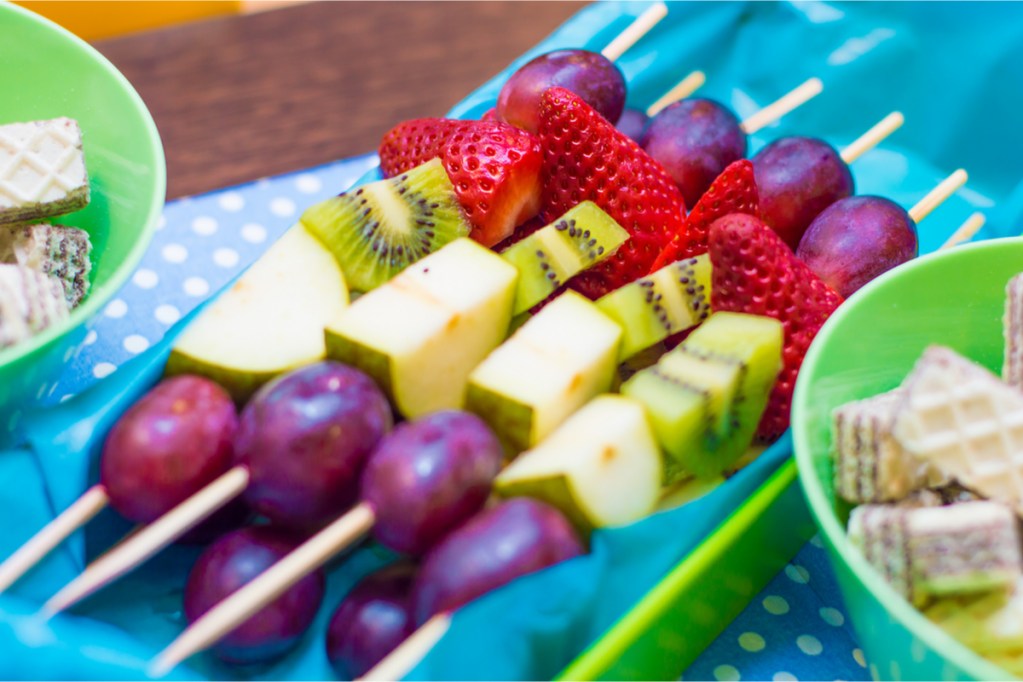 Grilled fruit kabobs for a fun, healthy dessert
The barbecue isn't only for your savory dishes. You can pop your dessert on the grill as well, for a fun and impressive way to conclude any summer meal. These grilled fruit kabobs are a hit with both adults and kids' palates. Adults love the caramelized fruit and kids love finger-friendly foods and anything on a stick.
Like the grilled flatbreads above, this is another recipe that you can personalize to fit your family's tastes and one that you can change up for the kids and adults. Maybe the adults want all strawberries and pineapple, while the kids want all bananas and melon. Whatever the case may be, this recipe breaks down the process step by step.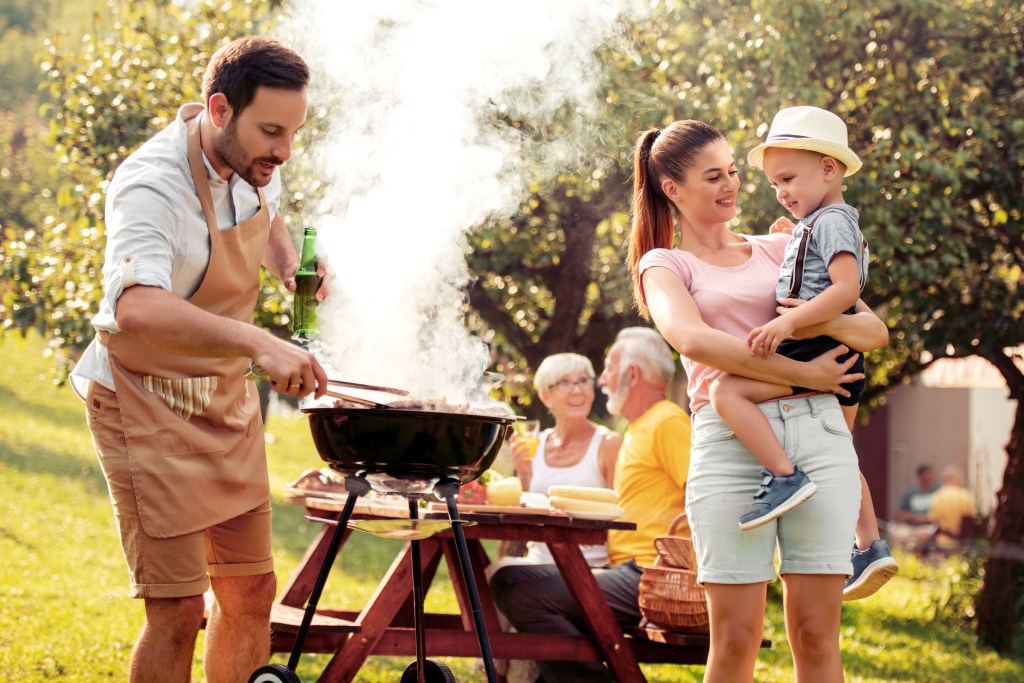 Grilled ham and pineapple kabobs for a tropical twist
Keeping with the kabob theme, if you're looking for an alternative to your traditional savory kabobs (you know the ones — with chicken or beef cubes, plus peppers, onions, and mushrooms), you may want to try these Hawaiian-inspired grilled ham and pineapple kabobs. Sweet and fun for the entire family, they cook quickly and go great with a side of salad or rice.
Get the kids in on making the kabobs for extra family fun in the kitchen. After you've sliced your ham and diced your pineapple, invite the kids to help slide everything onto the wooden skewers.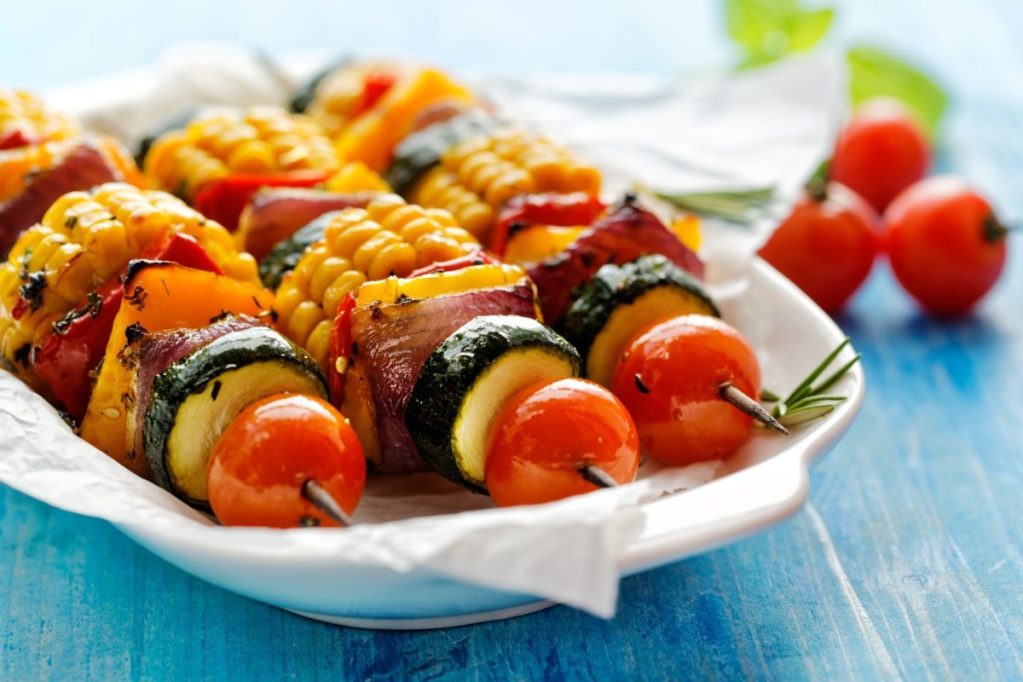 Grilled veggies with smoky honey mustard
Trying to get the kids to eat more veggies? In the mood for a veggie plate, but not sure if the kids will raise a ruckus if that's all you serve them. While a typical "trick" for getting your kids to eat their veggies is to hide them under an inconspicuous cheese sauce, why not opt for a healthier, dairy-free honey mustard?
That's exactly what this grilled veggie plate recipe does. You'll get all the health of grilled veggies, but the tastiness of a more familiar sauce, plus the fun of dipping and eating with your hands. While this recipe focuses on zucchini, squash, and bell peppers, you can do the same with other veggies that you think your kids might enjoy.
Grilled corn and black bean quesadillas
Quesadillas are sure to be a crowd-pleaser, no matter the age of the crowd. This quesadilla recipe is packed with veggies and yummy ingredients that the adults will love, while kids will enjoy the cheesiness and finger-friendliness, while still getting in a serving or two of healthful veggies. The quesadilla recipe is even paired with an avocado, cherry tomato, and cayenne-infused salsa, for fun dipping.
You'll need to grill your corn, zucchini, and scallions for the quesadillas, but that can be done ahead of time if needed, and then the ingredients can be refrigerated until you're ready to cook the quesadillas either outside on a grill pan or inside on your favorite heavy skillet.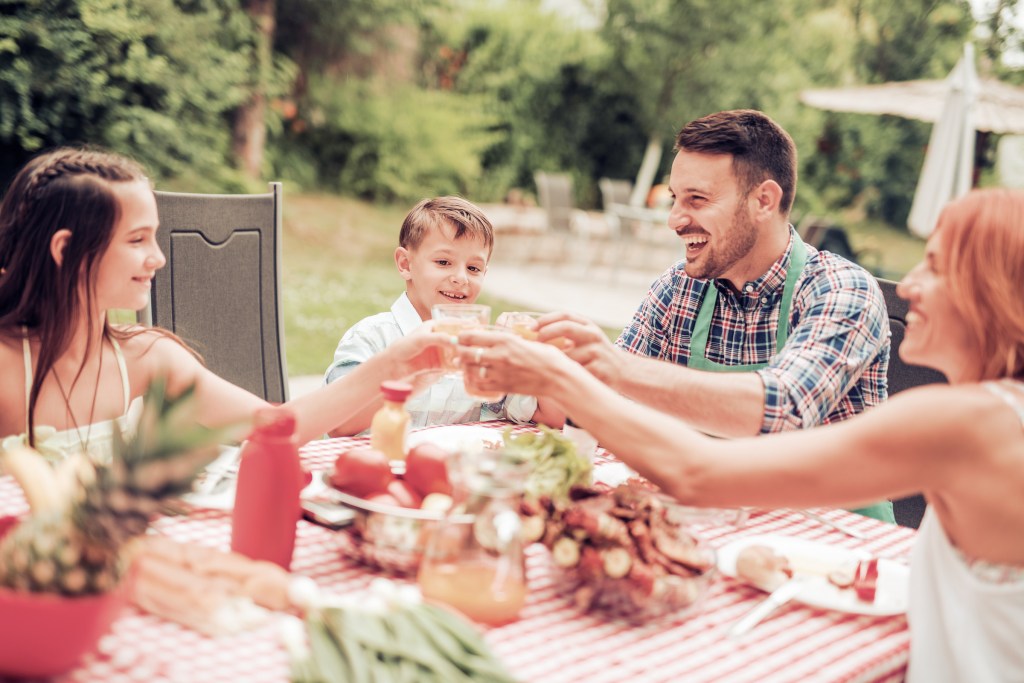 Other reasons to ditch the hot dogs
If you've been looking for other reasons to ditch the hot dogs or other processed meats at your next family barbecue, a recent study out of the University of Michigan may help convince you to make different choices. The study found that eating a hot dog in a bun could take 36 minutes off your life. "We wanted to make a health-based evaluation of the beneficial and detrimental impacts of the food in the entire diet," senior author Olivier Jolliet told CNN.
The World Health Organization also stated that eating just 50 grams of processed meat per day can increase the risk of colorectal cancer by 18%. This doesn't mean you can't eat the occasional hot dog, but having other, healthier alternatives isn't a bad thing.
Go beyond boring for your next barbecue. Ditch the hot dogs and opt for a healthier dinner that incorporates veggies, fruits, and all your favorite barbecue flavors. It's easier than you think, thanks to these six family-favorite recipes. The best part? All these recipes are customizable, so you can adjust the ingredients to fit your finicky family's tastes or even just those of your family's smallest palate.
Editors' Recommendations