Holidays are super exciting, especially when you have toddlers. It's fun to decorate for upcoming holidays, and an enjoyable way to dress up the house is with kids' crafts. Toddlers love to get creative, and crafts are a wonderful way to get fine motor skills working in those little hands. Of course, crafts can get messy, but here are six simple Fourth of July crafts for toddlers and preschoolers that won't leave a glitter trail all over the house, and it will look festive and patriotic for Independence Day.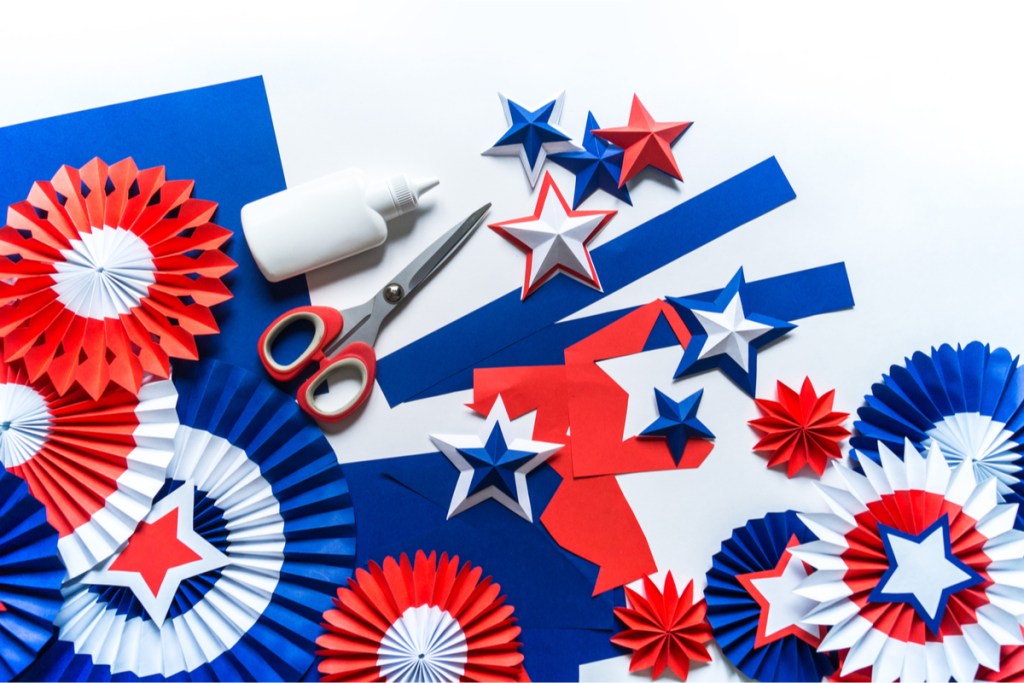 Easy Fourth of July crafts for the toddler and preschool set
If you have toddlers and preschoolers, keeping a stash of arts and crafts materials around the house is extremely helpful on rainy days or when holidays are on the horizon. Dollar stores and online deals are a budget-friendly way to have a supply of construction paper, yarn, streamers, paper plates, lanyards, and other goodies to use for arts and crafts projects. Get a jump on your red, white, and blue Fourth of July decorations with these fun arts and crafts projects.
Sponge painting
Finger painting can get messy, but if you cut up sponges and attach a clothespin to each one, it cuts down on the paint-filled hands. A fun Fourth of July project is to let kids sponge paint with red, white, and blue washable paint. Kids can let their creative juices flow on paper plates or finger paint paper. The paper plates can be hung up as a decoration by punching a hole and using red or blue yarn.
Patriotic sand art
A great use for those empty baby food jars is sand art. Give it a patriotic flair by using red, white, and blue craft sand. All you need is clean, dry baby food jars with lids and a spoon. Place the jars on a paper plate for easy cleanup and put the sand into plastic bowls. Kids use the spoon to scoop in the sand alternating between the colors to make a patriotic pattern. Little ones may want to mix up the colors for an eclectic look, which is fine, too.
When finished, simply put the lids on, and you have a cute, decorative jar for the picnic table.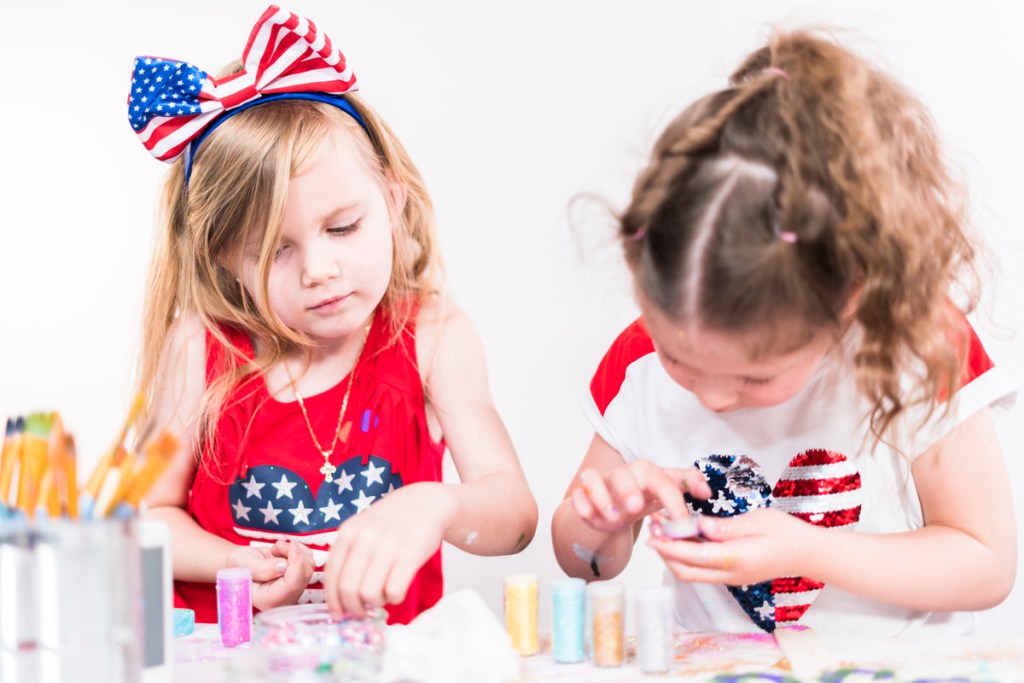 Patriotic bracelets
Toddlers and preschoolers love trinkets, and a fun, simple project that is excellent for fine motor skills is using beads to string a bracelet or necklace. To give the jewelry a Fourth of July feel, use red, white, and blue beads. Pony beads are a perfect pick for little hands because they have a larger hole and are easier to handle. Lanyard rolls are available online and in craft stores. Cut a piece to fit your child's wrist, leaving extra to tie securely. Once the beads have been strung, tie the bracelet ends together, and it's good to go.
Dot markers
Like sponge painting, dot markers allow kids to get creative without a lot of mess. Dot markers are designed for toddlers and preschoolers, and they are nontoxic and washable. For the Fourth of July, give kids red and blue dot markers and have them decorate white paper plates. Once the paper plates are dry, glue a craft stick to the back for a simple decoration, or hang up the plates using yarn.
Fourth of July windsock
Windsocks make for a cool seasonal decoration and are not too difficult to make. All you need is glue; red, white, and blue streamers; a 16 or 18-ounce plastic cup; and a piece of yarn. Use a ruler to precut a bunch of streamers in 12-inch lengths. Punch a hole through the bottom of the cup. Using a glue stick, kids can apply glue to the inside rim of the cup and place the streamers in a patriotic pattern around the rim of the cup.
Once all the streamers are applied, allow it to dry completely. Take the piece of yarn and make a loop, tying the ends together in a knot. Thread the yarn through with a knot at the end to provide a hanger for the windsock. Kids can make multiple windsocks to hang around the front porch for the Fourth of July.
Cupcake fireworks
Looking for something to do with those extra cupcake liners? Turn them into a super-easy craft for the kiddos. You can use red, white, and blue or Fourth of July cupcake liners for a patriotic look. Have kids cut slits in the liners, being careful not to go through the center circle. Once there's a bunch, toddlers and preschoolers can use a glue stick to arrange the liners in a fun design on a piece of construction paper, scrapbook paper, or 12-in. by 18-in. poster board.
It's okay to layer the cupcake liners on top of one another. The result is a festive firework decoration to hang on the wall or bulletin board.
Arts and crafts projects are a great activity to do with toddlers and preschoolers because the activities allow kids to tap into their creative juice while working those all-important fine motor skills they will need for writing. Holidays are a perfect time to do themed craft projects at home. They will have a blast with one or more of these patriotic projects that won't leave a huge mess, and your house will look festive for the July Fourth holiday.
Editors' Recommendations