Hosting a Fourth of July picnic or barbecue this summer? Sure, planning and hosting a party can be stressful, especially when you have to deck the halls in red, white, and blue on top of your other tasks. Get the kiddos involved by having them help with the decorations. There are quite a few do-it-yourself patriotic crafts for kids that will turn your backyard, patio, deck, or porch into a festive oasis for Independence Day. Here are four patriotic DIY crafts that are kid-friendly and ideal for tweens and teens. Even younger kids can lend a hand with a bit of supervision.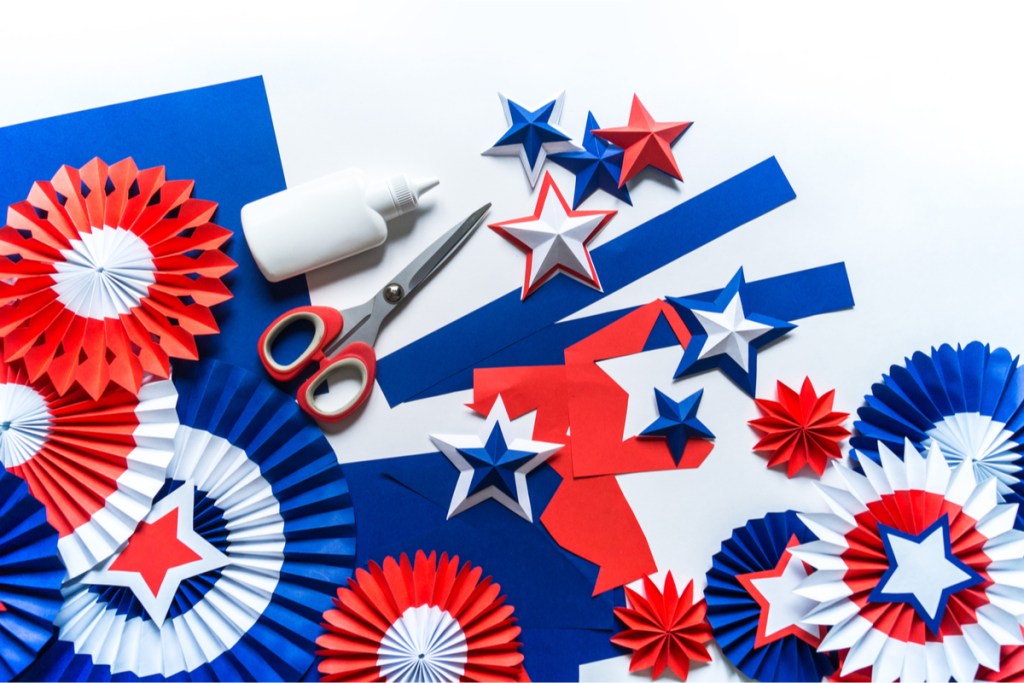 DIY Fourth of July crafts
Star-spangled lawn
If you've ever admired homes with red, white, and blue stars on their lawn and thought, "That's cool" — it is, and it's not difficult to do. All you need is star stencils and red, white, and blue spray paint. This is the ideal job for tweens and teens, and a super-fun DIY patriotic craft that will make your lawn look awesome for your Fourth of July picnic or barbecue.
Have kids plan out a design on paper first and then let them get to work. Just remind the teens doing the spraying not to soak each star with paint. A light coating is ideal and won't hurt the grass. If you don't have reusable stencils on hand, make your own using recycled cardboard boxes and a box cutter.
Patriotic ribbon chimes
These adorable ribbon chimes make for great decorations on front porches and decks. They can even be hung from tree branches. Kids who know how to make knots can get busy making this patriotic craft. Raid your sewing kit for any red, white, and blue ribbons. The lengths do not have to be the same. Eclectic lengths give the ribbon chime its whimsical look.
If you don't have any on hand around the house, pick up some patriotic ribbons at the craft store or order online. Cut different lengths and tie around the edges of wooden rings. The ribbons should be tied close together around the circumference of the wooden circle and will hang down. Trim any edges at the top. Tie three pieces of yarn on three sides of the circle and attach an S hook for hanging. Once hung, the dangling red, white, and blue ribbons will look amazing fluttering in the breeze.
Sand-art candles
An excellent and decorative use for recycled glass containers is a patriotic sand-art candle. Won't these stand out on your picnic table as a functional accent? The sand-art candles will keep the tablecloth from blowing away and look inviting after sunset while waiting for the fireworks to start.
Sand-art candles are a DIY craft for all ages. All you need is an empty, clean jar plus red, white, and blue craft sand. To make, just spoon the sand into the jars alternating colors to create a patriotic pattern. Fill almost to the top, leaving space for the candle. To keep the pesky mosquitoes away, use votive citronella candles.
Patriotic wooden bead garland
Wooden bead garlands have become quite trendy, especially with people who love farmhouse decor. Creating a wooden bead garland isn't that difficult, and it's certainly something tweens, teens, and younger children 5 and up can do. The beads are a decent size, but toddlers would need to be supervised because they like to put things in their mouths. All you need to do to create a wooden garland is string the beads in a patriotic red, white, and blue pattern onto thin twine rope, knot the edges, and hang.
You can create tassels at each end of the garland or get intricate and add a wooden American flag on one side for something fancier.
A complete kit of red, white, and blue wooden beads and twine is available online, but kids can also have some fun painting the wooden beads first. Kids can paint the wooden beads by placing them on a toggle or stick. Allow the beads to dry completely before stringing. The same red, white, and blue garland can also be made using plastic pony beads. Plastic beads come in all different shapes and sizes. Either wooden or plastic beads would make a festive style accent for your Fourth of July barbecue and a cool DIY patriotic project for kids.
Holidays are always exciting, and decorating for the day makes everything seem a lot more joyous. Sure, you can head to the dollar store for Fourth of July decorations, but making them is way more fun, personal, and something the kids can do to help prepare for your July Fourth party or a local patriotic house-decorating contest. One or more of these hands-on do-it-yourself patriotic crafts will be a huge hit and something the kids will be proud to show off.
Editors' Recommendations