Summer vacation is almost here, which means many families are going to be packing up and hitting the open road as they embark on a road trip to see friends or relatives or just to experience a different kind of adventure.
Although planning your route and rest stops are one very important part of a road trip, there are some essentials you're going to want to pack to help make your trip as smooth as possible. Before you leave on your family outing, get these 10 road trip essentials and eliminate any cries of "Are we there yet?"
1. Phone mount
Thank goodness for smartphones and GPS systems that tell us exactly where to go, if there's traffic, and that will reroute us in the event of a road closure or other traffic delay. Having a phone mount for your car is important because it not only lets you place your phone where it's easily visible, it allows you to be hands-free, which is a must. This extension from Weather Tech fits right into your cup holder, while this one by iOttie attaches to your dashboard and fits a variety of mobile phone brands.
2. Audible subscription
Road trips are a great time to catch up on your reading, and just because you're driving doesn't mean you can't listen to a great audiobook to pass the time. A subscription to Audible allows the entire family to enjoy podcasts, audiobooks, guided wellness, and Audible originals that are a great alternative to music playlists or searching for a new radio station while driving. You can even download books ahead of time in case you'll be driving in areas where your cell reception may not be so great. There's also a free 30-day trial if you're not quite ready to commit to a monthly subscription.
3. First-aid kit
Bumps and bruises, cuts and scrapes, and minor headaches can all happen while road tripping, which is why having a fully stocked first-aid kit for the car is important. This kit by My Medic contains everything you'll need for minor injuries, but it also includes a tourniquet and a window breaker for auto emergencies. This kit by Johnson & Johnson contains everything you need to help care for minor cuts, scrapes, burns, itches, pain, skin rashes, and insect bites.
4. Car organizer/trash bin
If you want your road trip with kids to be successful, you're going to need to be organized, which is why these car organizers are so handy. This organizer by Lusso Gear acts as a mini travel tray for your child, while this holder by Eveco straps between the two front seats to allow for easy access for those sitting in the front seat. This organizer by Luckybay goes over the front seat so your backseat passengers have easy access to everything they need. You're going to want a trash bin in the car to keep things neat and tidy and this portable bin by K Knodel can either sit on the ground or hang over the seats and is leakproof.
5. Mobile hot spot
A mobile hot spot, like this one by Simple Mobile, allows you to stay connected no matter where you are. You can connect up to 16 devices and it has a long battery life that also allows you to use it as a charging station for other devices.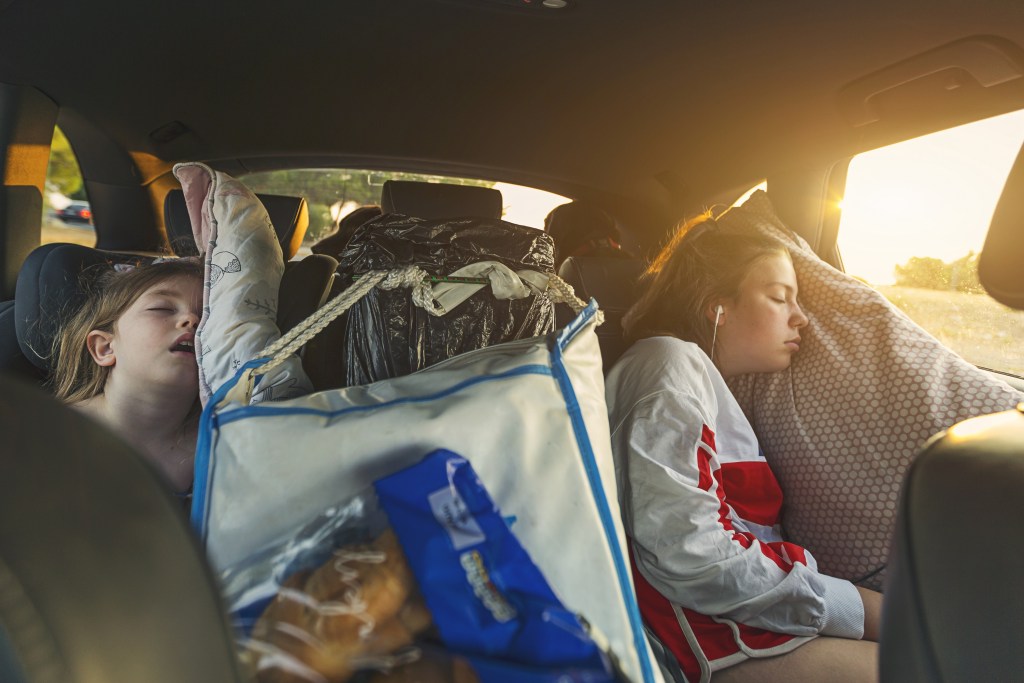 6. Tablet holder
Tablets are a great way to keep kids busy while on a long car ride, but if you'd like your kids to be hands-free while also being able to watch a favorite movie, a portable tablet holder is a great investment. This holder by Tryone is compatible with a number of tablets and phones and it attaches to the front seat's headrest, which allows your backseat passengers to watch the tablet without having to constantly handle it.
7. Portable charger
There's nothing worse than someone's phone or tablet battery running out while on a long car ride, which is why a portable charger is a must-have! Portable chargers like these from Anker and Clutch, and even a charging phone case by Casely, ensure your devices stay charged throughout your road trip.
8. Travel games
Tired of playing I Spy for the millionth time in the car? Travel games can be a lot of fun if you add a little variety to your car game repertoire. Shotgun! by What Do You Meme? is a game that involves reading a card and following the prompt, and judging by the reviews, it's definitely a must-have for long road trips. After all, listening to music or watching movies can get a bit tiring after awhile, so having an interactive game to play can break up the monotony.
9. Travel blanket/pillow
Comfort is very important while road tripping, especially if you're going to be trading off driving duties. Travel blanket and pillow sets, like this one by Bon Voyage, this one by Hudson Baby, or this one by Blue Hills, ensure everyone is comfy and cozy while in the car.
10. Mini cooler
Snacks are one of the most important parts of a successful road trip, so a mini cooler is very helpful for keeping things fresh and refrigerated. A mini cooler, like this one from Igloo, this one from Yeti, or this one from Koolatron that plugs into your car, keeps your snacks and beverages cold as you road trip. This is especially handy if you want to pack some lunches or need baby milk or formula refrigerated during your drive.
Road tripping is easier and more enjoyable than ever before, thanks to these amazing road trip essentials!
Editors' Recommendations