An animal-themed nursery is a sweet, gender-neutral motif that can fit almost any style or color scheme. Whether you choose jungle safari, woodland friends, or farm animals, the cute wildlife will bring a friendly feeling to your baby's room. Here are seven of our favorite decor items for animal-themed nurseries — and they're all under $20!
Pepper & Moose
Jungle Safari Animal Unframed Wall Art
Looking for safari nursery decor? This set of six 8×10 posters offer a watercolor elephant, giraffe, hippo, lion, monkey, and zebra smiling above affirming statements like "dream big" and "be kind." The unframed prints of hand-drawn art are on sturdy 300-GSM-thick cardstock. These friendly animals are a colorful and adorable addition to a nursery.
Why we love it: Not only are the animals adorable, but the positive affirmations will serve growing kids well.
CherryNow Bear Basket
This gray or white woven bear can work as a laundry hamper or storage bin for toys, books, bedding, blankets, or anything else in your animal-themed nursery. Made from soft cotton, the face and ears combine functionality and personality in your nursery. Choose between 10×12 or 14×16 sizes.
Why we love it: It's cute and functional. Dirty clothes will look a little less like a chore in this basket.
Designs by Maria
Little Baby Watercolor Animals Floral Crown Safari Prints
Looking for a different style of watercolor safari prints? These baby animals in flower crowns bring a softer side to your decor. The set of four unframed 8×10 prints of a giraffe, elephant, zebra, and lion don't have text, but they are heart-melting. Printed on high-gloss, sturdy cardstock with UV coating, they are durable and dust-resistant.
Why we love it: The flower crowns add a gentle touch to these majestic animals.
Bedtime Originals Jungle Fun Window Valance
This window valance can be added on top of practical blackout curtains to bring the animal theme into every corner of the room. These cute lions, birds, and elephants are placed on top of a gray and white diamond print on a machine-washable cotton polyester fabric. There is a rod pocket for easy hanging.
Why we love it: The gray background can match just about any color scheme, and a valance adds a subtle touch to the theme.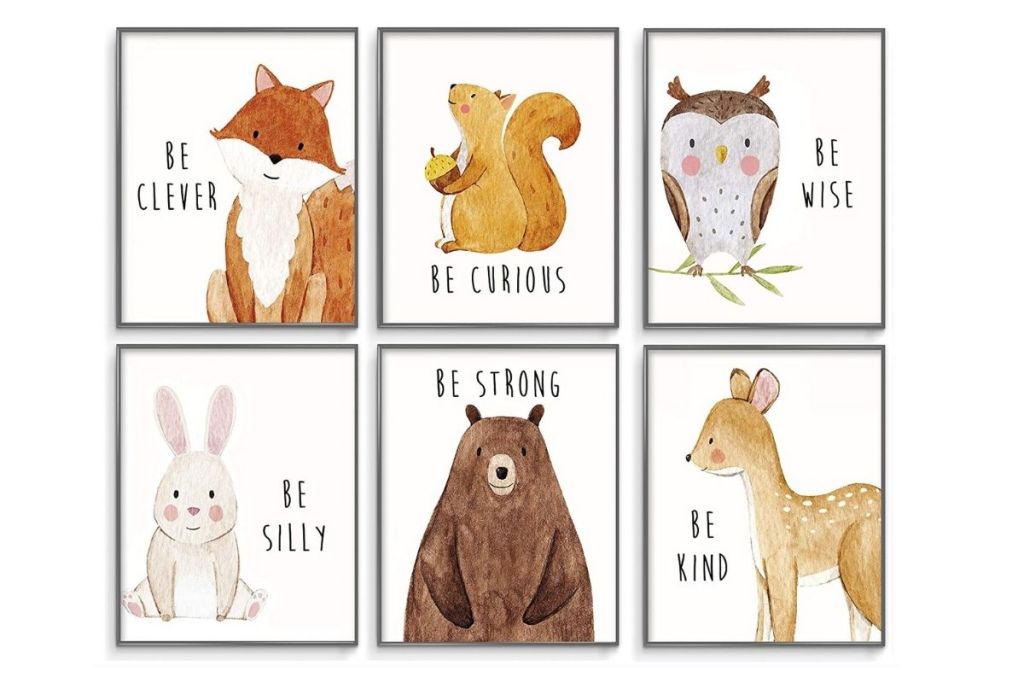 Woodland Nursery Decor by Throwback Traits Store
Like the idea of inspirational text, but jungle animals aren't your theme? Here are six watercolor woodland creatures (a fox, squirrel, owl, bunny, bear, and fawn) telling your little one to "be curious," "be strong," and "be silly." The six 8×10 unframed prints are printed on thick and sturdy 300-GSM paper with UV-resistant ink.
Why we love it: Enchanted Forest is a classic theme for a reason (and those positive messages are a plus).
JADENS Night Light for Kids
This LED nightlight comes in either a lion or a bear and provides a warm, soft glow for bedtime and nighttime feedings. The paint-free silicone is BPA-free and safe for babies (even to mouth) and does not get warm to the touch. It comes with a 60-minute timer function and also glows in seven different colors. Cordless and rechargeable by USB, it's also easy to bring along when traveling.
Why we love it: Its portability means Baby will have something familiar wherever you go.
Lambs & Ivy Jungle Safari Nursery Wall Decals
These easy-on/easy-off vinyl wall decals have a cute neutral style to bring some depth to your safari-themed nursery. A giraffe, elephant, lion, and tree all have different heights for visual interest, none above 35 inches. They can be repositioned and reused if you change your mind about the layout. If you feel nervous about hanging framed prints on the wall above the crib but want some art in that space, these will bring a mural-like look with safety and peace of mind.
Why we love it: You can redecorate and reposition the room as much as you want.
A beautiful and welcoming nursery decor doesn't need to break the bank. You can add a lot of personality to a room for under $20, whether with wall decor, lighting, or accessories. Bear or lions, foxes or giraffes, any of these items will add to a warm environment for your little one.
Editors' Recommendations