When you are having a baby, one of the biggest projects that you'll do is create a beautiful nursery for your child. There are so many themes to choose from, it can be a hard decision sometimes. A spectacular theme that will not only provide your child with a large sense of relaxation and sleep is an ocean-themed nursery. We have detailed steps below on how to create a fun underwater themed nursery with easy instructions and products that will help you to create the most lovely ocean-themed nursery below.
How to design an ocean-themed nursery
Walls
The first thing that you'll want to tackle is the walls of the nursery. When your little baby is looking around, they'll see soothing colors and beautiful sea creatures. If you're trying to decide on a color for your wall, this calming paint will certainly create an atmosphere of serenity for you and your baby to enjoy. Another idea for the walls of the baby's nursery is cute decals that stick to the wall easily. Creating a calming and lovely ocean-themed nursery has never been easier. If you're looking to add some wall art to your little one's room, an adorable narwhal print is just the thing to add to the walls to make them complete.
Crib and bedding
One of the most important aspects of the nursery is where your baby is going to sleep. The goal is to make it tranquil enough that they will fall asleep and stay asleep. Their bedding can reflect a serene underwater theme. For example, these crib sheets featuring adorable whales just add to the overall atmosphere of the nursery. A soft ocean-themed blanket for cuddle time right before bed adds a touch of nautical to this underwater haven that you're building. You can even place the blanket over your glider as a decoration when you aren't using it.
Changing table
Every nursery needs a changing table, there is no doubt about that. It's a piece of furniture that's practically required for changing diapers. So why not inject a little bit of fun into the diaper-changing experience? For example, these fun changing pad covers will at least make the whole process a little more pleasant. Plus, it will add to the lovely ocean theme decor that you have created within the nursery. Speaking of messes, you'll need burp cloths, especially after feedings. These fun sea-themed burp cloths are great to keep in your nursery so you can just grab one when you need it.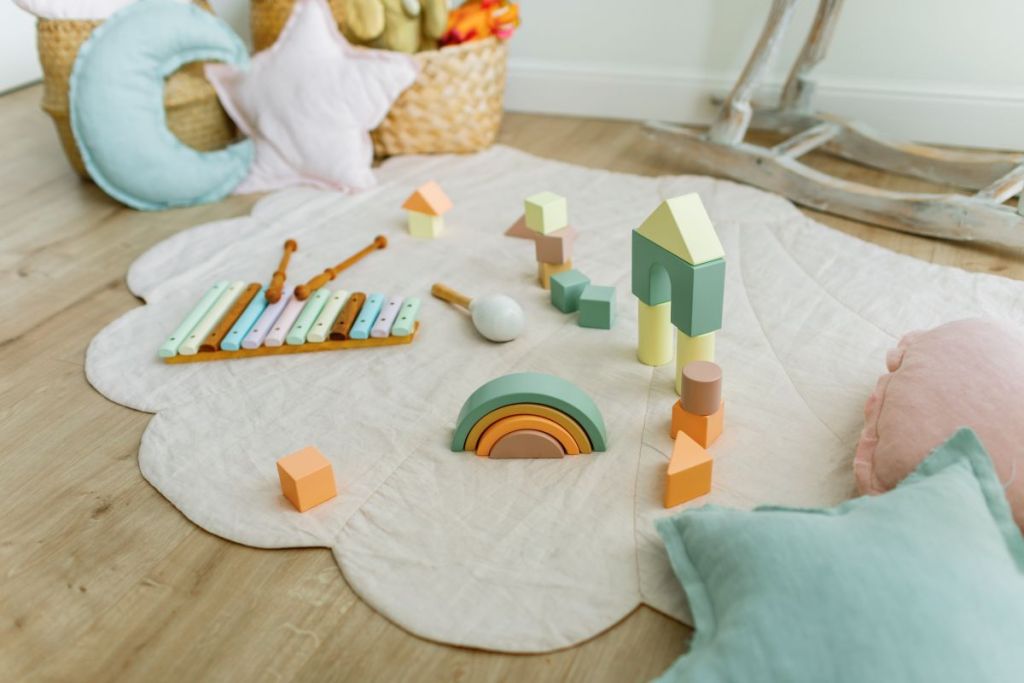 Play area
The nursery can be a great area for learning things like tummy time and playing with their loveys and other toys. If you're looking to decorate their designated play area, items like a soft nursery rug are must-haves. Once you have a great rug, you can encourage their imaginations and stimulate their senses with a fun and fishy tummy time play mat in an underwater theme, and they will be occupied for hours, playing with the fish and other sea creatures. Another great item to stimulate their senses and help them learn is a good book. This ocean theme high-contrast (which is great for baby's eyes) book is the perfect item to put in their nursery play space.
Miscellaneous
There are other items that can create a beautiful nursery. One of those such items is a hamper for baby's dirty clothes. This collapsible hamper features majestic whales that will fit in seamlessly with all of your other nursery decor, plus, it can be easily carried to the laundry room. Then, there are, of course, night lights. Finding the right night light for your baby is important. One that fits in with an ocean theme is a sweet whale night light. It's even rechargeable, so you can charge it while the baby naps during the day. When it's time for your little one to go to bed at night, a calming seahorse will soothe them with music and ocean sounds, adding to the aesthetic of the nursery.
Putting it all together
Creating an underwater-themed nursery is a project that's very easy. From paint to changing pads, playmats, and night lights, there is something for everyone who is looking for a fun under-the-sea theme. There are plenty more wonderful products out there on the market that will help you to create the ocean-themed nursery of your dreams. You are only limited by your imagination, and when it comes to decorating, the sky is the limit, or should we say the vast, vast ocean? The most important thing that you should do when decorating a nursery is to have fun with it. Enjoy finding fishy friends, and other adorable sea creatures to make the perfect nursery for your child.
Editors' Recommendations