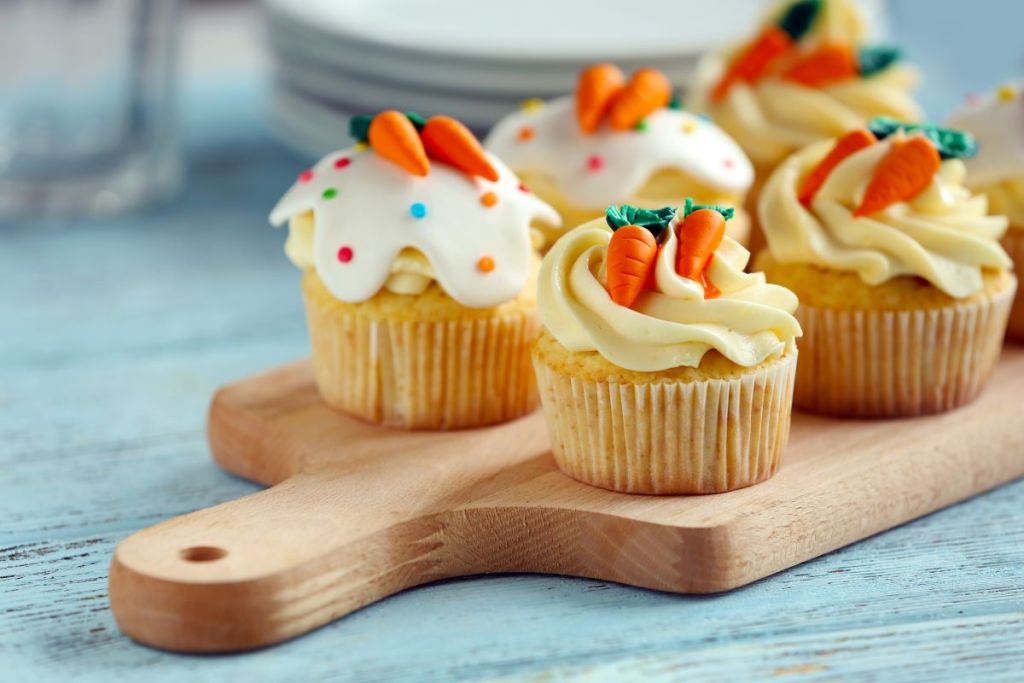 The Easter Bunny will soon be hopping down the bunny trail with treats in tow. Sure, those Easter baskets will be filled with chocolates, but it's Easter desserts that the kiddos get hopping over. Let's face it. It's not just the kids who love the Easter dessert table. Whether you're hosting or attending an Easter gathering, bringing a deliciously adorable dessert is always a win.
Now you don't have to be Martha Stewart to make an Easter dessert that hops. There are plenty of easy Easter desserts that don't take a lot of time to make. Let these ideas inspire you.
Easter dessert ideas
You won't spend a lot of time in the kitchen whipping up these simple-to-make Easter desserts. The results will still be cute, and of course, yummy.
Peep cupcakes
Many people have a love-hate relationship with marshmallow Peeps. The truth is; those sticky sweet Peeps make for an extremely simple Easter dessert. All you need is your favorite boxed cake mix and icing along with a package of Peeps. Dress up your cupcakes by using Easter-inspired wrappers. To make, just follow the package directions for two dozen cupcakes. Icing can be chocolate, but an Easter pastel, like yellow, is always a nice touch. With a container of vanilla icing and food coloring, you can make yellow, orange, or green icing. Apply a healthy coating of icing and top with a Peep.
Peep cake
Another super simple Easter dessert is a Peep-inspired cake. Using a boxed cake mix, make a round or a rectangle cake. Once it cools, apply a liberal amount of icing. Easter colors make for a fun seasonal icing and all you need is food coloring to create a bright color. Along the sides of the cake, place Peeps to make a border. Be sure the Peep is facing outward. Then top off the cake with a layer of rainbow sprinkles.
Easter Bunny cupcakes
If you're looking to make an easy Easter dessert from scratch, try this tasty recipe from Desserts on a Dime. These Easter Bunny cupcakes are super cute and are stress-free to make.
Carrot cake mix cookies
Carrot cake is an Easter staple, but if you don't have time to make one, try these carrot cake mix cookies from Desserts on a Dime. All you need is a box of carrot cake mix and a few other simple ingredients. The cream cheese icing really makes this delish Easter dessert a must-make treat.
No-bake mini egg Easter nests
Rice Krispies Treats are always a hit with kids. If you're looking for a no-bake Easter dessert, these no-bake mini egg Easter nests from Sugar Spice and Glitter are a perfect pick. The mini nest Rice Krispies Treats need to sit in the refrigerator for at least 2 hours before serving.
Bunny tails
For a fun recipe you and the kiddos can make for Easter, try these coconut chocolate bunny tails from Kids Activities. Leave the nuts out of the recipe if there are any allergies.
A bunny cake is a classic Easter dessert, but busy parents don't always have the time to spend in the kitchen. Thankfully, there are simple Easter dessert ideas that the kids will love just as much. Try one or more of these easy Easter desserts that will make for a hopping good time at your holiday party this spring.
Editors' Recommendations