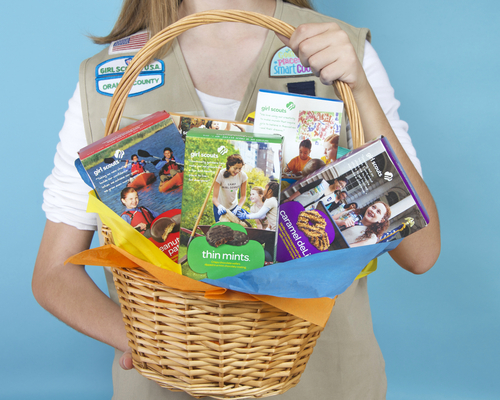 Girl Scout cookies are a tradition that has been ongoing for more than a century. According to the Girl Scout website, members first began baking the cookies at home in 1917 before selling them to raise funds for their programs. Over the years, Girl Scout cookies have expanded into the in-demand brand they are today.
Typically, Girl Scout cookies go on sale anywhere between January and April, and consumers across the country eagerly wait to get their hands on the best Girl Scout cookies om their favorite flavors. This year the Girl Scouts launched a new flavor, Raspberry Rally, which is said to be like a 'sister' cookie to Thin Mints. Although the cookie is new, it's already become a huge hit, especially in states like New Jersey, Maine, and Alaska! Thanks to Google, we can tell you which cookie is searched the most by state, and you may be surprised to see that one flavor, in particular, has fans nationwide!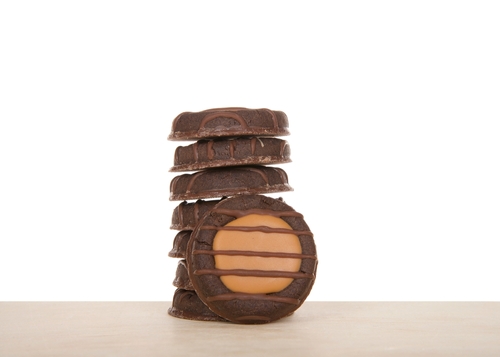 Adventurefuls
Are you like many Americans and list the yummy Adventurefuls as your cookie of choice? The brownie-based cookie that's topped with caramel cream and just a hint of sea salt was only introduced in 2022, but it already boasts a healthy following across the country. This tasty newcomer was the most searched cookie in the following states: California, Nevada, Utah, Colorado, New Mexico, North Dakota, South Dakota, Nebraska, Oklahoma, Texas, Arkansas, Louisiana, Illinois, Mississippi, Michigan, Ohio, Kentucky, Georgia, West Virginia, Virginia, North Carolina, Philadelphia, Delaware, New York, New Hampshire, and Hawaii.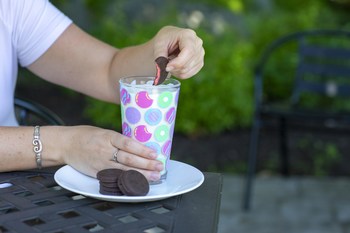 Raspberry Rally
The Girl Guide's latest addition has already found plenty of fans across the country and has become such a hot item that it sold out online after its launch. The raspberry flavored chocolate dipped cookies reign supreme in Alaska, Minnesota, Wisconsin, Tennessee, Maryland, New Jersey, Connecticut, Massachusetts, and Maine.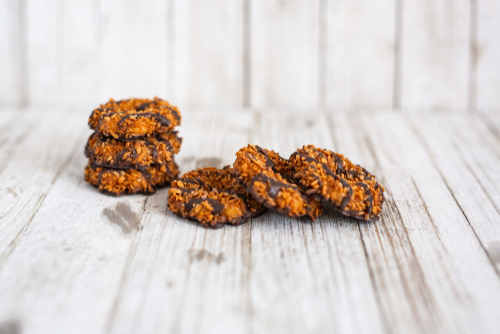 Caramel DeLites | Samoas
Do you love the chocolate, caramel, and coconut-y goodness of Samoas (or Caramel DeLites depending on where you live)? If you do, chances are high that you live in Idaho, Wyoming, or Alabama.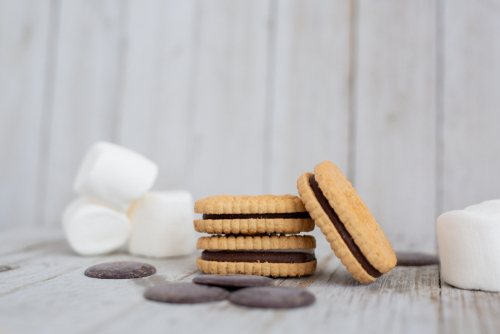 S'mores
S'mores may be a fireside staple during camping trips, but when it comes to the Girl Scout version, these tasty treats aren't quite as popular. This flavor is the most searched cookie in just one state, Arizona, while a YouGov survey shows that only 3% of those asked list it as their favorite. More for the rest of us!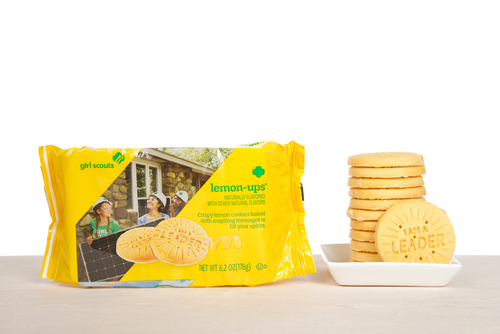 Lemon-ups
These crispy, lemony cookies that feature inspiring messages list South Carolina as the only state they are the most searched in. Like the S'mores and Lemonades, only 3% of those surveyed by YouGov rate these tangy treats as their favorite.
Peanut Butter Patties | Tagalongs
This one is somewhat surprising. Peanut Butter Patties, also known as Tagalongs, were listed as the favorite flavor of 10% of those surveyed, yet only four states list them as the most searched. The residents of Oregon, Iowa, Indiana, and Florida have shown their love of the chocolate-covered peanut butter treats.
Thin Mints
Thin Mints are almost synonymous with Girl Scout cookies, so it's not surprising that they're America's favorite flavor. What is surprising is that only three states list it as the most searched. These crispy chocolate cookies dipped in mint-flavored chocolate have fans in Washington, Missouri, and Vermont.
Toast-Yay!
If you're a fan of Toast-Yay! cookies, Girl Scout's toast-shaped cookies that taste like French toast, then you may live in Montana, Kansas, or Rhode Island.
Regardless of where you live, make sure you stock up on your favorite flavors and support your local Girl Scout troop each cookie season.
Editors' Recommendations