If you've been thinking about hitting the reset button on your diet after a long winter, you may want to add a detox soup to your meal planning. Unlike other "detox" plans that often require drinking only liquids, detox soups are a great way to ensure you're still eating lots of nutritious vegetables. Not only are detox soups good for you, but you won't feel like you're depriving yourself or your family.
Detox soups can help you lose weight, but they can also improve your overall health, rid your body of toxins, and improve your digestion. The best part about many vegetable detox soups is that you can customize them to suit any diet you follow, whether that's vegan, Paleo, keto, dairy, or gluten-free diet. You also don't have to do a strict detox or cleanse to reap the advantages of introducing healthy vegetable detox soups into your meal plan. Here are five healthy detox soups you can feed your family this spring.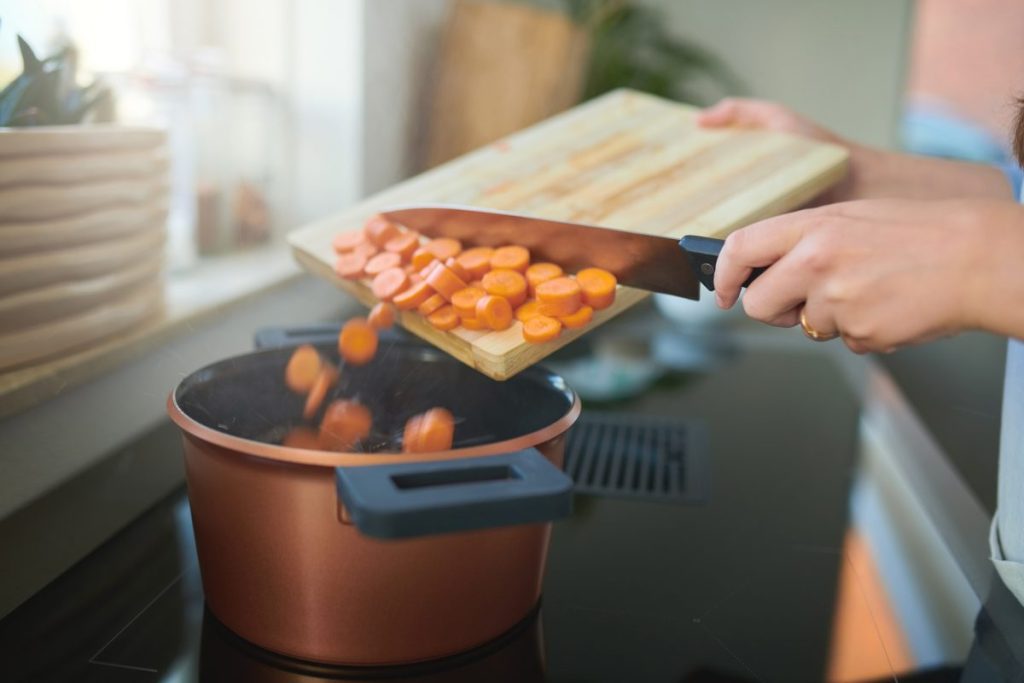 Detox southwest chicken soup
Detox soups don't have to be boring as A Spicy Perspective shows us with this delicious recipe for their detox southwest chicken soup. This recipe is a spiced-up version of their original detox chicken soup and contains skinless chicken breasts as well as detoxifying ingredients like cabbage, broccoli, avocado, garlic, and turmeric. Spices including ground cumin and crushed red pepper give it the southwest flavoring.
This soup claims to help you de-bloat, give you more energy, and help you sleep better. The combination of lean protein and hearty vegetables makes this a perfect meal for the whole family.
Dr. Group's liver cleanse soup
This hearty and healthy soup posted by The Healthy Family & Home is perfect for a busy family because it can be ready in just one hour. It's also vegan, gluten-free, dairy-free, Paleo-friendly, and keto-friendly. Made with a variety of vegetables like broccoli, carrots, beets, and onions, along with spices like oregano, turmeric, garlic, and bay leaves, this detox soup is a delicious way to keep your liver healthy.
Packed with nutrient-dense vegetables, this is a great detox soup to add to your weekly meal plan rotation, especially if you've been trying to add more vegetarian options.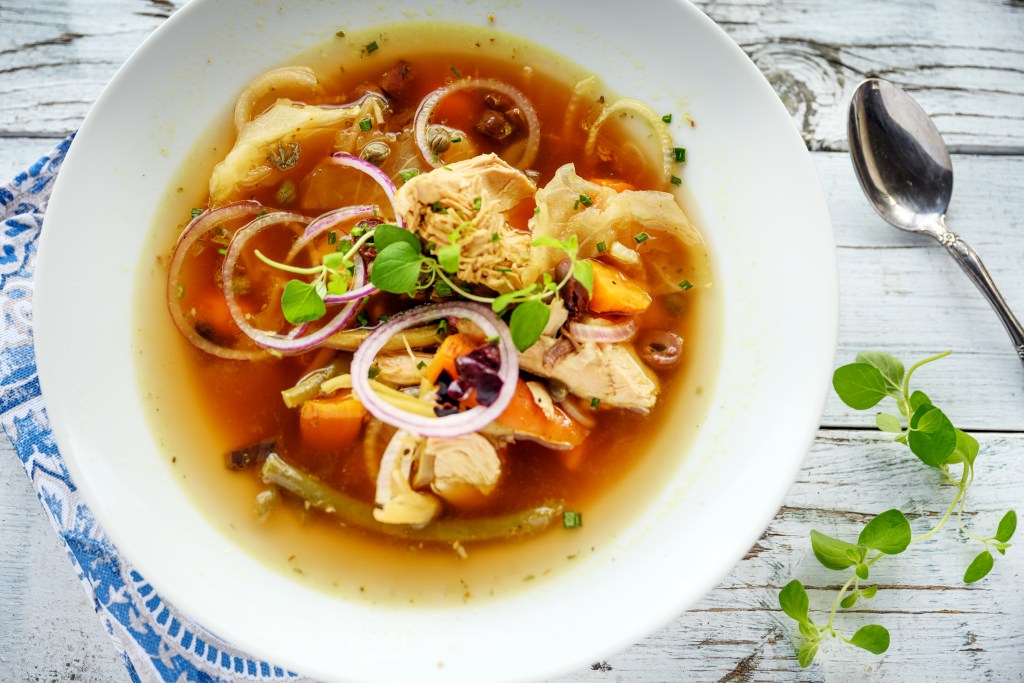 Chicken detox soup
Clean Food Crush claims this hearty chicken detox soup will not only reduce water weight but also reduce inflammation. With chicken and chickpeas to provide lots of lean protein, and a medley of vegetables including broccoli, celery, carrots, and peppers, this is a healthy soup that not only serves as a detox but will also satisfy the whole family. You can customize this soup by adding different vegetables if you're not a fan of the ones included.
Glow getter roasted carrot butternut squash soup
This delicious roasted carrot butternut squash soup by Fit Living Eats is made from just seven ingredients, and all you need is one sheet pan and a blender to create it. The natural sweetness of the roasted butternut squash helps satisfy those who are craving sweets, while the addition of coconut milk as a substitute for heavy cream ups the nutrition factor. This is a great soup for those who enjoy a creamier soup more than a simple broth-based soup while still reaping all the nutritional benefits.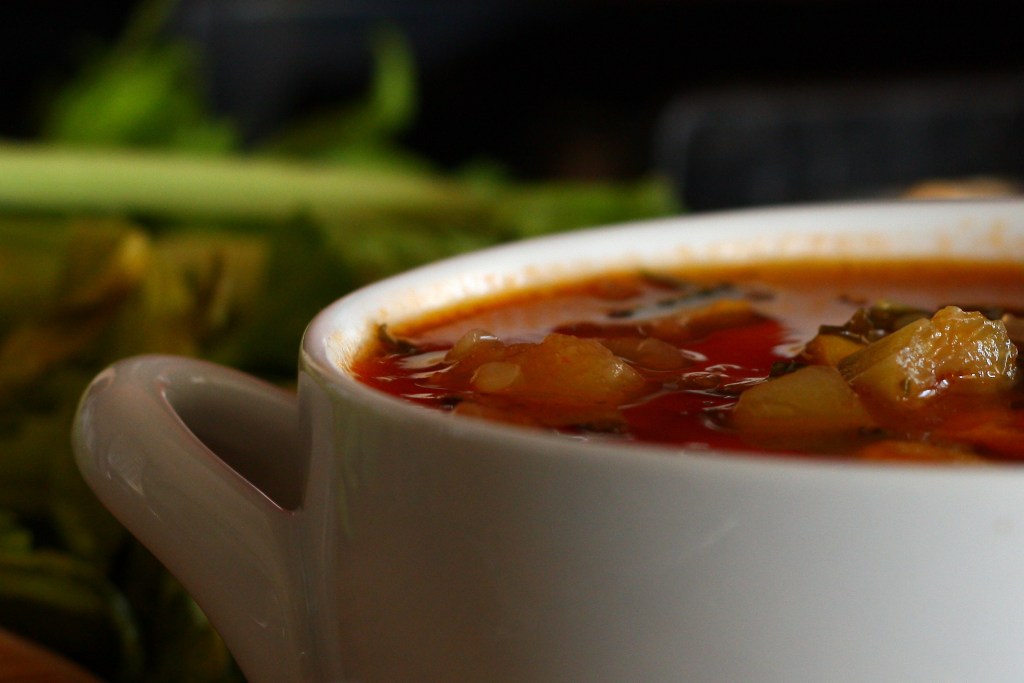 Flush the fat away vegetable soup
If you'd like your detox soup to kick-start a weight loss plan, this may be the soup for you. SkinnyMs calls this "a superfood soup packed with antioxidants, fiber, vitamins, and minerals," that isn't just good for you but tastes delicious too. This soup combines sweet potato, spinach, garlic, carrots, and tomatoes along with a variety of spices to create a nutrient-rich soup that will also detoxify your body.
It can be a struggle for busy families to always eat a healthy, homemade meal, especially when balancing work, school, extracurricular activities, and more. We often find ourselves grabbing something on the go, that may not always be the healthiest of choices. Adding a detox soup to your regular meal plan rotation can be a great way to add more vegetables to your diet while also adding the benefit of flushing toxins from your body. Although you may prefer to eat the soup when it's freshly made, most will freeze well, so you can make them ahead of time and reheat them quickly when you're in a rush.
All of these soups are packed with fiber, are low in sugar, and will help reduce bloating and inflammation. They may also help you drop a few pounds, too. But the best part is that they can also help kick-start a healthier diet and get you used to cooking with more lean meats and vegetables.
Editors' Recommendations