Part of the joy of decorating for the holiday season comes from taking out those treasured keepsake decorations. Whether it's handmade decorations from when you were a child to those darling ornaments the kids make in school each December, cherished decorations, especially those handed down from generation to generation, hold a special place in our hearts.
Those delightful ornaments kids create are wonderful to pass on to your children when they move into their first apartment or are getting ready to decorate their first Christmas tree. It's easy to turn holiday crafts for kids into keepsake ornaments and decorations the family can enjoy every year. Here are eight charming holiday crafts your kids will enjoy making and that you all will enjoy for many years to come.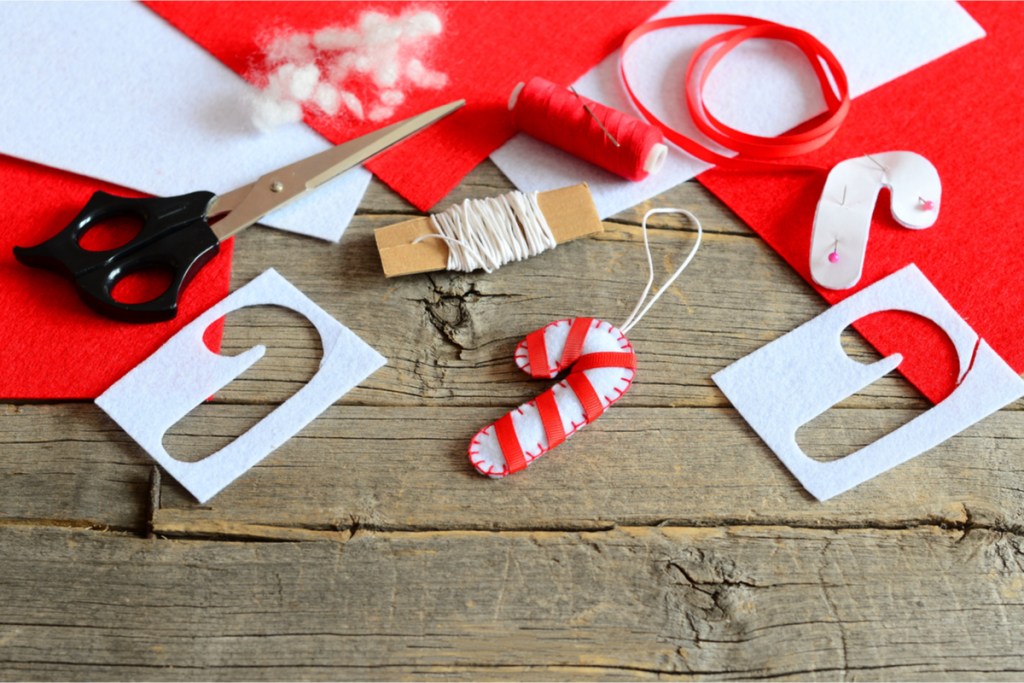 If you're celebrating baby's first Christmas, creating a handprint or footprint ornament is a wonderful way to capture this special moment and enjoy it year after year when you hang the ornament on the tree. Your children will also get a kick out of seeing their hand or footprint from when they were a baby on the tree every season. Handprint ornament kits are easily available online and include tools to add the child's name and birth date as well as an ornament hanger. Be sure to pick a kit that uses non-toxic clay.
When it comes to keepsake ornaments, let's not forget those furbabies. A pawprint ornament is ideal for pups and kitties alike and is easy to use.
Kids love holiday crafts and creating ornaments or decorations around the house is a perfect pick to keep the kids busy and channel all that pre-holiday excitement. This kit comes complete with everything you need to create adorable tree ornaments fashioned from buttons. It even includes a star for the top of the button tree and an ornament hanger.
Tweens and teens will enjoy getting crafty with this snowy DIY ornament-making kit. The kit includes wooden ornaments, paint, brushes, and twine for hanging. Kit makes five snowflake ornaments that will look lovely on the tree year after year or strung on large twine to make a fun garland. This kit also makes for a great stocking stuffer.
Get the kids into the holiday spirit just after Thanksgiving with this wooden ornament kit that includes a snowman, Christmas tree, elf, reindeer, penguin, and of course, Santa. The kit comes complete with paint and brushes or markers. Kids will enjoy painting or coloring these wooden ornaments and then hanging them on the tree. It will be even more fun the following holidays as the kids remember their creations.
For an easy holiday craft for kids, take jumbo craft sticks and paint them white, blue, red, or green using acrylic paint. Allow to dry completely before using a glue gun to assemble the snowflakes. Once the glue has dried, kids can decorate with glitter, pom poms, or gems. Let any decorations dry before using a glue gun to attach a folded ribbon to use as an ornament hanger. These crafty snowflakes look great on the tree with or without decorations.
Have a family ornament-making party with this creative kit. One kit makes 30 ornaments. Kids and parents will have a blast putting together beaded wreaths, snowmen, and snowflakes while listening to holiday tunes. The ornaments are extra special because the kids will have fond memories of the evening when they were made.
For a fun and simple holiday craft that makes good use of those small school pictures, try this Christmas Character Picture Frame Ornament kit from Fun Express. Kids can pick from a reindeer, snowman, polar bear, gingerbread man, penguin, and Santa. One kit makes 12 ornaments. This kit makes an adorable keepsake to mark each school year.
Other holiday keepsake crafts for kids
Personalized photo ornaments
Want to showcase all those holiday photo cards from years previous? Head over to Shutterfly and turn those cards into yearly ornaments that can be added to the holiday tree. The result will certainly be a collection of keepsake ornaments the entire family will get a smile out of year after year.
There are so many reasons the holidays are special, but those treasured ornaments and decorations that have history do take a noteworthy place in our hearts. Unpacking and hanging ornaments from when the kids were babies or ones the kids made when they were in elementary school are full of nostalgia. Creating keepsake ornaments each year through holiday crafts for kids and teens is a wonderful way to spend quality time together as a family.
With handprint ornaments kits and other holiday craft kits, parents, kids, and teens can make keepsake ornaments the family can enjoy season after season. When those ornaments are unpacked and hung, there's always a fun story to tell. When the kids are grown and heading off to their own apartment, you can box up some of these treasured creations for them to use for their own holiday tree.
Editors' Recommendations