Craft activities are so important for toddlers because they help develop fine motor skills. Fine motor skills are the small muscles in the fingers and hands. Developing these early on makes tasks like writing, cutting, zippering, tying shoes, and more much easier when kids head to preschool. The holiday season is the ideal time to put together some fun crafts to keep those little hands busy and work those fine motor skills. Holiday crafts for toddlers should be age-appropriate and hands-on with a bit of guidance from parents. Toddlers still find a way to put things in their mouths. So, it's always prudent to plan on sitting with or near your toddler when he or she is working on a craft. Don't worry if toddlers experiment a little. Artistic experimentation is key for toddlers. Here are six fun holiday crafts for toddlers to get you started.
Sand art
Craft sand is a wonderful material to introduce your toddler to, with supervision of course. Put down a plastic tablecloth or cover the table in newspapers to make cleanup easier. Kids can also work with the craft sand on a cookie sheet or a box cover to contain the sand. Get some craft sand in holiday colors like red and green. Grab some baby food jars from the recycling bin. Wash and dry the jars beforehand. Using a plastic spoon, let toddlers fill the empty baby food jars with the different colored craft sand. Kids can try and make a pattern or mix the colors all together. When they're done, add a votive candle. This simple holiday craft for toddlers makes for a cute gift for the grandparents or decoration on the mantle.
Finger paint Christmas tree
Finger painting is another wonderful hands-on craft for toddlers. Give finger painting a holiday twist by drawing a Christmas tree with a marker on large finger paint paper. Then, let your toddler paint the inside of the tree. You can give your toddler green and let them paint the inside. Once it dries, he or she can add ornaments using different finger paint colors. For a less directed painting project, set out finger paint colors and let your toddler paint the tree. Make sure the finger paint is washable and non-toxic. A plastic tablecloth and an apron for your toddler help keep the mess to a minimum.
Q-tip painting in holiday colors
Toddlers love to paint and it's such a fabulous activity for little hands. For a fun and easy holiday craft for toddlers, set up a large piece of finger paint paper along with red and green finger paint, blue paint, or whatever colors you love during the season. Give your toddler Q-tips to use as paintbrushes and let them have fun experimenting with the colors. The result will most likely be a refrigerator-worthy abstract highlighting holiday color.
Torn-paper wreath
To set up this cute activity for your toddler, tear up a bunch of green construction paper into different sized pieces. Then, take a large, plain white paper plate and cut a hole in the center to make the wreath. Paint the front of the paper plate with non-toxic glue and let your toddler stick the torn pieces of green construction paper on, filling up the entire space. You can also tear up a few red pieces for the toddler to add as berries. Once the wreath has dried, use a hole punch to put a hole in the top. Cut a piece of yarn or ribbon to make a hanger. The torn-paper wreath makes an adorable decoration for front doors and doorknobs or as a gift for the grandparents.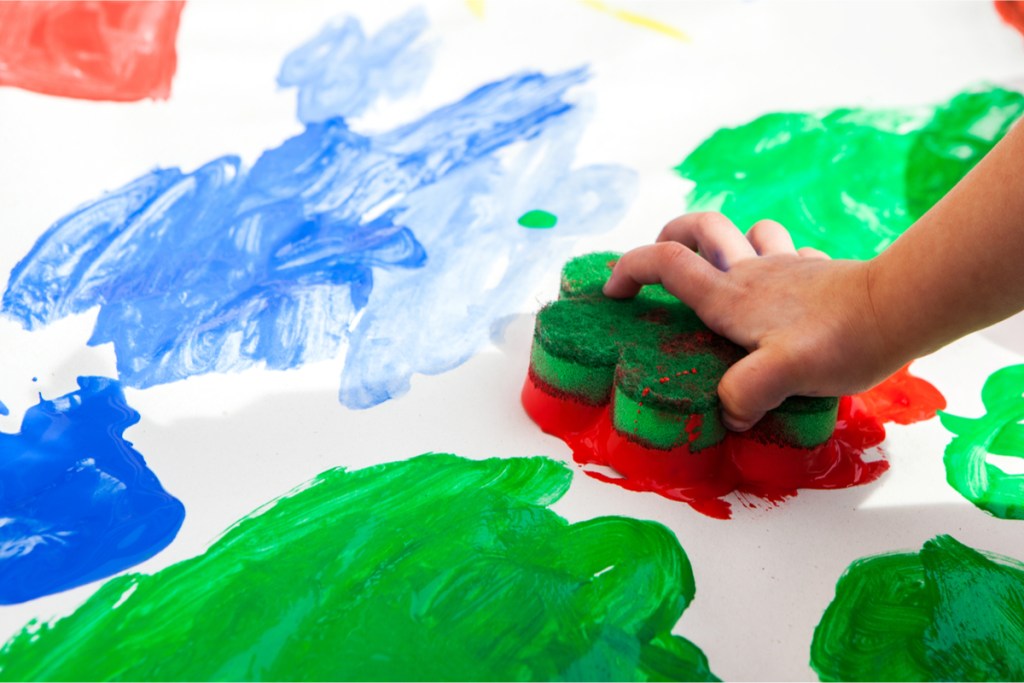 Sponge painted Christmas trees
To prep this holiday craft for your little ones, cut out some medium or large-sized Christmas trees from green construction paper or poster board. Cut up an old sponge into small pieces. Kids can use the sponge to paint ornaments on their holiday trees. To keep hands slightly less messy, attach a clothespin to each sponge piece. Have one sponge per color so you don't have to worry about a water cup. Finger paint works great for sponge painting too.
Dot marker ornaments
Dot markers are a cool arts and craft material to have on hand for toddlers. These markers are a perfect pick for tiny hands and aren't terribly messy. For a fun and relatively simple holiday craft, dig out old cupcake wrappers from the back of your cabinet. Flatten them on a plastic tablecloth and let your toddler decorate using dot markers. Once the ornaments have dried, punch a hole with a hole punch. Take a pipe cleaner in a seasonal color and make a loop. Then, wind the edges together to form a hanger. These cupcake wrapper ornaments are ideal for a small tabletop tree without lights or to string on twine for a funky garland.
Arts and crafts activities are a must-do for toddlers. Not only do craft activities help develop fine motor skills, but arts and crafts also ignite the imagination. Holiday crafts for toddlers should be simple and engaging. These six easy seasonal crafts are designed for little hands. The end results can also be used to help deck the halls for the upcoming holidays or as sweet gifts for the grandparents.
Editors' Recommendations