Toddlers would eat chicken nuggets for every single meal if you let them. And though sometimes it feels like the easiest thing to do, making sure your little one has a well-balanced and healthy lineup for dinner is important. But what are healthy dinners for toddlers? With a little ingenuity and research, it can be simple to prepare delicious and healthy toddler meals at home for your growing child.
We all get in that rut of trying to find healthy options to feed our picky little humans. That's normal. These five healthy toddler meals will be nutritious without turning you into a short-order cook. Plus, they're tasty, so odds are good that your toddler will actually eat them. These meals are easy to make and the whole family can sit down to enjoy them. Let's check them out.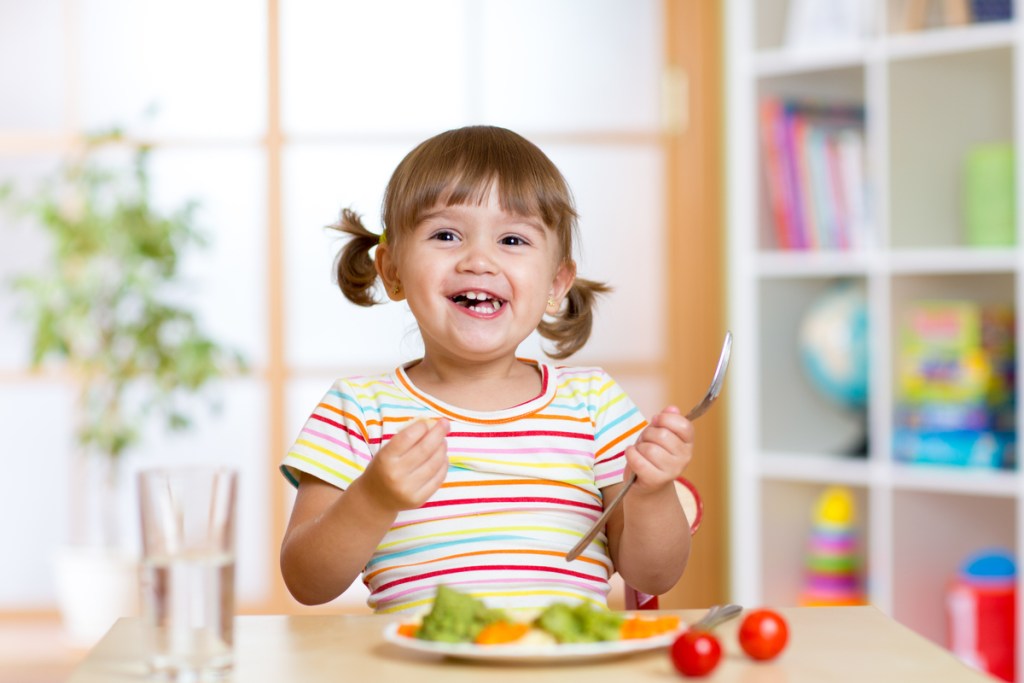 Rice bowls
Ingredients
Rice of your choice
Avocado
Tomato
Shredded chicken
Shredded cheese
This is always a hit and can be made so many ways that even the pickiest eater can be satisfied. All you need is rice for the base, and you can add whatever other ingredients you want. We love the basics. Avocado, tomatoes, and some shredded meat come together to form something pretty magical.
Make it vegetarian and add pinto and black beans instead of meat. If your toddler is the adventurous type you can add a little hot sauce. Sprinkle a little cheese on top for another texture.
We love how easy this is. You can throw whatever you have over the rice to complete this yummy bowl. It will also look colorful so your toddler's eyes will enjoy it as much as their tummy.
Kebobs without the skewers
Ingredients
Cubed cheeses
Sausages/hot dogs
Vegetables like carrots, red and green peppers
If your child won't poke themselves in the eye, then you could put the food on skewers. You could use toothpicks and make mini skewers that would be easier for their little hands to grasp.
With the sausages and vegetables, you'll want to cook them so they are slightly easier for your toddler to chew. Steaming is an easy and healthy way to get them soft enough for your toddler's teeth to handle. Your child will love being able to eat using their hands as well. Put crackers/pretzels and hummus on the side for some different colors and textures.
Taco Tuesday
Ingredients
Tortilla shells
Tomatoes
Beans
Ground beef or shredded chicken
Shredded cheese
Sour cream
You can do this a few ways. And no, you don't have to limit tacos to Tuesdays. You can assemble it for your child and let them have fun trying to get the whole taco in their mouth before everything falls out. Or, if you think your child will have more fun, you can deconstruct the tacos by serving it all individually on their plate, Then they can put it together however they want to.
Tacos always get messy, so it's a great way to let your toddler have fun with it. You can easily do veggie tacos and take the meat out and add avocado slices instead. Tacos are a great source of fiber and protein while still being lower in calories when you make them at home.
Pasta for days
Ingredients
Pasta of preferred style
Tomato sauce
Shredded cheese
Chopped vegetables
Kids love pasta. You'll love how easy it is to make something your child will eat. For a healthier option, grab whole-wheat pasta, chickpea pasta, or veggie noodles. If you want to switch it up you can try a pesto sauce instead of tomato-based. Add peas and chopped carrots to the pasta, or just put them on the side. Knowing toddlers, it will probably all get mixed in, anyway.
As long as you watch what you top your pasta with and the type of noodles you use, pasta can a great source of nutrients and fiber.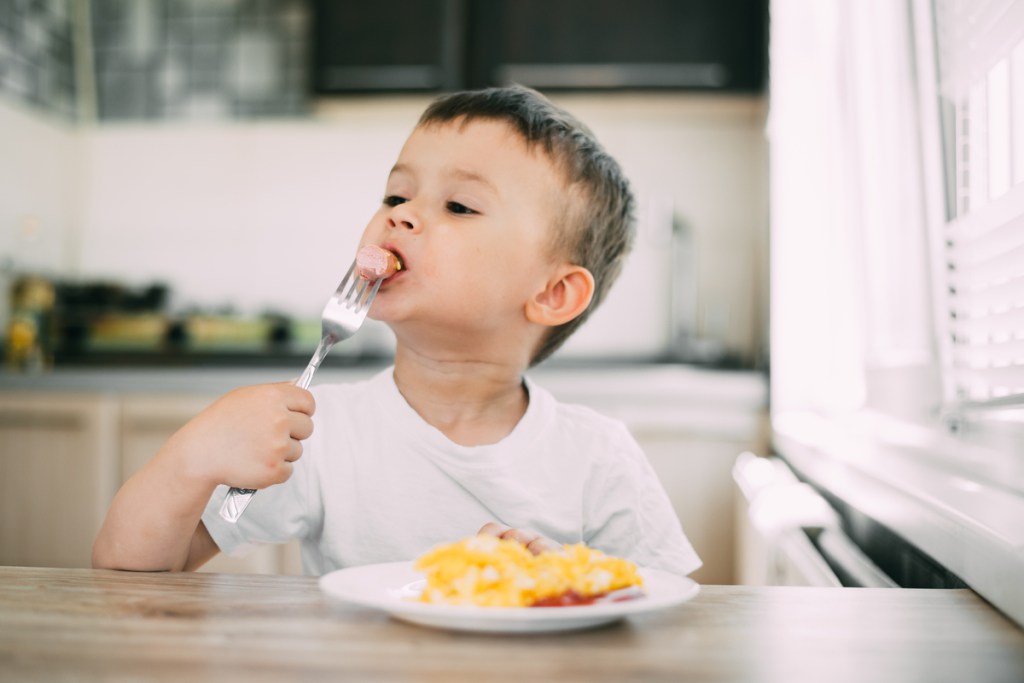 Breakfast for dinner
Ingredients
Eggs
Peanut butter pancakes
Fruit
Yogurt
We love breakfast for dinner. You can put this in your permanent rotation because there are so many varieties you could do. For this one, pancakes will be the main event. You can do peanut butter pancakes with only 2 or 3 ingredients.
Pancakes
2 eggs
3 tablespoons peanut butter
Optional – sugar to taste (about a teaspoon is fine)
It's an easy meal that toddlers will gobble up. Adding yogurt and fruit as a side makes breakfast for dinner a healthy option.
This is also perfect if you never seem to have time in the mornings to go all out and make a big spread for your first meal of the day. Slow it down for dinner and get to enjoy some breakfast.
Healthy meals don't have to be hard
You don't have to sacrifice your sanity and make your toddler a completely different meal than what the rest of the family will eat. A lot of times, keeping the ingredients separate instead of mixing them is enough for your toddler. Creating healthy meals for toddlers doesn't have to require anyone throwing a tantrum.
These healthy meal ideas can be easily altered to fit your family's dietary needs. And they can be changed up by swapping out an ingredient or two to keep them fresh and exciting for everyone. We know toddlers love to battle at mealtime, but these easy-to-make dinners will keep their tummy full of nutritious food, which will keep everyone happy.
Editors' Recommendations