If a family member or friend is expecting a child, they're also expecting their lives to change in ways they can't fully grasp until it happens. Out go quiet Saturday mornings and in come diaper changes, round-the-clock feedings, and that whole not sleeping through the night for months (or years) thing.
They're also going to need a bigger bag to tote everything their child needs. However, one thing that parents don't have to change is their impeccable sense of style. The MODERNISM Backpack Diaper Bag looks more like a fashionable backpack than something that stores baby wipes and burp cloths. It's spacious and functional to boot.
The backpack is usually $29.99, but Walmart currently has one of the best diaper bag deals you'll find this year. The retailer has cut the price to $19.99. Here's why you should get the MODERNISM Backpack Diaper Bag for your loved one. (And quickly — the sale ends soon!)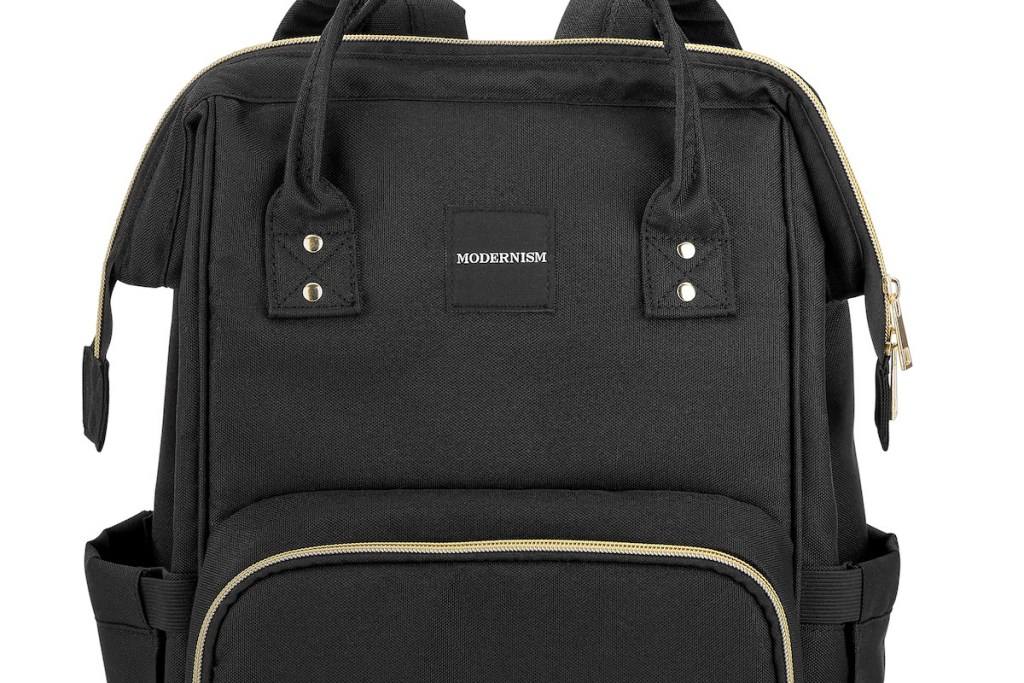 It's super stylish
Back in the day, diaper bags looked like, well, diaper bags. They were big and bulky and didn't usually score parents many style points, even if they served a necessary purpose. The MODERNISM Backpack Diaper Bag has helped change that. It comes in five colors, and they're all under $20 in Walmart's Deals for Days event. The teal and pink backpacks allow parents to stand out in the crowd, while the black, gray, and black-and-gray options boast an understated sophistication.
It's not often people can get use out of a baby-registry item for years to come. However, parents can use this fashionable backpack long after they've completed potty training.
It allows for fuss-free parenting
The best diaper bag is the one that makes a new parent's life easier, and the MODERNISM Backpack fits that bill. Since it's a backpack, parents can keep their hands free to care for their baby and run errands. Plus, easily adjustable straps make this diaper bag perfect for parents of all shapes or sizes.
Parents can accumulate a ton of aches and pains while caring for their children. Bending over to pick babies up, breastfeeding, and eventually engaging in "wrestling matches" to change a diaper can take a toll on the body. This double-strap bag equally distributes weight on a parent's back, so it's one less thing weighing on them as they navigate this new phase.
It's spacious
Little kids need a ton of stuff. From diapers and wipes to bottles and toys, you'd be amazed what a parent needs to carry around even if they're just grabbing something at the grocery store. The MODERNISM boasts lots of space, but it's easy for things to get lost in a deep bag.
However, the MODERNISM Backpack Diaper Bag has so many compartments, allowing parents to stay organized while giving them easy access to everything their baby needs. The main bag has six pockets. There's also a front pocket, insulated bottle storage, one back pocket, and two side pockets perfect for a parent's water bottle.
Parents can change a diaper and look good while doing it with the MODERNISM Backpack Diaper Bag. It doubles as a fashionable backpack and comes in five colors, all of which are on sale for less than $20 as part of Walmart's Deals for Days event, which expires tomorrow. This bag is not just pretty on the outside, though. It features tons of space and compartments to help parents stay organized on the go. Because it's a backpack, parents will have their hands free to care for their child and easily grab items off the store's shelf. Since you'd never know it's technically a diaper bag, parents can easily find other uses for the MODERNISM Backpack, such as a work or solo day-trip bag, even as their child grows up.
Editors' Recommendations